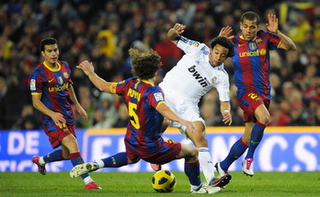 El Clasico seems like an eternal fixture. No matter how much change we see in a season, it's this match which captures the attention of just about every soccer fan around the world. Admittedly, El Clasico has been slightly one-sided these past few seasons, with Barcelona having won the past five encounters. Yet maybe this match will see a change for Real, with Jose Mourinho surely preparing his players not to suffer another 5-0 defeat like they did previously this season.
Snooping around on the Spanish sport websites, there's quite a rift regarding bias in case you didn't know. In the end, there are Real Madrid newspapers, and then Barcelona newspapers, and reading only one newspaper can provide you with quite the skewed view of what should be, in Guardiola's words, "the match to decide La Liga". And while
AS
talks about the possibility of La Liga becoming winnable for Real Madrid if they win El Clasico,
El Mundo Deportivo
simply states, "Messi, Better than CR7". Truly unbiased reporting, isn't it?
Yet when I visited
MARCA
, a relatively Madrid biased newspaper, I found probably the best summation of El Clasico I could hope for. The strip at the top of the website shows four key battles which will inevitably decide the match. The
technicians
(Jose Mourinho vs. Josep Guardiola), the
stars
(Lionel Messi vs. Cristiano Ronaldo), the
brains
(Xabi Alonso vs. Xavi Hernandez) and the
goal
(Iker Casillas vs. Victor Valdes). What better way to sum this match up I'm not sure, but if I were to add something to the equation, I'd throw in the
fullbacks
, Marcelo vs. Dani Alves. While Dani Alves has always been a fearless machine of a fullback, providing a new way to unlock sides for Barcelona, Marcelo has grown to be one of Real Madrid's best players this season, especially going forward.

The two stars, Lionel Messi (left) and Cristiano Ronaldo (right)
While I often try and delve into a well thought out prediction, I think I might refrain this time around. There are simply too many game-changing factors. While in other big match-ups we see two or three star players which can change the game in a moment of brilliance, Barcelona and Real Madrid are simply too filled too the brim with sheer quality. Whether it be a Mourinho tactical masterclass, a Guardiola inspirational performance, a curled goal by Messi, or a blasted free kick by Ronaldo, there's too much to consider when trying to decide a winner.
So to make things easier for you (and me) I advise you not to worry about the result until the match is over. If anyone asks a prediction, simply state, "An enjoyable 0-0, with a goal or six thrown in". Because ultimately, I'll be watching El Clasico for entertainment, and I highly suggest that you do too.