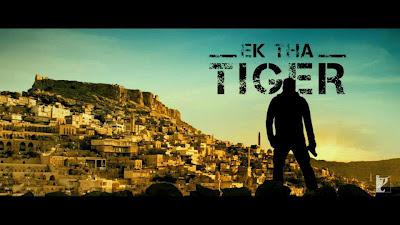 Surprise surprise, I actually enjoyed Ek Tha Tiger, a film that has been criticized by many and yet has managed to break most ticket-sale records.
Starring Salman Khan and Katrina Kaif the film doesn't bring about anything new, but under the direction of Kabir Khan and production of Aditya Chopra, it presents a cleaner and straightforward film.
Here are my top 10 reasons why you should watch Ek Tha Tiger
;
The Story
- While most of the recent Salman Khan films are heavy on action, Ek Tha Tiger is more of a romantic film with intermittent fight sequences. It's the story of a RAW agent, played by Salman, and about him falling in love during a mission and the complications that arise when he "listens to his heart rather than his head". The story might seem simple, and it is, but it manages to entertain because it avoids unnecessary drama and sticks to the basics.
Salman Khan
- I am no fan of Salman Khan, and there are some movies of his that I enjoy while others that I despise. Here though he somewhat tones down his larger than life persona a little bit and gives a pretty good performance as a RAW agent.
Katrina Kaif
- Although her name should be enough of a reason, Katrna Kaif for a change comes across as very comfortable in the film. She's in her element and doesn't seem out of place or struggling. Could this be because of the nature of the film being international or the presence of Salman Khan, I cannot say. (Those of you who are not into Indian cinema gossip, Salman Khan and Katrina Kaif have long been "linked" together as a couple).
Action
- There is a fair bit of action in the film but rather than the slow motion one man killing ten people with one punch kind of action there are more realistic fight sequences. There is also a fair bit of running around and chases that happen in a semi-parkour fashion which once again are beautifully shot and executed. Unfortunately there are also sequences like the one on a tram that are so CGI laden that they shout FAKE from the onset.  
Romance
- Say what you may, but there is definite chemistry between Salman Khan and Katrina Kaif and it shows on the screen. It's easy to see that both are extremely comfortable with each other and for a change the romance seems real which adds to the charm of the film.
The Direction
- Kabir Khan deserves credit for sticking with the story and presenting a sleek film. Ek Tha Tiger does get slow in the middle, but as stated above the romance feels genuine enough that the couple of "forced" song and dance numbers in the film don't irritate much. Moreover, the so called packaging of the entire film is at par with other Yash Chopra productions.  
Locations
- The number one rule of a good spy film is that you need to take the audience around the world to pretty locations. Once again the film succeeds rather well in this category as we are whisked away from India to Ireland to Turkey, to even Cuba. The film also incorporates the local culture and sounds into the music numbers beautifully, showing that there really was a lot of planning and thinking that went into the production.
Songs
- Hummable and on most top chart lists, the songs lack longevity. Still with only four songs, yes four is 'only' in an Indian film, they are good enough not to drag the film too much.  
Supporting cast
- For a change the supporting cast actually supports the main characters and the film. There are no sidekicks which lack a character arc placed in the film for vulgar comedy. There are no subplots taking the film on a tangent. The primary story remains the same, and every supporting member is simply a part of it. Girish Karnad requires no introduction and Ranvir Shorey steps out of his usual comedy routine to give a pretty good performance.  
Roshan Seth
- I know he should be part of the support cast reason given above, but his role, which is unfortunately very small, oozes old world charm so much that it was truly a pleasure to see this underrated legend of cinema act in an out-and-out commercial film like Ek Tha Tiger. 
If you haven't seen Ek Tha Tiger, you might be fooled into thinking that it is like other Salman Khan films (Ready, Bodyguard, or Dabaang). It is anything but that. The film is not without faults. There are enough loopholes that I could fit my plump body through them, but for a change the pros in the film are multitudinous compared to the cons.
Rating 3.5/5