I want my readers to have the best reading experience. I also want them to see what it is about the 18th Century that has me spending my days immersed in all things Georgian. So, imagine my delight when I stumbled upon Pinterest! Think visual corkboard where you "pin" your favorite pictures, news, anything that catches your eye.
Growing up I always had a corkboard above my desk. During high school, I pinned pictures of my favorite pop stars, actors and actresses, but mostly I pinned pictures of the Chateau of Versailles, ladies in beautiful 18th Century gowns and anything to do with the 1700's. I've been a Georgian Junkie since I was eleven.
Using Pinterest I have created 50 visual boards (and counting!). I have a dedicated board for each of my novels, and boards on everything you can imagine to do with the 18th Century. Food, Fashion, Footwear, interiors, carriages, celebrities, pets, architecture, childhood, etc the list goes on! I have created a visual library for my readers to explore the 18th Century in as much depth as their heart desires.

Each board dedicated to a novel allows readers to explore the world my characters inhabit. There are interiors of grand houses, beautiful gowns, magnificent frockcoats, etc. There is also the unusual. If I mention an item or event in my book, my readers can be assured that it existed, but what did it look like? Pinterest has come to the rescue!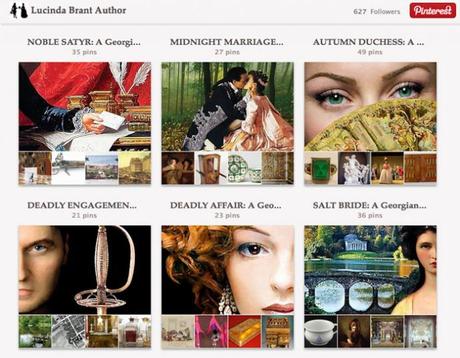 For example, pinned to the AUTUMN DUCHESS Board is a bottle of Daffy's Elixir, an image of Doggett's coat and badge, the shop front of Floris the perfumer – still at the same location in Jermyn Street since 1730. On the SALT BRIDE board, you will find Bristol Blue glass, a pair of pattens similar to those worn by Lady Despard when she visits Diana St. John, and there's even an image of Viscount Fourpaws. And of course, there is much, much more for you to explore!
So, if you have the time, go exploring my books and the 18th Century through Pinterest. You'll also find many of your favorite authors over on Pinterest, too. Drop by and leave a comment. Have fun and see you there!

LUCINDA BRANT
Georgian historical romance & crimance
Facebook
Twitter
Pinterest
[email protected]
or visit lucindabrant.com