Last year Jim Murray named the first batch of EH Talyor Four Grain Bourbon as the best whiskey in the world and it immediately sold out around the globe. In April of 2018 Buffalo Trace released the second batch, this whiskey, that was from the same corn, rye, wheat and malted barley mash as the first release, but aged for an additional year.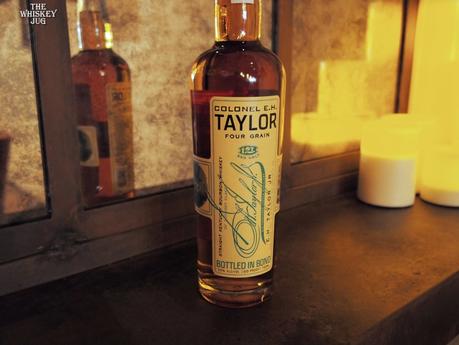 Coming in at 13-years-old, this is among the older bourbons available on the market and the only one at this age made with a mash consisting of more than 3 ingredients. I love experiments like this when distillers try something different. It's even more interesting when you consider this was distilled in 2005 before the world lost its mind about whiskey. That's either some crazy foresight or crazy luck; either way, we're reaping those benefits today.
EH Talyor Four Grain Bourbon Review: Details and Tasting Notes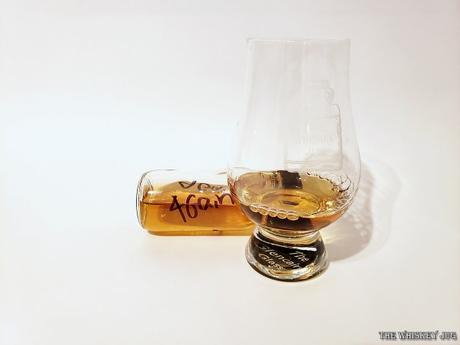 In Buffalo Trace's Words: EH Talyor Four Grain Bourbon
"This special edition Four Grain bourbon is crafted just as Taylor would have wanted. Using the highest quality grains and a distinct combination of corn, rye, wheat, and malted barley, to create a flavor that is sweet with hints of caramel and vanilla, yet spicy with notes of clove and pepper."
EH Talyor Four Grain Bourbon price, ABV, age and other details
Region: Kentucky, USA
Distiller: Buffalo Trace
Mash Bill: At least 51% Corn + Rye, Wheat and Malted Barley
Cask: New Charred Oak
Age: 13 Years
ABV: 50%
Non-Chill Filtered | Natural Color
Batch: 02
Price: $70
EH Talyor Four Grain Bourbon Tasting Notes
EYE
Ruddy caramel
NOSE
Oak, dark fruit, chalk, cocoa, roasted grains, nutty, Smarties and spice with a light bit of minerality and citrus.
PALATE
Oak, dark fruit, orange zest, cider spice, cocoa, leather and nuts with a bit of mint and minerality.
FINISH
Long -> Oak, dark fruit, chalk, caramel and cocoa.
BALANCE, BODY & FEEL
Great balance, full round body and a warm oily feel.
EH Talyor Four Grain Bourbon Review: OVERALL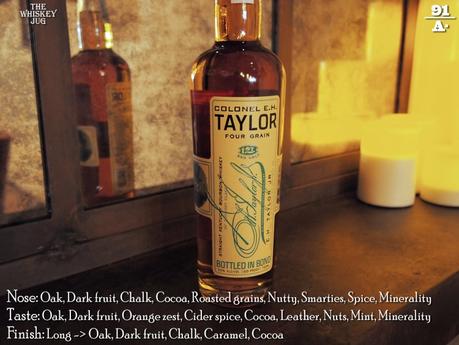 Ok, damn, I want my own bottle of this. Trying it at a tasting and then getting a nice sample isn't good enough, not by a long shot. The aroma is the kind of dense heavy character I live for. The palate is rustic, sweet and beautifully welcoming and the finish rolls on and on supported by oak, dark fruit and spice. I see why people go nuts for this whiskey, it's great.
It's always interesting to think about experiments like this or the Booker's Rye that were started before the whiskey craze went into overdrive. To wonder what their specific drive was and what they imagined the outcome would be with those releases; certainly not what's happening now. It's also interesting to think about what experiments didn't turn out so well that we'll never know about – the ghosts of experiments that haunt the racks.
SCORE: 91/100 (A-)
EH Talyor Four Grain Bourbon Review70
Nose -

91

Palate -

92

Finish -

91

Balance, Body & Feel -

92
91.5
EH Talyor Four Grain Bourbon Review Summary
EH Talyor Four Grain Bourbon is fantastic… damn fantastic.
Sending
User Review
0

(

0

votes)
Comments Rating
0

(

0

reviews)