This was how the the streets of Cairo sounded like yesterday:
When you strip away the BS, what we have here are two sides with very different goals. One side, I believe the majority, desires a state that is secular in nature. They are willing to allow others to be different as long as Egypt's core values and Muslim history is respected.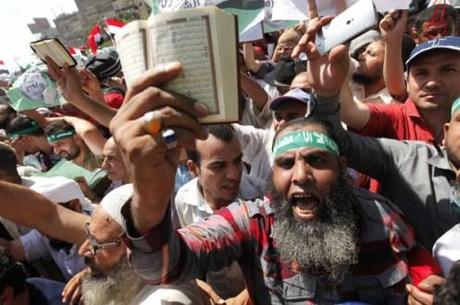 The other side wants nothing less than a full Islamic state ruled by Sharia law and aligned against Israel and the West. Their holy book tells them that the struggle is worthy and they will be rewarded for the violence necessary to destroy anyone who might oppose that goal.
Yesterday a long string of bodies, 525 of them, were brought to the Al-Iman Mosque, near the plaza Rabban al-Adawi for identification and processing.
The US President, apparently unaware that the election of Mr. Morsi was a narrow victory and one which happened when all Egyptians were seeking to overthrow a repressive government, only served to install an oppressive government of a different kind. It is irresponsible for the American President to suggest that in this environment the Army should seek to hold new elections. If you want to turn Egypt inside out with a full scale civil war, go ahead and force elections with this kind of anger on the streets.