When I was introduced to holidays with my husband's family, I was introduced to a whole host of new family food traditions. It's one of the many blessings that comes with joining families, I think.
I love making Nana Ivy's Molasses Cookies with the littles at Christmas. And while I haven't yet been given the family pilaf recipe, I look forward to eating it at Thanksgiving. But my favorite of favorite dishes has to be Eggs Benedict for Easter (and Mother's Day and Father's Day) brunch.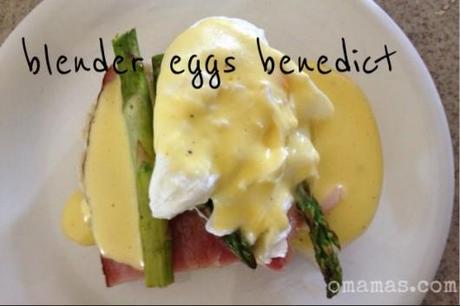 It's just so … buttery.
Salty.
Creamy.
Delicious.
Honestly, it just seems so decadent.
It requires "all hands on deck" to get it served hot and to the table for everyone. (Someone manning the poached eggs and asparagus, another on English muffin duty, and a third on the hollandaise … I love it when there's a kitchen full of activity.)
And with the advent of the modern convenience of a blender … there's just no excuse not to make eggs Benedict.
There are so many blender hollandaise recipes online these days.  And so many are inspired by the great Julia Child There's this one from simply recipes. I love and have used this one from Tori's Kitchen. Even Food Network has one.
But here's what I use for 10 servings (assuming one serving equals two eggs, asparagus, ham and one English muffin)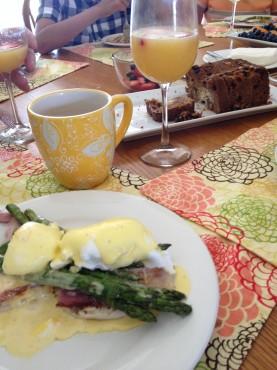 Asparagus:
2 bunches of fresh Asparagus (bottoms trimmed)
Avocado oil
Sea salt & cracked pepper (to taste)
Meat:
You don't have to use meat (we have enough vegetarians in the family that not everyone gets meat on their plate). But we have made Eggs Benedict with spiral ham, Canadian bacon, bacon, prosciutto, pancetta … Pick your favorite, pre-cook it the way you like it and set aside until it's time to prepare the plates.
Eggs:
1 large sauté pan filled with water
1 TBLS apple cider vinegar
10 farm fresh eggs
Hollandaise Sauce:
5 egg yolks
3 tablespoons of lemon juice
1 stick melted salted butter
fresh cracked pepper (to taste)
English Muffins:
If we're lucky, my Cowboy-sourdough-bread-master-husband makes fresh sourdough English muffins. Otherwise, since it's generally for a special holiday, we find the best English muffins we can and set someone on toaster duty. (This is a job we've even given to our 5 year old because any time we can engage the littles in food prep, they are more likely to be game to enjoy the food.)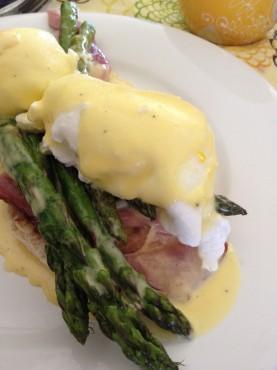 DIRECTIONS:
First things first:
MEAT & ASPARAGUS – pre-cook your meat and asparagus and set aside.
For the asparagus, I toss the asparagus in a little avocado oil and layer in a roasting pan, sprinkle with salt and pepper and roast in a 400 degree oven for 25-30 minutes, turning at least once while they are in the oven.
POACHED EGGS – Fill a large sauté pan with water (leaving about an inch from the lip) and add ACV. Bring to a boil. (My sauté pan is a 12-inch stainless steel pan and I can poach about 6-8 eggs at a time).
While the water is coming to a boil …
HOLLANDAISE SAUCE – Add egg yolks and lemon juice to your blender and blend for about a minute. The eggs will get a little frothy.
Melt the butter in a small saucepan careful not to brown or burn the butter. It's important to keep the moisture intact in the butter. When it's fully melted, turn your blender back on a low speed and drizzle the butter into the eggs. Keep in a warm spot (in a bowl of warm water?) until you are ready to use. (Use within 30 minutes … if it needs thinning before serving, add a tablespoon of warm water and blend again.)
POACHED EGGS (cont.) – Very gently crack eggs into the boiling water. Let cook for 3 minutes.
In those three minutes, prepare English muffins, meat and asparagus on individual serving plates.
Remove the eggs from boiling water using a slotted spoon and add to the serving plates. Top with Hollandaise, a touch of cracked pepper and have a HAPPY FATHER'S DAY!
With love,
Jeanne