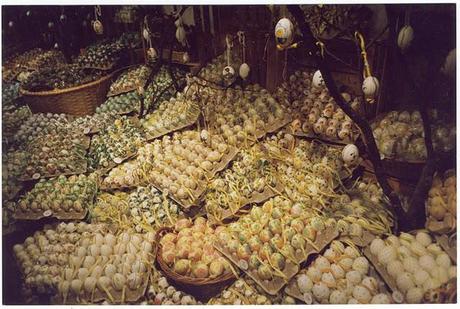 While in Germany and Austria in the Spring of 2003 we were pleased to see the breakfast rooms of the pensions we stayed in were nicely decorated for Easter. Pink and yellow puffball chicks, rabbits with barrows and twig trees decked out with eggs made an Easter tableau in each window sill. Nothing could compare however to the shop window we saw in Salzburg. At the corner of Judengasse and Getreidegasse, probably less than a minute's walk from Mozart's birthplace, was a shop that sold only Easter eggs.
These weren't chocolate Easter eggs (though I wish they had been) but dozens after dozens of perilously delicate eggs shells, each one hand-decorated to suit just about any taste.
The shop called Easter in Salzburg sold eggs for Halloween, eggs for Christmas, eggs for birthdays. Personalized eggs. Some were very elegant; others just for kids. The deceivingly large store showcased over a hundred thousand of these little oval beauties over two floors. An ostrich egg bearing a picture of Mozart cost €150, but a modestly decorated chicken's egg was priced around €2. Despite the reasonable price, I had content myself with some photos. I wouldn't have managed to get a single egg back to my hotel room.