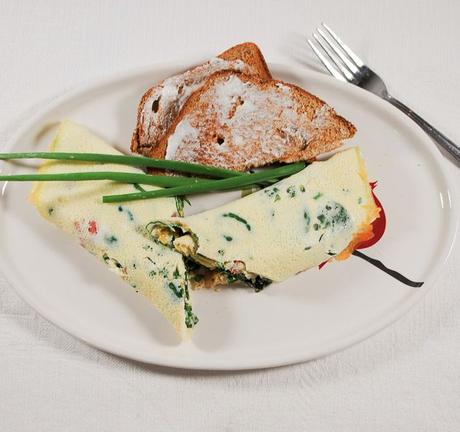 Eggs have been a long time weight management staple in my house. They're low in calories, high in protein, and packed with nutrients (check out the link above if you don't believe me).
Besides, they're completely delicious!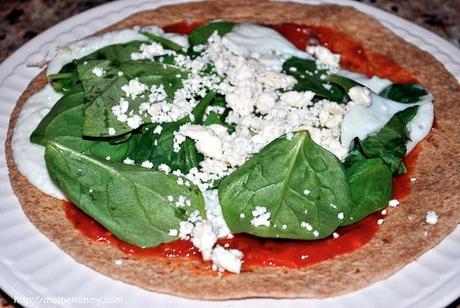 One of my favorite work day morning meals is this re-make of Starbuck's Egg, Spinach and Feta wrap. I'm showing you the pre-wrapped version so you can see how easy it is to make.
Simply spread marinara sauce over a whole grain tortilla, top with cooked egg white, baby spinach and feta cheese. I make extras and wrap them up for the next few days.
Incredibly yummy!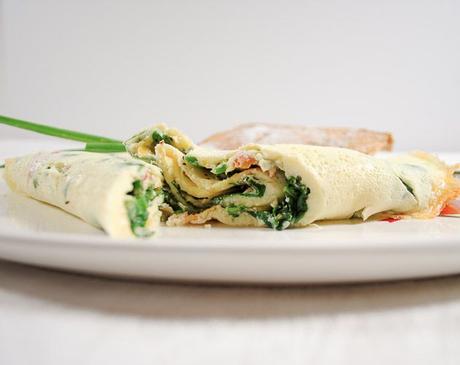 On this particular day I wanted the same idea without the tortilla, so I whipped eggs with sour cream and Dijon mustard for a little kick, and poured them into a skillet.
After I topped the eggs with spinach, a crumble of bacon and shredded cheddar cheese, I popped the pan into the oven to set my creation.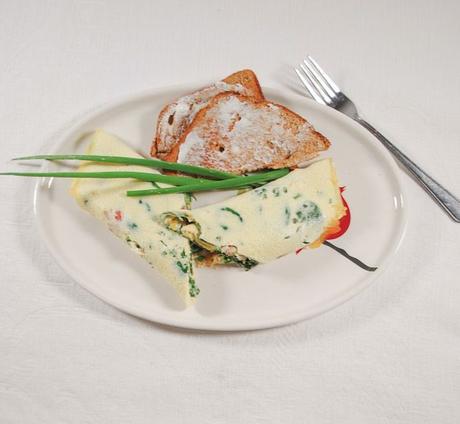 I thought it might be tricky rolling them up, but my nonstick skillet did its job. The eggs came out of the pan without a hitch.
I must admit half a portion is fine for me, but Mr. Mike needed a whole egg rollup all to himself. Even so, at 300 calories a serving, this is definitely a calorie friendly meal.
Enjoy!
Egg and Bacon Rollups with Baby Spinach and Cheese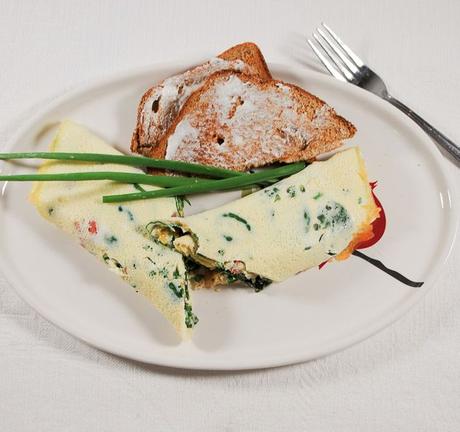 2 large egg
2 large egg whites
1 tablespoon low fat sour cream
½ teaspoon Dijon Mustard
1 cup baby spinach, packed
2 slices bacon, cooked and chopped
2 tablespoons green onion, green ends only, chopped
4 tablespoons low fat cheddar cheese, shredded
Preheat the oven to 350 degrees. Spray a 12" non-stick skillet with cooking spray.
Whip eggs with sour cream and mustard.
Pour the egg mixture into the skillet, then top with spinach, onion bacon and cheese. Sprinkle with a pinch of salt and pepper.
Bake for 10 - 15 minutes until egg is set.
Gently fold up one corner and roll into a log.
Slice in half and serve.

If you decide to make a purchase through my link, Amazon will pay me a commission for it. This doesn't cost you anything additional. These commissions help to keep the rest of my content free, so thank you!