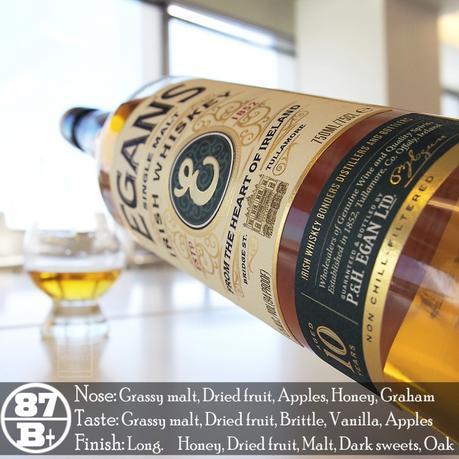 Egan's 10 Year Single Malt Irish Whiskey is neither a new whiskey nor a new brand in the Irish Whiskey vertical. The whiskey itself is sourced, most likely from Cooley, and the name is a re-birth of a brand that was around several decades ago. Though unlike a lot of the hokey whiskey stories that abound these days this story has real history to it that extends through the generations
In 1852 Patrick and Henry Egan founded P&H Egan and by 1896 they, and Patrick's sons, were running one of the largest breweries in the Irish Midlands. By 1916 P&H Egan Ltd was involved in everything from Hotels to imports and by 1940 they were bottling Jameson and Paddy whiskey and making their own soda pops. However by 1968 they were caught in a loosing battle of global commerce and had to liquidate the company.
One of the Egan's continued the bottling operations while another continued the Maltster business. 45 years later (2013) the company was reincorporate by Jonathan Egan and John Ralph. That's when they began sourcing whiskey to bottle themselves and brings us to this. The Egans 10 Year Single Malt Irish Whiskey.
Egan's 10 Year Single Malt Irish Whiskey Info
Region: County Louth, Ireland
Distiller: Cooley (my guess)
Bottler: P&H Egan Ltd
Mashbill: 100% Malted Barley
Cask: ex-Bourbon
Age: 10 years
ABV: 47%
Non-Chill Filtered | Natural Color
Price: $50*
Egan's 10 Year Single Malt Irish Whiskey Review
EYE
Tarnished gold
NOSE
Hay-like grassy malt, dried fruit, green and red apples, honey, oat-like biscuity graham, banana and a bit of vanilla and dark sweets. The honey and oat-like biscuity graham note reminds me Honey Nut Cheerios.
PALATE
Hay-like grassy malt, dried fruit, brittle, vanilla, apples and honey. Not as robust as the nose, but light notes of tropical fruit, SweeTarts, spice and earth add depth and dimension.
FINISH
Long notes of honey, dried fruit, malt, dark sweets, oak and SweeTarts slowly disappear.
BALANCE, BODY & FEEL
Great balance, round full body and a weighty viscous feel.
OVERALL
Egan's 10 Year Single Malt Irish Whiskey has a nose that makes me think "rustic dessert", a palate that makes me think "sweet and earthy fruit" and a finish that makes me think "yeah buddy". They don't specifically call out who the whiskey is coming from, but the only one that really makes sense is Cooley. Midleton doesn't make a single malt, it does't taste like Bushmills and all the other distilleries in Ireland are too young to have a 10 year single malt.
Jonathan and John have done a great job at selecting casks that have a lot of character to them for the Egan's 10 Year Single Malt Irish Whiskey. A character they thoughtfully preserved by bottling it at 94 proof and non-chill filtered, giving it a nice viscous feel that coats the mouth as well as it coats the glass. If you're looking for something different for your St.Paddy's day lineup, this would definitely do the trick.
SCORE: 87/100
*Disclosure: This sample of Egan's 10 Year Single Malt Irish Whiskey was graciously sent to me by the company for the purposes of this review. The views, opinions, and tasting notes are 100% my own.