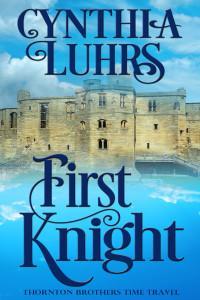 You first heard about Edward in the Merriweather Sisters books. Now the eldest brother gets his own book in FIRST KNIGHT. Christian has the final book in the series LAST KNIGHT.
COMING SEPTEMBER 1st, just in time for Labor Day Weekend!
Tumble through time...
A dig on the border of Scotland sends a scholarly damsel slipping through time to medieval England. Jennifer Wilson always knew she'd been born in the wrong century. Happy digging in the dirt, caring not for modern-life or appearances, she quickly finds out medieval England isn't as romantic as she'd dreamed.
Pre-occupied with war, Edward Thornton has met strange lasses before. He suspects from whence she comes. But a dangerous threat across the border threatens to tear them apart.
Pinterest board if you want to see some of the inspiration for the book.
Pre-order your copy today.
Google Play - coming
Smashwords