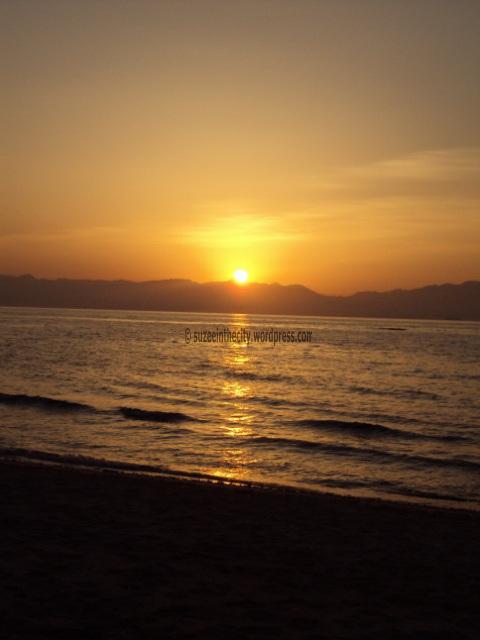 We arrived to the obscure little camp of Edn at sunrise. Driving along the Nuweiba coast at dawn was a relief after the harrowing ride we'd had getting there; gridlock traffic leaving Cairo, security checkpoints not letting us pass until other cars joined us so that we'd move together through the night and avoid ambushes (???), and a major accident that blocked the road for an hour at 3AM.
Edn at sunrise was a sight for our sore travellers' eyes; not only because we were exhausted and needed to pee, but also because the sudden calm and quiet of Nuweiba gently descended on us like a blanket.
This camp is one of many great spots in Nuweiba to run away to when you need to escape Cairo madness with its traffic, noise and pollution. The sharp contrast of fresh air, silence and a shallow blue sea in front of you is nothing but healthy and neccessary
Edn (pronounced 3adan in Arabic but clearly typed so in English) is nestled between a whole bunch of camps, including Sondos on one side and Yasmina on the other. It's a fifteen minute walk (5 by car) from the more famous Basata and Ananda camps, and if you walk ten minutes South, you'll end up at Bawaki and on the cusp of a beautiful bay, which is a great swimming spot and people from other camps often come here.
The camp itself is pretty basic and definitely for the low-maintenance traveller. I'm talking just two co-ed toilets with no roof and the usual drop-toilet-paper-in-basket-next-to-you routine, and a shower room (also co-ed) that's a good walk away from the beach. Not fussed? Good, neither were we.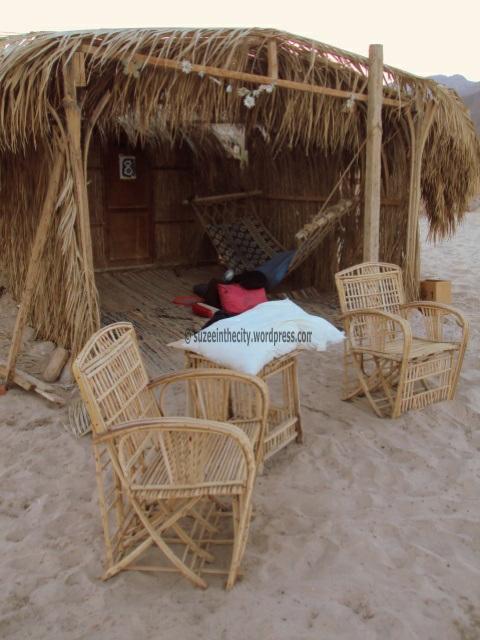 We picked a front-row pimpin hut with a shaded terrace, table and chairs, and a hammock. I can't go on enough about the hammock. I loved the hammock. It creaked dangerously when I tried to swing on it, but it was nice to play jungle and read while casually shoving the overeager dog away with my ankle. Inside, there's a sizable double bed with an ok mattress but rock-hard pillows and sheets that seem clean albeit a little dusty. These huts are electricity-free, so you'll need to ask the camp people for candles, but that makes it all the more romantic at night and stuff.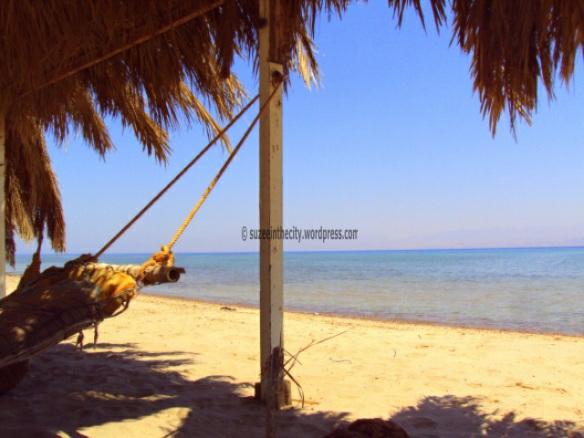 Edn's bay is open and shallow, you'll need to walk for a bit before you get deep, and it's coral-free but a little pebbly. Is that even a word? Pebbly? It's much easier to lie around lazily on one of the superfat cushions propped up in the shade, next to hammocks and a pedallo parked by, which the camp staff use to go fishing for your seafood dinner. That's how fresh your food is.
Speaking of dinner, the menu is basic but in the heat, it's great to have their grilled chicken for dinner and their fuul and delicious flat bedouin bread for breakfast (if you're aiming for a fish meal, avoid the Lux; it's too bony with little meat). I loved their mermerya tea, where they dunk some dried mermerya (sage) grown by the bedouins into some hot water. A very nice digestive after a heavy meal. Also, they make chunky, greasy fries and pizza if you want to pig out. Stick to the vegetable pizza; avoid the tuna.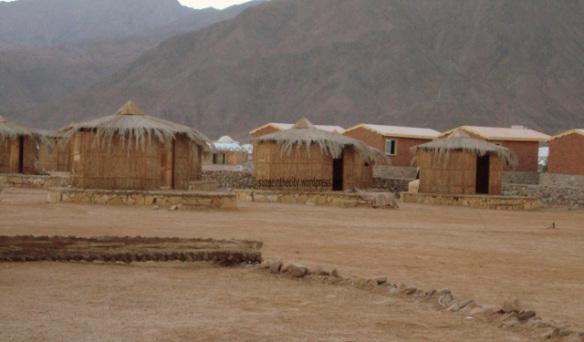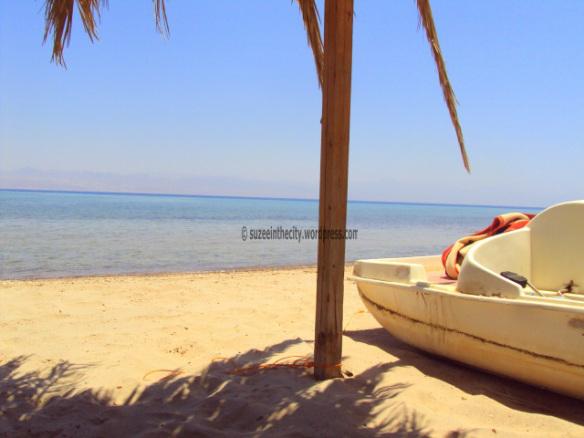 I'd definitely go back to Edn for a quiet weekend alone or with a group of like-minded friends. As the place was empty save for one other hut, the three of us had Edn to ourselves, to lie about and do nothing, play music and read, meditate, paddle our feet in the water and star-gaze. If you're big on astrology, Nuweiba's perfect for staring at the sky and pretending to know which constellations are where. The staff at Edn are easy-going and friendly people who keep to themselves and will accommodate your requests, as long as it's not 'I want a bathtub' or 'Make me sushi.'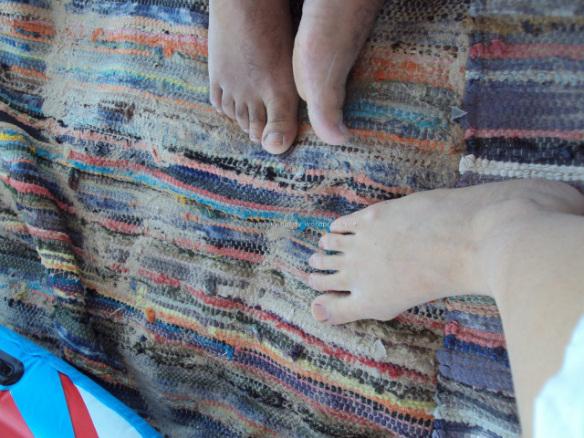 How Much: A night in Edn costs around 60LE per person for the VIP huts on the front line, and 50LE for the less popular huts. This is actually quite expensive for the area, but then again you're doing your part for the tourism industry. The food really adds up; we ended up paying 750LE each for five days.  As they don't offer fridge space like Basata does, you can either pay up or bring your own snacks and beverages. Call Adel on 01224939262 or Gomaa. If it's peak season, you should call a week or two beforehand. Otherwise, you could call as late as one day before and find a place.

How to Get There: all Eastern Delta Buses pass by Edn from Taba to Nuweiba town. Tickets cost around 85LE and the buses leave from Almaza in Nasr City or Torgoman in Ramsis. Just look out for the Crazy Horse sign after the hill sloaps down from Basata, and you'll see the Edn sign two or three minutes later. You can also hire a mini-bus; Basata usually runs a mini-bus of up to eight people so depending on how many passengers you have, you'll pay anything between 100LE and 250LE. Call Aly on 01006140057 about the Basata bus. Anywhere in Nuweiba will take you a good six hours from Cairo, the worst part is actually getting out of Cairo and over the Suez Canal, then you have four hours.
Anything Interesting Close-by? There's Castle Zaman behind Basata, where you can enjoy overpriced cocktails and yummy slow-roasted meals. Or you could drive into Nuweiba town and try out some of their restaurants; there's a random Chinese joint there that I've heard is intriguing. Mega-hotel-complex Taba Heights has a few hotel bars if you're desperate and a supermarket if you need to stock up.