I have been working as a proofreader and occasional editor for around four years. I started out doing it for a medical colleague I worked for as a typist, and have continued ever since. I read psychology at the University of Leicester in the UK, and so have mostly worked around medicine/psychology. I had a paper published in a journal before I left academia, and currently work as a manager for a car company.


After a few years I thought about expanding my proofreading work into editing fiction, so put out an ad on Goodreads to offer my services for free to a couple of people to build up some testimonials. The first book I edited was a novella (The Eyes That Drowned Uyumi), and although I advertised the work as for free, the author was happy enough to pay me a small sum. The other book I did was a full length novel (Conflicted by M M Koenig), which was already published but was being re-released ahead of the author's second book in the series being published. After a few chapters, the author was so happy with my work she commissioned me to work on her second book, which I am currently in the middle of. I found that I really enjoyed the process, particularly the collaboration with the author and the chance to be part of helping someone to realize their dream. I am currently booking myself up for June onwards, and am always available for short edits such as short stories and novellas. 

What type of stories do you most enjoy editing? It may seem silly, but any and all really! Whilst I enjoy reading, I am often scared to venture from my common tastes. Editing work has given me different books to read that I would never have otherwise bought. As I am new to the field, in terms of fiction editing, I am still building up a varied portfolio, but if I were to go with one genre that I would particularly enjoy editing, it would be crime, particularly psychological crimes and thrillers.
Do you work for a company or are you a freelance editor? I work freelance, as I also have a 9-5 job at the moment. I hope to be able to work in editing full-time one day, but like the authors I work with, it is my extracurricular passion.

Are your rates affordable for indie authors? I like to think so! I offer discounts to indie/self-publishing authors, because I am firm believer that this part of the literature industry is something that needs encouraging, and whilst it's great to make a good living it's also as, or perhaps even more important to feel part of a piece of art. That may sound slightly trite, but I love the idea of the permanence and immortality of the written word, and being part of that, as well as helping authors to realize their dreams by publishing their work in the best form possible is an amazing feeling.

How do you decide your pricing? I ask authors to send me one- to two-thousand words to do a sample edit on. I aim to turn this around within 24 hours of receiving it, and I do a complete, deep edit of it. I also comment on the edits I have made, or suggestions I have, so that the author can see the logic behind it and get a feel for my editing style. I then put together a quote based on 2,500 words per hour, and adapt my hourly charge depending on the depth of editing required, based on a discussion of the sample editing I have done. If the author is a self-publisher, I reduce this amount by 20%. I also allow authors to spread payments across two to four months, if necessary.
What are some of the typical mistakes you see writers make?  Grammar is a big one, as well as the concept of tense. For example they will be describing a scene in the past tense from a first-person perspective, then there will be some speech, which is of course present-tense, but then this tense continues in the following narrative. Although I know the books I have edited have gone through beta-reading, I still find I spot the odd continuity error too.
What things should a writer have done before contacting an editor? Beta-reading is probably the first thing I would expect a book to have gone through (which is another service I am looking to offer). When I read, I have a really clear picture of the scene in my head, which makes me really sensitive to continuity errors and the like. That can be distracting when editing, which elongates the work. I would also expect them to have read the book back a few times to self-edit, or at least have an idea of what they aren't sure about and would like you to pay attention to. The final, and probably most important thing, is to know what they want from an editor. Working freelance, and especially with self-publishers, your brief comes from what the author wants, rather than the publishing house, as they are the client, so having some idea of what they are looking for allows me to be more focused.
What do you think makes a good editor?
Someone who listens to the client, and understands what they want and what their book is trying to convey. Some editors spend however long working on a manuscript and just submit it to the author, but I like to send my work in chunks of 10% or so of the total book, so the author and I are working on the same page (if you'll pardon the pun). I view it much more as a collaborative process, so communication and working together is key for me. I also think that a slightly unnatural attention to detail, and a love of perfection are quite good traits for an editor to have, as well as the ability to not just say that a section doesn't work or doesn't make sense, but the writing ability to suggest an alternative. Constructive criticism is the key phrase.
What style guide do you use, and why? I use New Hart's Rules, as well as the New Oxford Dictionary for Writers and Editors. Being from the UK, this tends to be the prevailing style guide. I also use the Chicago manual when working with American clients, although NHR gives lots of advice on how American and English styles differ, which is why I find it so handy.
What annoys you most about the current publishing industry?
I recently attended the London Book Fair and, whilst I met a lot of great authors and editors, I found that I was left slightly daunted and disheartened by the nature of the publishing industry. Having never been face-to-face with it before I was a little saddened by the overwhelming dominance of money and profits. I come from a business background, so I understand that everything is, in the end, about money, but part of what I love about literature is the romanticism (or maybe that's just my perception) of the industry. Seeing the idea of beloved projects being reduced to the question of "will it sell?" was not the impression I expected to come away with. I suppose that's why I'm passionate about self-publishing.
When you're not editing what do you like to do?
An original answer: read! I also really enjoy triathlon so go running/biking/swimming. It is difficult to fit stuff in at the moment, working in the day and editing at night, so the other thing I like to do is watch films, as a way to turn my brain off from reading all day (and night). I spend a lot of time with my brother, who is an aspiring author himself, so we often discuss his book and what I am editing, and various things we've recently read. It's a bit like a book group, but really just two literature geeks and a few bottles of wine.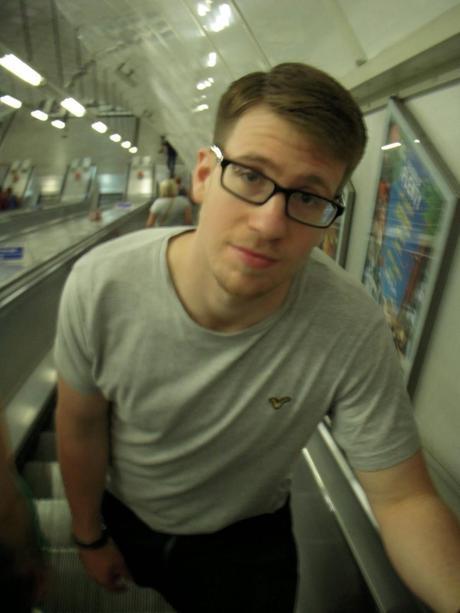 www.tghwritingservices.com
www.facebook.com/tghwritingservices
www.twitter.com/tghwritingserv