I had a lousy nights sleep last night in my pokey little single bed and I struggled to get up this morning, but a good strong cup of coffee or two and a cooked breakfast soon perked me up.
Today, the only thing in our itinerary is a visit to Scone Palace in Perthshire with a guided tour. The gate from the road at the end of the drive doesn't allow any room for misjudgement and the passengers were impressed with the way I had swung the coach in without hesitation. So I was starting the day with a big head! We'd arrived a few minutes early for the guided tour so we sent everyone off for a wee in the woods. Not literally, that's where the toilets were! Then we headed up to meet the guide.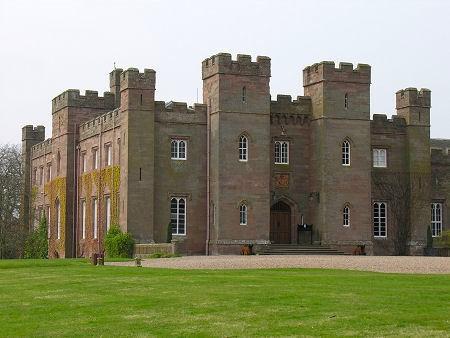 Our guide was brilliant. Very informative without bombarding us with dates and told the story of the palace and its residents and guests with good humor. Unfortunately, photography was forbidden. 
The end of the tour led into the shop and onto the coffee shop. One of our lady's had left her walking stick at home when we left yesterday and we found her in the shop with a sales assistant, looking at walking sticks and asking prices. When she saw us she explained that she was struggling more and more without her stick but she wasn't prepared to pay the extortionate prices in the gift shop when she had 2 perfectly good sticks at home. Everyone has had tough times in their lives but this lady has had it particularly hard and so she values money and doesn't believe in extravagance, which she considered a walking stick, at this price, to be. We had already asked the hotel if they had one in lost property which they hadn't. Scone Palace had given Lorraine and I shopping vouchers each to be spent today only, in the shop which, in my opinion, was full of tat and rubbish. So our good deed for the day was to let our lovely little lady have our vouchers so she only had to add a few pounds to them and it would end her struggling. As soon as we offered her the vouchers we had tears. Initially she wouldn't take them, until I said they would end up in the bin because there was nothing we wanted. Finally she agreed to take the vouchers and got her walking stick, still crying, so appreciative. She said she couldn't believe such an act of kindness, it really meant so much to her. Lorraine and I weren't out of pocket and we would have ended up with some junk we didn't want just to spend them! I felt good about what we had done. We went for our free cup of coffee before going for a walk around the grounds and attempting the maze.
We started off in the maze and I quite quickly got ahead of Lorraine because she was trying to dodge the puddles and the mud while I just hopped over them. I rounded a corner to find a little hole in the hedge which I squeezed through before Lorraine caught up. I knew she wouldn't attempt the same in her tights and heels and she'd be worried about her hair! I got out quite quickly, went to stand on the viewing platform, and watched for 20 mins while Lorraine struggled to find her way out! I was laughing, she was cursing me! After that we just had time for another free coffee before it was time to leave.
On the return to the hotel we took a scenic drive around Loch Leven and stopped for coffee at the RSPB Nature Reserve and Visitor Centre. Another good idea of mine!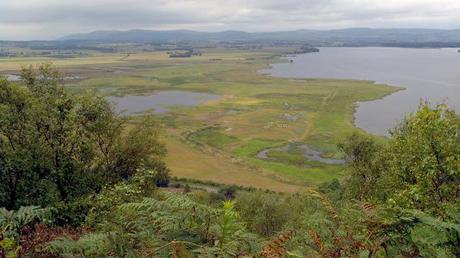 The coffee shop overlooked the reserve and the loch and there were telescopes and binoculars for anyone to use to watch the birds. I saw a lot of Swans, a lot of Seagulls and a Heron. There have been Osprey sighted here every day for several weeks, who come to eat the Brown Trout from the loch. No sign of them in the short time we were there though. Only a week ago, the largest Brown Trout was caught here weighing in at 14lb8, the largest for a hundred years. A few people went for a walk along the nature trail at the side of the loch and everyone seemed to enjoy it.
We returned to the hotel just before 5pm and I felt exhausted. After parking up I spent a few minutes trying to find out about another brilliant idea I've had which we can fit in on Saturday, if I can get what I want without paying an entrance fee. 
When I eventually got to my room I had to have half an hour kip before dinner. Our little lady with the new stick insisted on buying us both a glass of wine at dinner which went down very nicely. When we went to her to say thank you we had more tears. I'll kill her if she loses that stick! We had another pleasant, sociable evening. The restaurant manager is one of the best I have come across. And this group of passengers have been probably the easiest, friendliest, most sociable strangers thrown together on a coach, I have every come across. Both Lorraine and I are having a great time with them all. One of our passengers had seemed to make an effort to dress for dinner this evening with his shirt and tie, socks and sandals. That tickled me!
So now I'm going to put my mattress on the floor and hope for a better nights sleep. We have a late start tomorrow because its the big night at the tattoo. And I have a ticket! :-) Goodnight x