We were due to leave the yard at 7am so when I rolled up at 6am to find our 2 park and ride passengers were already there, I wasn't best pleased! I found my coach and hid out of the way while I loaded and sorted myself out. We have 46 passengers this week so there isn't a lot of space anywhere, and I seem to have more kit to carry this week than normal with the hot and cold drinks, 'survival' packs for the tattoo and the all important deck chairs! My courier with me is my good friend Lorraine and if nothing else, I know it will be a fun week with her. So we were nearly straight and ready for our public when our park and ride passengers found us, with Lorraine very tactfully telling them to 'do one' until we were in position! The silly little man riled me slightly by telling me which route I should be taking and where we should be stopping, to which my reply to all was "NO"!
We had a relatively smooth start to the day after that, with no major hiccups and we set off up the M6. There was a lot of chatting amongst the passengers and very quickly there was a lovely buzz on the coach. We had a couple of comfort stops before arriving at Gretna Green for our scheduled lunch stop. We drove through some heavy rain and fog to get here, but thankfully the sun came out when time came to get off the coach. There was a bride and groom just married when we arrived, who were having their photographs taken.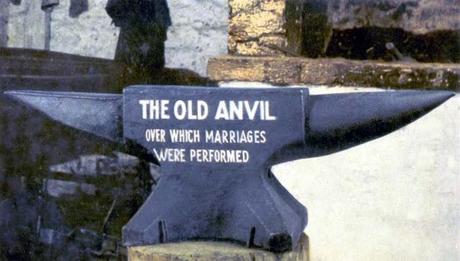 There have recently been new shops added here and the restaurant had been refurbished and the whole place was looking a lot cleaner and tidier but it is all very commercialised and well geared up for coaches which makes this an easy stop for me, but it is sooo boring seeing this is the place we always stop on our way to Scotland.
Lorraine and I were scratching our heads about what we could do this afternoon to kill a bit more time before arriving at the hotel. After getting everyone up at the crack of sparrow we didn't want to be arriving mid afternoon, so the decision was made to call into the Falkirk Wheel for coffee and if the wheel was in action, that would be an added bonus. So I checked the map and off we went, telling everyone we had a nice surprise in store. 
We were only about 1 1/2 miles from the wheel when I was flagged down by the driver of a local school bus saying, "you're not going to the wheel are you? You'll never fit under the bridge!" So after him giving me directions we turned around and tried again! A low bridge sign at the end of the road would have been a good idea but I suppose that is too sensible!
So eventually we arrived just minutes before the wheel was put into action. The Falkirk wheel is a rotating boat lift connecting the Forth and Clyde Canal with the Union Canal, based on the theory of Archimedes  screw and is a fantastic piece of engineering.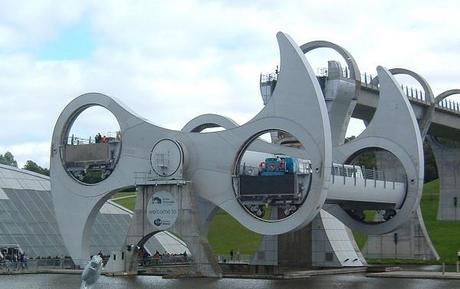 The Falkirk Wheel is 35 metres tall, the equivalent of 8 double deckers buses stacked on top of each other

Cost £17.5 million to build

1,200 tonnes of steel was used to create The Wheel

The structure contains over 14,000 bolts and 45,000 bolt holes

Over 1,000 construction staff helped to build it

The gondolas hold 500,000 litres of water, enough to fill an Olympic swimming pool

The Wheel only uses 1.5KWh of energy to turn, the same amount as it would take to boil 8 household kettles
Can anyone tell me why there are only 14,000 bolts for 45,000 bolt holes? Seems odd to me! I suppose that's why I'm a coach driver and not an engineer.
Anyway, there were several passengers who made a point of letting us know what a good visit this was and how much they enjoyed it. I got a big head because it was my idea!
So off we went to our hotel. The Best Western Plus Keavil House Hotel, just west of Dunfermline. We were greeted by a weedy little man with a limp handshake who introduced himself as Jamie, the duty manager. When the first of the passengers had collected their keys and walked past him and the line of luggage he said, "oh! Do some people need help with their bags?""No Jamie. All people! You will have read it in our contract that the coach requires porterage!""Sorry, I must have missed that bit! No problem."
That's just great, what other bits have you missed? Time will tell! And it didn't take long to tell that he had missed the bit about tables for 2's, 4's & 6's at dinner when Lorraine walked into the restaurant to find only tables for 12! So Jamie was sent into a panic when he was told it had to be changed! Luckily for him, the little waitress Rebecca overheard and stepped in very cool and calm saying, "it's no problem, show me exactly how you want it and I will do it. It won't take a minute." So while Jamie was trying to place blame elsewhere for the mistake, Rebecca saved his bacon. We had a pleasant evening finished by peppermint tea on the terrace. The end of a very successful day with a lot of very happy people and I am really pleased with the little extras we've decided to add in through the week. I hope the passengers like them too.