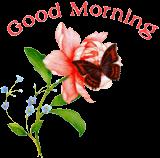 Happy Tuesday!

Flowers are beautiful to look at, tantalizing to smell, but did you know you can eat some of them? Today I am going to share with you some edible flower recipes.....

~Peace~
Edible Flower Recipes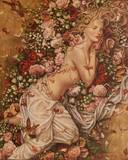 Flowers that make your backyard beautiful can also be used in recipes to spark up salads, cordials, vinaigrette and more. Before gathering your flowers for eating, make sure they are pesticide and chemical free. Pick flowers in the late morning , after the dew has evaporated but before the harsh midday sun starts to do its work.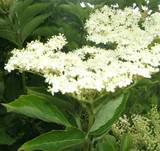 Homemade Elderflower Cordial~
This British staple, elderflower cordial may replace lemonade as your favorite summer drink. Lightly floral, it whispers rather than belts. Combine the cordial with sparkling water over ice for a refreshing , non-alcoholic drink, or add a splash to your favorite champagne or dry white wine.
 3 lemons
30 large heads elderflowers, freshly picked
6.5 cups sugar
 1 tbsp food grade citric acid (found in many natural food stores)
 Sterilized bottles 
Slice the lemons thinly and combine with the elderflowers in a large, non-reactive container. Stir the sugar and citric acid into 6 cups of boiling water until dissolved. Add the liquid to the elderflower blossoms and cover tightly with a lid. Store the cordial in a cool, dark place for several days, stirring regularly. Strain using a fine mesh sieve. Pour into clean, sterilized bottles and seal tightly.
The cordial will keep for several weeks in the refrigerator.
Makes about 10 cups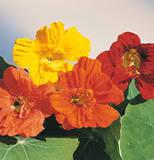 Salad of Mixed Greens, Strawberries, And Fresh Flowers with Nasturtium Vinaigrette~
Edible flowers and salad greens go hand in hand, but rarely do the blooms feature as part of the salad's dressing. Peppery nasturtium blossoms add zip to a summery vinaigrette that's drizzled over a simple combination of lettuce, strawberries and more fresh flowers. As a bonus, you'll be left with extra nasturtium-infused vinegar for next time.
For The Nasturtium Vinegar:
 3 cups nasturtium flowers, washed and dried
 2 cups white wine or champagne vinegar
Lightly crush 1 cup of nasturtium blossoms with the back of a spoon and combine with the vinegar in a glass jar. Cover with a layer of plastic wrap and screw in a tight-fitting lid. Set Aside in a moderately warm place for about three weeks, straining and replacing the Flowers with a freshly crushed bath once a week. When the vinegar is ready, strain the flower out and store the jar in a cool, dark place.
Makes 2 cups
For The Salad:
1/4 cup nasturtium vinegar
 1 tbsp balsamic vinegar
 1 tbsp honey
 1 tsp Dijon mustard
 Salt
 Freshly ground black pepper
 1/2 cup extra virgin olive oil
 1/3 cup chopped fresh nasturtium blossoms
 8 cups mixed greens, washed dried and torn into bite-sized pieces
 1 cup small strawberries, quartered
 whole pansies, nasturtium, chrysanthemum, or other edible blossoms for garnish
In a medium bowl, whisk together the vinegars, honey, mustard, and salt and pepper to taste. Slowly drizzle in the olive oil, whisking constantly, until the dressing has emulsified. In a large bowl, toss the dressing with the greens, berries and fresh flowers and serve immediately.
Makes 4-6 servings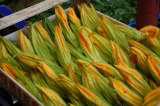 Squash Blossoms Stuffed With Ricotta and Chive Blossoms with Fresh Marina Sauce~
These golden-fried, cheese-filled pillows are an Italian favorite. Although they're extremely delicate, the contrast of gently oozing core and crisp exterior make fried, stuffed squash blossoms well worth the effort. Make sure to keep the squash blossoms refrigerated and use within a day of buying or picking them as they wilt very quickly.
For The Sauce:
 28 ounces ripe plum tomatos (about 6)
 2 tbsp olive oil
 1/2 small onion, finely chopped
 1 large garlic cloved, minced
 Salt and freshly ground black pepper
Bring a small saucepan of water to boil over high heat. Using a sharp knife, make a shallow X in the skin of the non-stem end of each tomato. Drop the tomatoes, one at a time, in the boiling water, and leave for 10 seconds. Remove with a slotted spoon and immerse in a bowl of ice water. Gently peel the skin off of each tomato, starting at the X. Roughly chop the tomatoes and set aside.
To make the sauce, put the olive oil in a medium pan over medium heat. When the oil is hot, add the onion and garlic and cook, stirring frequently, until the onion is soft and translucent, about 5 min. (do not allow the onion to brown). Add the tomatoes, a pinch of salt and some pepper and stir.
When the sauce begins to bubble, lower the heat so that it barely simmers, partially cover the pan and cook for 30 min, stirring frequently until the sauce has thickened and the tomato has broken down.
Add more salt and pepper if wanted. Set aside and keep warm until ready to serve.
For The Squash Blossoms:
1/2 cup full-fat ricotta cheese
 1/4 cup grated Parmesan cheese
 1 egg, lightly beaten
 salt and pepper
 10 large chives, with flowers chopped
 12 male squash blossoms
 Vegetable oil for frying
 1 cup of flour
 1 cup club soda
Add enough vegetable oil to a wide, deep saucepan so that it comes about an inch and half up the sides. Turn the heat to medium high and heat until the oil reaches about 360F. Meanwhile, in a large shallow dish, whisk together the flour, club soda, and a pinch of salt.
Dip each squash blossom in the batter, allowing any excess to drip off. Add the battered blossoms to the hot oil in small batches and fry about 2 min, turning once, until brown and crispy on all sides. Drain on paper towels while you coat and fry the remaining blossoms.
Serve immediately with the warm marinara sauce.
Makes 4 servings.

Keep a watch out for more flower recipes....