Spring break is over. It lasted only for four days; much shorter than I had ever wanted. I wish we had more days on hand because there is so much to do while it is still admissible to move outside in the moderate sun at this time of the year. Little A made a list of a couple of demands which had to be fulfilled in the holidays. And those were visiting Adventureland in Sahara Centre, go for a tram ride which automatically means we board a metro to reach Dubai Marina (his favorite mode of commute in the city), eat a burger because we won't on any normal day and call his friends home. I am so surprised at the rate with which this little boy is growing. He has his own preferences and want things as per his order. Ofcourse I wont always give in to his demands unless it is totally worthwhile. We took one a day and all his pleas were eventually fulfilled.
On the second day of his break, his friend came over to stay with us. This was the best opportunity I could use to do some Easter activity with the kids because I knew they'll be turned off playing with the same toys at one point of the day. I can then pick up that moment in a spin and demand them of my attention. But. There is something about these kids who, even after spending hours together aren't tired of each other and kept coming up with ideas and things around the house to keep themselves occupied. Happy too..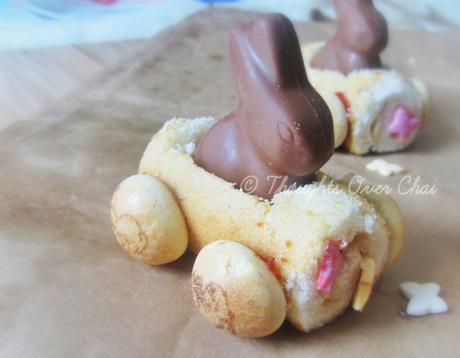 Since they were not giving in to what I had imagined, I got them down to sit for an activity running in my mind. We usually just do one activity a day or may be for a occasion like making these edible wreaths for Christmas last year. I narrated them a short story from a book and could already know how grasped they were in the Easter atmosphere. In the end, I finally unfolded that we are making the bunny cars which they can eat for a dessert. Can you picture how elated the two were? Make your own sweet treat and eat too!
All the materials we used for this bunny car is edible bought from Spinneys, but I am sure there are many more supermarkets who'd have Easter promotion going on around this time. Like all the activities we do, this one is super simple too and am certain the kids will have a gala time making a delicacy of their own. Or such good looking bunny cars on Easter party dessert table are very easy to tempt any child – or an adult!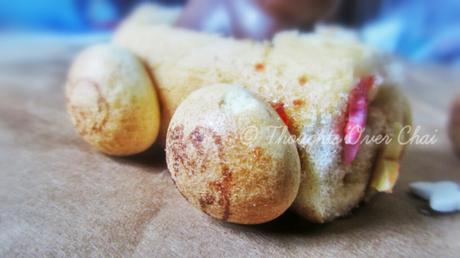 Chocolate and cake is a combination than can make any child go weak on their knees, isn't it?
Materials needed :
(makes 3 cars)
Cream filled cakes – 3, I used Americana swiss rolls
Chocolate bunnies – 3, used Lindt GoldHase mini gold bunnies
Round shaped biscuits (as wheels) – 12
Jam for pasting.
Sprinkles for decoration.
Directions :
Cut a small rectangle from the top part of the cake stopping just at the third from the bottom, enough to fit in a bunny.
Give to the kids and ask them to place the bunny and wheels in place. Biscuit wheels can be stuck with jam or a frosting.
Allow them to decorate.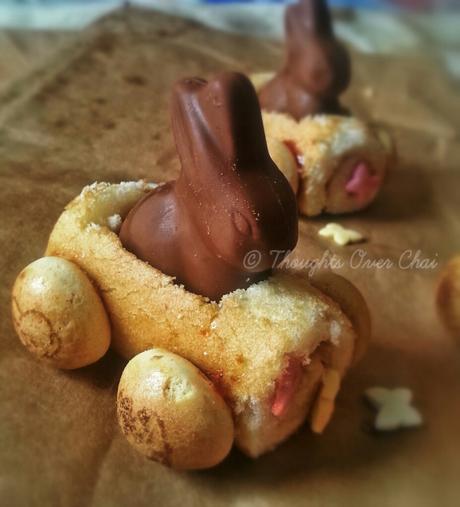 Note – I intended to use mini pretzels as a steering wheel but couldn't find any. If you can catch hold of a packet, then your bunny car will look great!