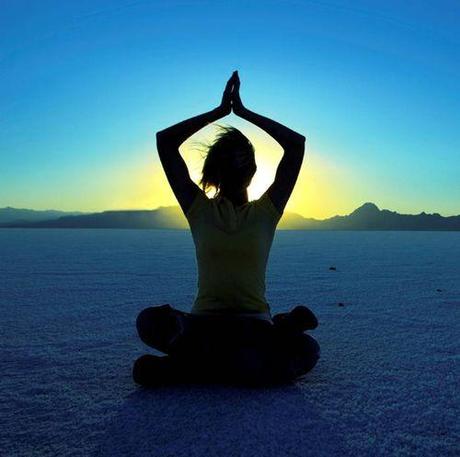 I love Yoga so much and I try to incorporate some poses into my life everyday because it's so very relaxing and yesterday was no exception. It had been a particularly tough day for me; a board that I run literally ripped me into emotional shreds for presenting an idea at a meeting that was too scary for them to see all of the possibilities. By the time I got home all that I could do was crawl into bed, pull the covers over my head and just cry. I was really taking it personally and letting it throw me out of balance.  
Jim called at about 5:00 and said ," I want to take you on a date tonight....lets go have some Italian food and a glass of wine, but first lets go to a Yoga class!" I really felt like I didn't want to even get out of bed but I trust him. He always knows how to make me feel better. So I grabbed my Yoga mat and  went out to the car.
As soon as we walked in and rolled out our mats I began to feel better. It was a basic class which was good because I didn't want to work hard, I just wanted to relax and enjoy myself. The instructor turned down the lights , led us through a series of simple stretches and then many relaxing poses. Halfway through the class I realized that I'd just let go of the worst of the day. We finished with a long Shivasana and I walked back into the locker room where I was greeted by a very obese woman who I'd never met. We began to talk for a bit and she asked me why I looked so happy. "I see all of you go in and out of that class and you always come out smiling and relaxed. Is that what Yoga does?" I smiled and said" Well truth be told, YES! I had an awful day but I feel much better now!" "You'd never know it" she said."I d love to try it, but I'm embarassed about my size". 
What ensued was a conversation about standing in the possibility of your life and starting wherever you are to make the changes that you want. It was absolutely wonderful and a conversation that I couldn't have struck up if I hadn't gotten onto the mat. Before I walked in to class I was whining and feeling really sorry for myself, but as soon as I began to move I couldn't do anything but be present. The mornings meeting became a part of my past and as a result I was able to create my present to be the way that I like it...full of lively and affirming conversations where I'm able to make a difference. The woman that I was speaking to promised to meet me in class next week although she's terrified. Stretching and doing something wonderful for myself completely changed the dynamics of the day and put my spine and my heart back into alignment. 
If you've never tried Yoga I encourage you to do so. It's not necessary to turn yourself inside out like a pretzel to begin to experience the health giving benefits of this ancient and peaceful practice. Go to a studio and sign up for a basic class. Rent a mat and wear something comfortable. Get to know your body just a little bit better and relax...Breathe in and breathe out over and over again without worrying about what you look like. No one cares, they're not paying attention. The only rule is that you stay focused on your mat because this time is yours and yours alone. 
To get you started here are a couple of apps that might interest you!
Namaste' 
I'd love to hear from you! Please keep in touch with me at http://www.facebook.com/bethschreibmangehringholistichealthcoach or atwww.bethschreibmangehring.com
Photograph is used too widely over the www to know who to attribute it too.