Solid rubberwood bathroom vanities offer 90% the strength of solid oak. They offer durability and a solution to growing concerns over deforestation. Rubberwood bathroom vanities are made from the Hevea Brasilienesis rubber tree. This material makes use of wood that would otherwise go to waste.
As one of the most sustainable solid wood materials, rubberwood is compared to bamboo which is not even a wood. This is a common misconception. Bamboo is actually a type of grass, believe it or not. That said, rubberwood is the most eco-friendly type of wood used to make home furniture.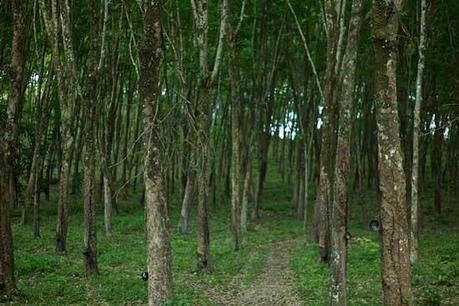 A shot of a rubber wood trees, also known as parawood. (CC)
What is Rubberwood
Rubber wood is a hardwood belonging to the Euphorbiaceous family. Rubberwood is often called by a variation of names including Paráwood Thai Oak, Asian oak, Siam oak, or simply Thai Oak. It does not bounce or stretch as the name may imply. It's a sturdy hardwood that resists cracking and warping very well. The name actually comes from the type of tree it is harvested from; the rubber tree.
Rubber trees are primarily platnted for their naturally occurring latex sap (as compared to synthetic latex materials) which is used commercially. Rubber wood is relatively inexpensive because it is an byproduct of latex farmers on these rubber plantations. It's almost like recycling materials that would otherwise be thrown away.
Paráwood trees stop producing latex after 20-30 years. In the past, these trees were cut down and either burned or chopped down to be used as fire wood. This was done because space needed to made for new rubberwood trees that would produce latex. Rubberwood offers several key advantages:
Eco-friendly material that upcycles latex byproducts.
90% as strong as solid oak.
Strong and flexible yet workable, making it the perfect material for handcrafted furniture.
Natural resistance to moisture, bacteria, mold, and other fungi.
Economical in terms of price.
Rubberwoods Appearance
Rubberwood is a very dense and tightly grained wood. It's resistance to mold and moisture makes it an ideal material for the bathroom. The surface of the wood is smooth to the touch and can be complimented with various stains and finishes. It's natural appearance is a pale cream or yellowish brown color. Let's take a look at some of my favorite solid rubberwood vanities.
Rubberwood Bathroom Vanities
Single Sink Rubberwood Vanities
1. Zola Ecofriendly Rubberwood Vanity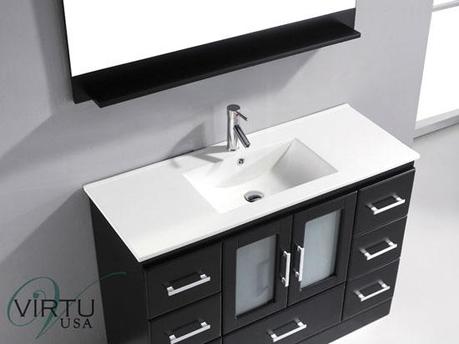 The Zola Rubberwood Vanity by Virtu USA.
The Zola Vanity measures 47.5 inches and is constructed using eco-friendly rubberwood materials. It comes with a matching mirror and 7 doweled drawers that hold up well. Most other vanities, even those advertised as "solid wood," have a solid wood construction with MDF or plywood drawers. I explain this industry practice here.
2. Felice Single Rubberwood Vanity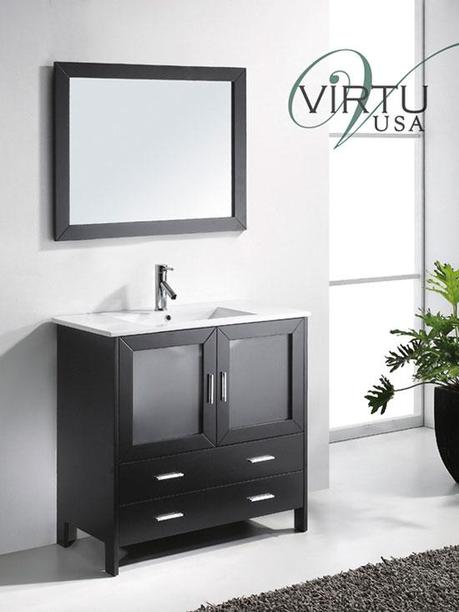 The 35.5″ Felice Rubberwood Vanity.
I like the Felice Vanity because it has a very simple, minimalist approach. If you look closely, the door panels are engraved at the corners to add a nice decorative accent. The sink is integrated with the top so you don't have to hunt for one that will fit from your local hardware store. Like the Zola vanity above, this unit comes with do doweled drawers.
3. Tilda Rubberwood Vessel Sink Vanity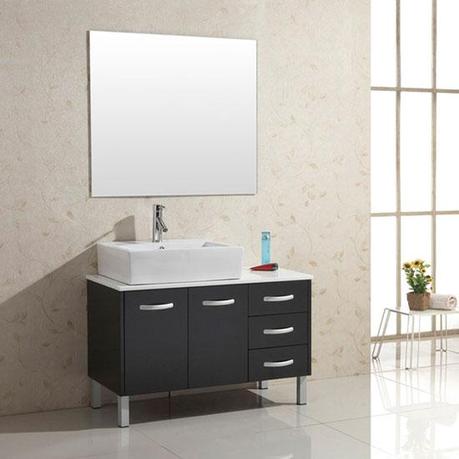 The Tilda vanity is made from eco-friendly rubber wood materials.
The Tilda vanity features contemporary styling with brushed nickel hardware. Don't let the good looks fool you; this unit is made with a resistant low V.O.C. sealer which means it won't emit that chemical smell that is often associated with home furnishings that use formaldehyde adhesives.
[View: 20 Small Bathroom Vanities that Are Big on Style]
Double Sink Rubberwood Vanities
1. Maybell Rubberwood Vanity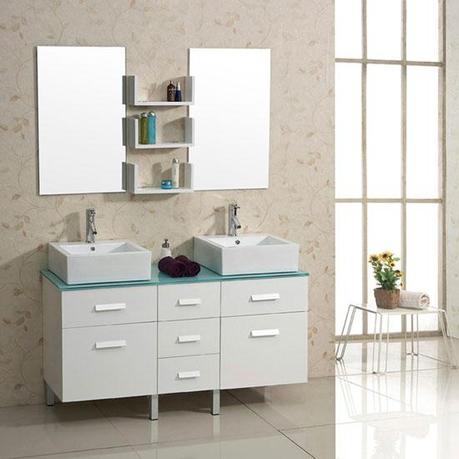 The Maybell Double Vanity has a white/off white finish that is absolutely enthralling.
The Maybell is a very unique vanity. It comes in a beautiful white finish that almost looks like it has a hint of pearl added. The design pairs two ceramic basins above a durable and easy to clean tempered glass top. Great for a his and hers bathroom because you each have a swinging door panels with shared drawers in between for smaller accessories.
2. Ava Modern Rubberwood Vanity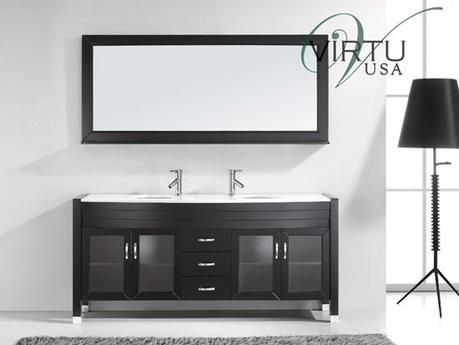 The Ava is one of the most popular models from Virtu USA and it is made from parawood.
Aside from being an eco-friendly vanity, the Ava is one of the most popular models from Virtu USA. The Ava employs the classic black and white theme of modern design with a bowed facial panel that elegantly frames the vanities silhouette.
View more Double Sink Vanities here.
Wall Mounted Rubber Wood Vanities
1. Ophelia Rubberwood Floating Vanity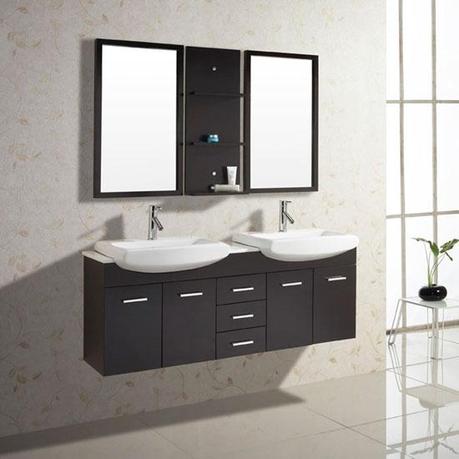 The Ophelia is a wall mounted rubber wood vanity with two over-sized ceramic basins.
These vanities are made from the same rubberwood materials except they are mounted to the wall instead of being free-standing floor units. By mounting the vanity to the wall, you save floor space beneath the cabinet, creating an open and airy design.
2. Alicia Rubberwood Wall Mounted Vanity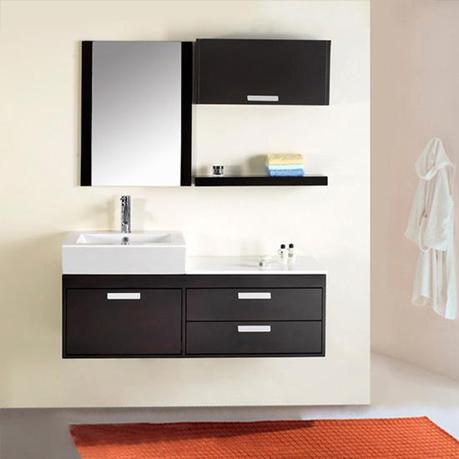 The Alicia Parawood Bath Vanity.
The Alicia Floating Vanity is similar to the Ophelia but it is a single sink model. It has a much more defined shape with a square basin instead of rounded sinks seen before. The drawer pulls are much more pronounced, keeping the overall design sharp and bold.
3. Opal Rubberwood Cabinet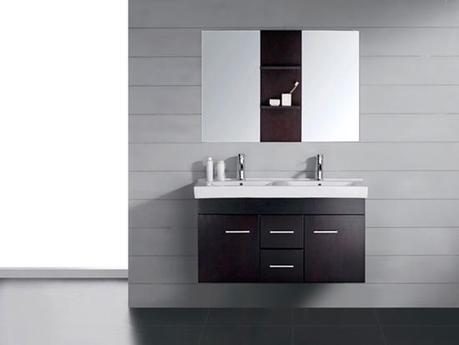 The Opal Floating Vanity made from rubber wood that is 90% the strength of solid oak.
The Opal vanity features an integrated sink top that fits perfectly to the dimensions of this double sink vanity. The rubberwood materials serve the unit well as the top adds extra weight. With that, wood used on cabinets must be very strong to remain attached to the wall without cracking or bending.
[READ: Gallery of 20 Floating Vanities]
Conclusion
These are all of the rubberwood vanities found on the Tradewinds Imports website. Rather than send you on a wild goose chase, I've curated this list to make things simple for you. If you're interested in looking for more bathroom vanities, you can visit the Tradewinds Imports website by clicking on the link below.
http://www.tradewindsimports.com/bathroom-vanities.html
More on Bathroom Vanities:
10 Solid Wood Bathroom Vanities that Will Last a Lifetime
The Best Bathroom Vanity Brands and Manufacturers
What You Need to Know About Custom Cabinets and Stock Bath Vanities
About the Author
Cheryl Khan is a designer and writer at Tradewinds Imports.com, an online specialty site dedicated to retailing fine bathroom furnishings. She has extensive knowledge about all the finer details that go into planning the perfect bath renovation project and is an expert on all things bathroom! Send her your bathroom Q's on twitter @SuperInteriors!