Have you ever purchased a new piece of furniture and noticed and noticed that it was emitting an unusual chemical order? What you're smelling are VOC compounds, something that is created by adhesives that are used to bond manufactured wood.
In recent years, a large emphasis has been placed on eco-friendly, low VOC home furnishings. The green movement has spurred a whole new market of eco friendly, sustainable materials. Consumers are searching for items that will protect the environment and keep themselves safe. Low VOC bathroom vanities are hard to find so I've curated this list for those looking for cabinets with low formaldehyde content.
After the gallery you will find useful information that will help educate you about VOCs and Formaldehyde content.
20 Eco Friendly Bathroom Vanities
1. Maybell Rubberwood Vanity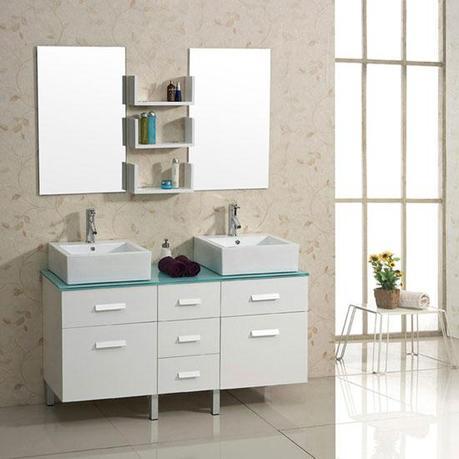 The 56.5″ Maybell Double Sink Vanity is made from solid rubberwood materials. Rubberwood is a sustainable material and is 90% the strength of solid oak wood. $1,495.00. More Rubberwood Vanities.
2. Alegra Single Sink Vanity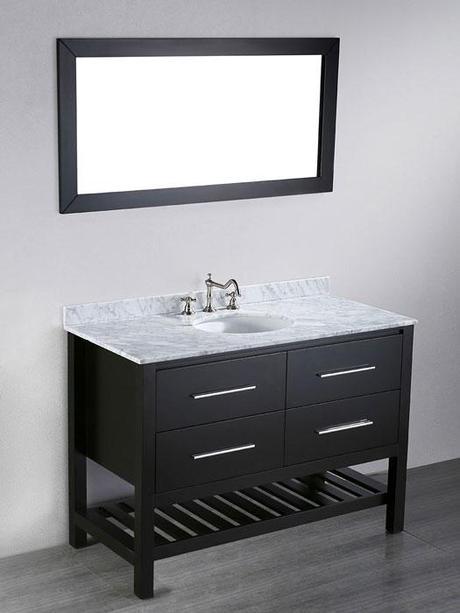 The 47″ Alegra Bathroom Vanity (Bosconi SB-250) from Bosconi. All Bosconi Vanities are CARB PH2 Certified by the California Air Resources Board.  The Alegra vanity has a whimsical open shelving design perfect for linens and comes with an original Carrera Marble Top.  $1,265.00.
3. Grand Crater Single Sink Vessel Sink Vanity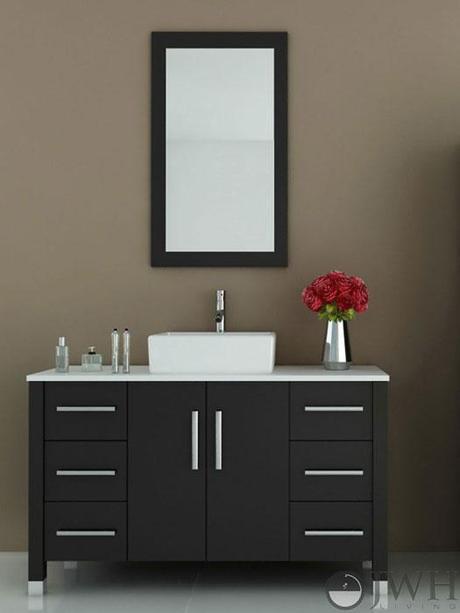 The 47.5″ Grand Crater Single Vessel Sink Vanity from JWH Living. Made from solid oak, this vanity does not require the same VOC adhesives that create chemical odors. $1,099.00.
4. Oasis Double Vessel Sink Vanity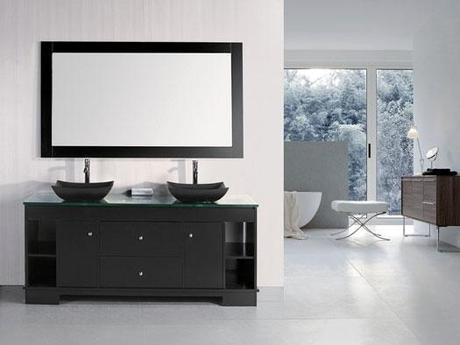 The Oasis Double Sink Vanity has a unique see through tempered glass top that allows you to see into the top drawer. Made from solid hardwoods, this vanity is a better option than MDF cabinetry. $2,560.00.
5. Premiere Double Sink Vanity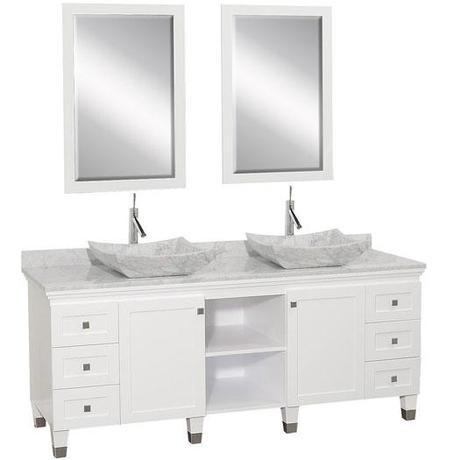 This gorgeous 72″ Premiere Double Sink Vanity features a water-resistant, low VOC finish that cuts down on indoor pollution. It's made from solid wood and is also available with multiple top and sink options. $1,999.00.
6. Pelado Single Bath Vanity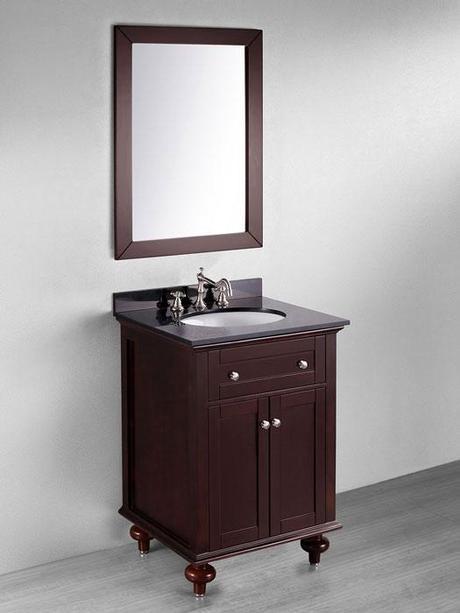 The 25″ Pelado Vanity sits on a solid birch wood frame and finished with an eye-appealing granite top. This vanity does use MDF side panelings however Bosconi only uses CARB PH2 certified wood which regulates the formaldehyde content in composite woods. $945.00.
7. Ava Rubberwood Modern Bath Vanity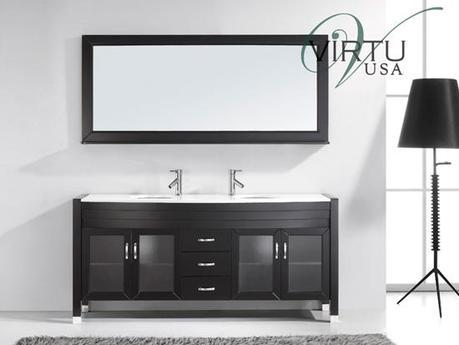 The 71″ Ava Rubberwood Vanity is one of the most popular models from Virtu USA. The Ava is coated with a special water-resistant Low VOC sealer to prevent the emissions of harmful chemicals inside your home. $1,655.00.
8. Amara Floating Bath Vanity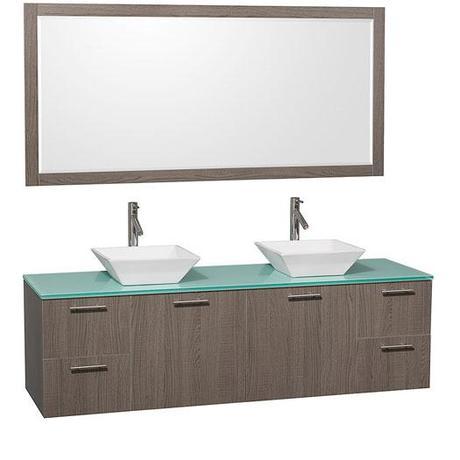 Coming from the Wyndham Collection, the 72″ Amara Floating Vanity is another option that comes with a Low VOC Sealer. $1,499.00.
9. Marion Double Bathroom Cabinet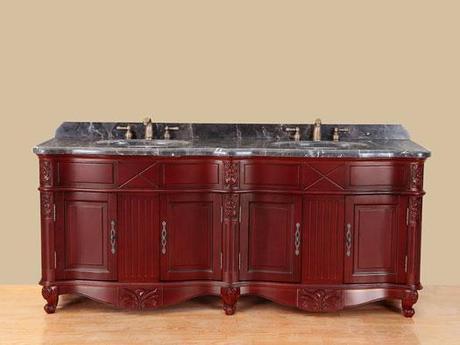 The 75″ Marion Bathroom Cabinet is CARB PH2 Certified. $1,945.00 with Marble countertop. Faucets not included.
10. Tilda Contemporary Vessel Sink Vanity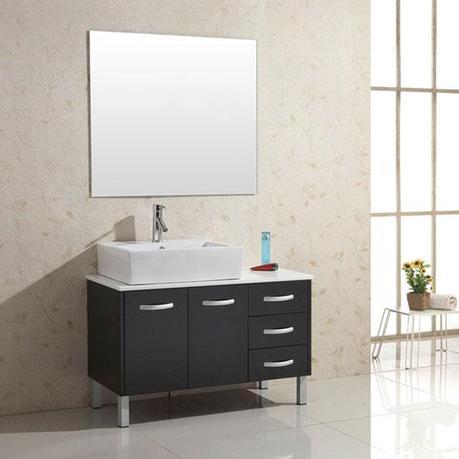 The 39.5″ Tilda Contemporary Vanity is made from eco-friendly solid rubberwood and coated with a Low VOC sealer. Yours for $945.00.
11. Berkeley Double Sink Vanity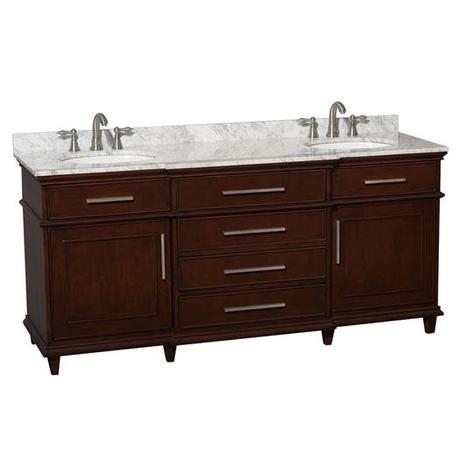 The 72″ Berkley Vanity is made from environmentally friendly materials. $1,899.00. with Free Shipping.
12. Columbo Espresso Floating Bath Vanity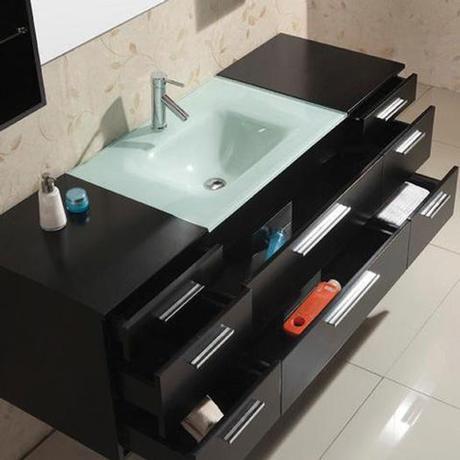 The 63″ Columbo Floating Bathroom Vanity is made from eco-friendly solid rubberwood materials and also comes with a Low VOC sealer that reduces off-gasses in your home. $1,379.00.
13. Mendocino Single Bath Vanity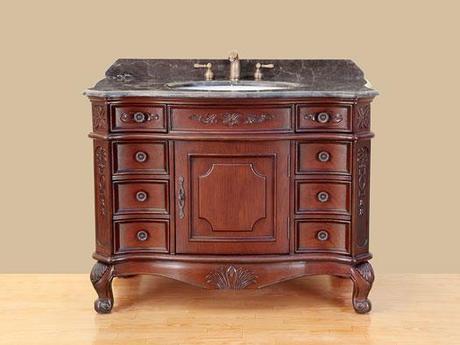 The 43″ Single Bath Vanity by Bosconi. CARB PH2 Certified and made with eco-friendly materials. $1,425.00.
14. Caroline Avenue Single Bath Vanity – White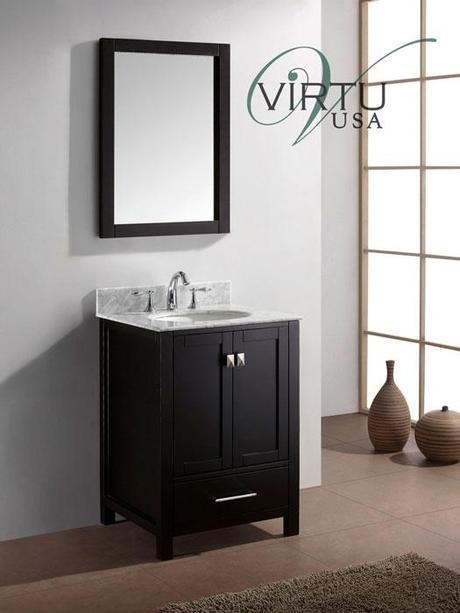 The 25″ Caroline Avenue Espresso Vanity by Virtu USA. Comes with an Italian Carrera Marble Top and is coated with a water-resistant Low V.O.C. sealer. On sale now for $919.00.
15. Naked Lune Single Bath Vanity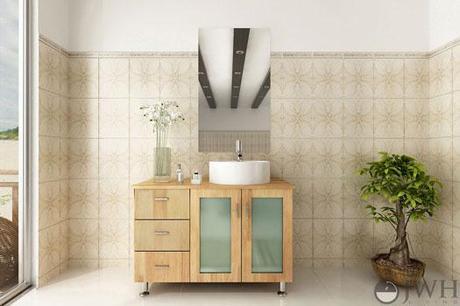 The 39″ Naked Lune has an unusual all natural finish that shows off its solid hard wood construction. Only $899.00.
16. Hampton Road Single Bath Vanity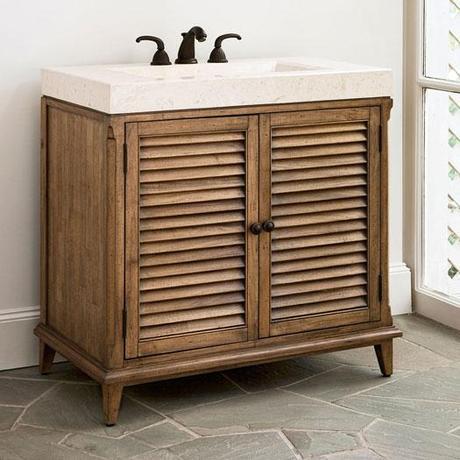 The 36″ Hampton Road Vanity with Louvered Doors. Also available in a 25″ version. This vanity is made from solid wood (no added formaldehyde) and has country style shutter doors. Available for $1,995.00.
17. Aquarius Single Bath Vanity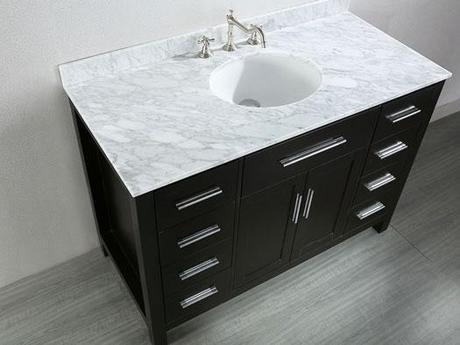 The 47″ Constanza Single Bath Vanity. This vanity meets high emission standards and is stamped with the CARB PH2 Certification. Currently on Sale for $1,429.00.
18. Abba Single Wall Mounted Bath Vanity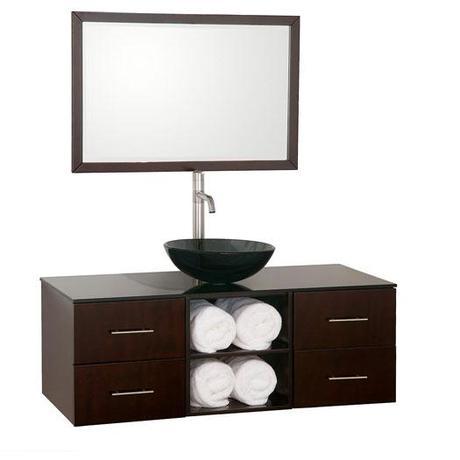 Another selection from the Wyndham Collection, the Abba Floating Bath Vanity has a open spaced design that allows you to conveniently place linens within arms reach. Every vanity from the Wyndham Collection is built using natural adhesives with low or no VOCs (Volatile Organic Compounds). This eliminates the harsh chemical smells associated with manufactured goods. Comes with tempered glass top for $999.00.
19. Aria Single Bath Vanity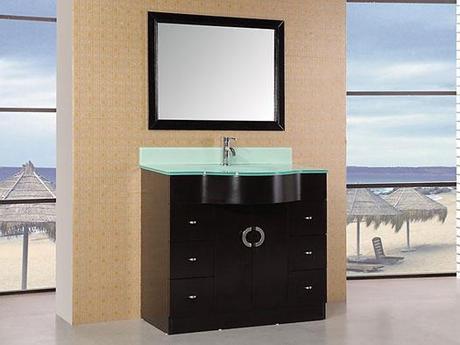 The 40″ Aria Single Bath Vanity offers the Solid Wood Advantage. This vanity has an integrated glass drop-in sink and has a soft-closing function that prevents slamming of your cabinet doors. All for $999.00.
20. Grand Lune Single Bath Vanity – White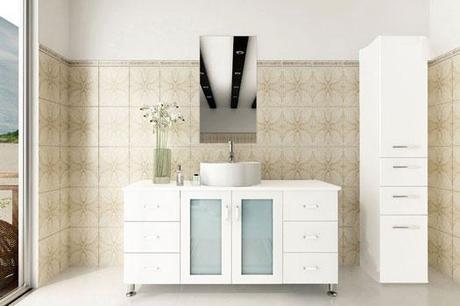 The 47.5″ Grand Lune Modern Bath Vanity by JWH Living. $957.00. with Free Shipping and No Sales Tax on orders outside of California.
Why Cabinets Off-Gas VOC's
VOC stands for Volatile Organic Compounds. These are chemicals that have a high vapor pressure at ordinary room temperature. This causes a large number of molecules to evaporate into the surrounding air. In layman's terms, VOC compounds release harsh chemical odors into the air that can have a nauseating effect.
The majority of cabinets that are not made from solid wood (MDF and Plywood) use adhesives that contain Urea Formaldehyde to bond these sheet goods. In an effort to use safer building materials, many manufacturers are now using adhesives that contain Phenol Formaldehyde which is much safer. Natural wood contains Phenol Formaldehyde so it's impossible to find 100% Formaldehyde Free bathroom vanities.
According to the EPA, Volatile Organic Compounds (VOC) are emitted as gases from certain solids or liquids. Concentrations of many VOC's are consistently higher indoors (up to ten times higher) than outdoors.
VOCs are Emitted By:
Paints, lacquers, paint strippers, cleaning supplies, pesticides, building materials and furnishings, office equipment such as copiers and printers, correction fluids and carbon-less copy paper, graphics, and craft materials including glues and adhesives, permanent markers, and photographic solutions.
As you can see, the list goes on and on so it's not something to scare you but rather give you an idea of how many home products actually contain formaldehyde and VOCs.
Eco Friendly Bathroom Materials
The vanities I'm listing are eco friendly in the sense that they meet certain industry regulatory standards, similar to what you would see with WaterSense Certified of FSC Certified Wood (like Walker Zanger's Anteak Tiles). Other eco-friendly bath vanity materials include Rubberwood and Solid Wood.
Rubberwood is a plantation hardwood that is an emerging source for sustainable materials. Rubberwood is typically used for its latex content but manufacturers have begun to find a function for every part of the tree in an effort to reduce wasted natural materials.
Solid wood vanities are different from MDF and Plywood vanities. Because of the fact that they made from solid wood, they use far fewer adhesives than these other vanities. The wood itself does not require adhesive glue but the drawers are usually made from MDF. This is a standard in the industry.
Formaldehyde Free
Formaldehyde is a type of VOC that is a byproduct of the manufacturing process. Formaldehyde is emitted by adhesives that bond MDF and plywood materials. This is common across the board and is not indicative of a low quality manufacturer.
Recently, Home Depot released a new line of Formaldehyde Free hardwood plywood's. This is a great move in the right direction. Bosconi, a Tradewinds Imports supplier, also offers eco friendly bathroom vanities that have been certified with the same standards as Home Depot's Pure Bond line. This certification is called the CARB PH2 Certification. Established in 2009, the California Air and Resource Board was formed to regulate formaldehyde emissions that are present in various composite wood products.
Are VOC Odors Harmful?
Formaldehyde is a colorless and strong-smelling gas that is emitting into the air. Inhaling air containing low levels of formaldehyde can cause burning and watery eyes. In more severe concentrations, formaldehyde VOCs can cause:
Burning of the eyes and throat
Nausea
Fatigue
Difficulty breathing
Negative effects on Asthma
Individuals who are chemically sensitive are more likely to notice the effects of formaldehyde and other various VOCs. Formaldehyde can also interfere with those who suffer from asthma.
Is Formaldehyde Dangerous?
According to the Formaldehyde Council, formaldehyde has no convincing evidence of increasing the risk of cancer. This conclusion was made following an extensive 20 year study. Contrarily, the Air Resources Board began listing formaldehyde as a Toxic Air Contaminant in California in 1992. CARB stated that there were no safe levels of formaldehyde exposure.
This poses a problem for the entire manufacturing and building industry as a whole because formaldehyde is present in adhesives and bonding agents but it's not just because they are commercial grade materials. Formaldehyde is found in everything including glue that is used for arts and crafts. For this reason, there is a major debate surrounding the true significance of formaldehyde emissions within the home.
Previously I stated that formaldehyde was a highly toxic compound but I've dug even further into it and I'm not 100% certain due to the fact that major research organizations have come to conflicting conclusions. Still, I'd rather be safe than sorry.
Zero Formaldehyde Does Not Exist
There are some companies/manufacturers (not just with bathroom cabinets) that claim to provide Zero Formaldehyde Emission products. This is not possible and you should never believe these claims. There are however Low Voc and Low formaldehyde products that contain naturally occurring formaldehyde components but the manufacturer does not add any urea formaldehyde to the adhesives or binders. This may be what advertisers claim to be Formaldehyde Free; vanities without any urea formaldehyde to the adhesives.
Formaldehyde is naturally occurring in just about everything. It's included in carbon, human blood, apples, tomatoes, milk, shrimp, and coffee, and many more ingested foods. That said, above are some solutions to help reduce the smell of formaldehyde and a list of vanities that have low VOC and/or formaldehyde content.
Tips to Reduce the Smell of Formaldehyde VOCs
The effects are highest when the product is new. To reduce the odor, you should open your vanity and let it sit in the open for a couple of days to allow the smells to dilute before installing it into your bathroom. Along with this you can leave the extractor fan running overnight to cycle air through your bathroom.
As Bathroom Expert Lisa Kahn (similar last name, no relation) pointed out, paints, finishes, and lacquers can all contain formaldehyde as well. It's important to look for vanities that are finished with Low VOC Sealers.
Where to Find Low VOC and Low Formaldehyde Vanities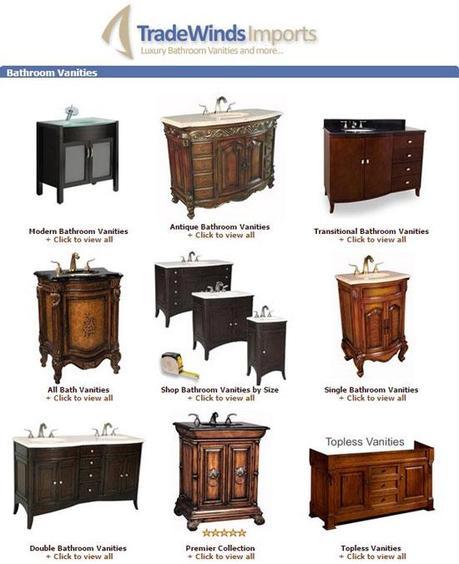 Click on the image above to search for Eco-Friendly Bathroom Vanities.
Tradewinds Imports is a retailer of high end bathroom vanities. Their featured Premiere Collection features the highest level of vanities based on materials and build quality. Continue browsing. For vanities with low VOC and low formaldehyde content, look for vanities made of solid wood, rubberwood, the Wyndham Collection, and vanities Made by Bosconi.
More Ways to Make Your Bathroom Eco Friendly:
Eco-Friendly Solid Rubberwood Bathroom Vanities
7 Smart Bathroom Design Ideas Any Homeowner Will Love
10 Solid Wood Bathroom Vanities that Will Last a Lifetime
What's the Best Material for a Bathroom Cabinet
About the Author
Cheryl Khan is a designer and writer at Tradewinds Imports.com, an online specialty site dedicated to retailing fine bathroom furnishings. She has extensive knowledge about all the finer details that go into planning the perfect bath renovation project and is an expert on all things bathroom! Send her your bathroom Q's on twitter @SuperInteriors!