One of the many things that The Dubai Mall attempts to endeavor is to take extensive range of restaurants under it's sleeve for it's regular visitors, to make sure they are satisfied after endless hours of shopping and walking from one floor to another and then from one end to the other. Just before Christmas we were shopping for Little A's birthday clothes, and there came a point when we were so exhausted we needed a break to feed our tummies with something utterly delicious. And just then we spotted a chic Rosa Mexicano in all it's glitzy pink board sign. Ever heard of people traveling to long distances for food? Well, for Rosa Mexicano at The Dubai Mall you might just have to walk a bit to satiate your hunger pangs.
Rosa Mexicano is a year old at The Dubai mall and looks like a promising one. Just after we were seated after glancing through their catchy and sophisticated interiors, we were all set for a high-end Mexican gastronomy that we were about to indulge in. When you walk into Rosa Mexicano, you will see that the restaurant is divided into two sections – one that replicates the waterfall at Dubai Mall and the other that had more of a formal sitting, where we were seated. It's not a giant restaurant but certainly not the smallest either.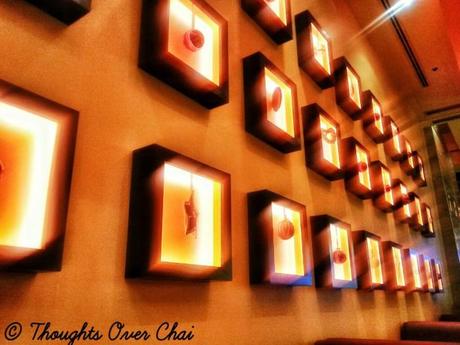 First and foremost that our server suggested we order was their uber fresh Guacamole that is prepared right in front of us. And next what we see is a man walking to our table with huge trolley carrying all his ingredients for the Guacamole. I am a big fan of kitchen items that scream traditional and authenticity, so a sight of his stone mortar and pestle already had me excited. Avocado was pitted, sliced and crushed in front of us and other ingredients like onions, coriander, tomatoes and jalapenos were added for the output that culminated into the freshest that I have ever tasted in any restaurant. We combined nachos in the guacamole while we went through their neatly designed menu.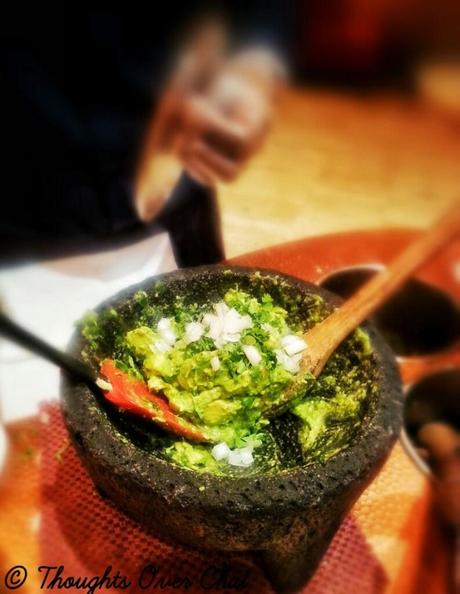 From the Young Amigos section, I ordered Chicken Quesadillas for Little A that was generously served with sweet potato fries, grilled vegetables (corn, carrot, peas and beans) and a glass of fresh fruit juice – all his favorite items in one plate means he is one highly gratified soul! Chicken was cooked well and they maintain good level of flavors with spices (very mild) to suit the taste buds of children.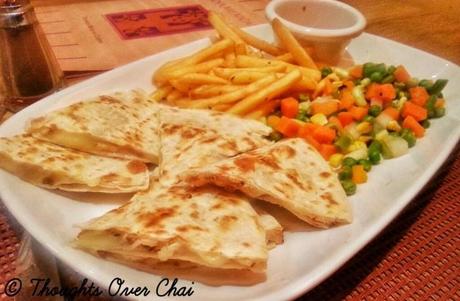 For another appetizer we called in for Tres Antojitos which is a lovely combination of chicken wings, chicken tacos and shrimp empanadas all served in one platter with two different dips and a salsa. The wings were juicy, chicken tacos came in crisp and fresh. While shrimps empanadas were although cooked well, they were too cheesy for our liking that killed flavors. This platter is good to satiate 3 adults on the table, though it can vanish as quickly amongst 2 if very starved.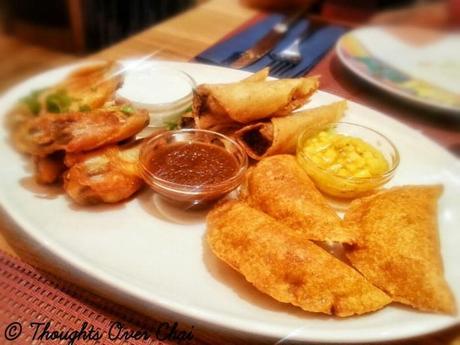 In the meantime, we ought to pamper ourselves by calling for mocktails that we slowly slurped while we still progressed through remaining part of our dinner. Hubby called for Strawberry Margarita - not very sweet and he loved the taste of mint leaves added into it while I went for Passion Fruit Mojito that had a fruit puree which I should have previously checked. It was heavy for me but nevertheless I am glad it came in a modest sized glass although it was a unique and remarkable blend of mint-lime soda with passion fruit.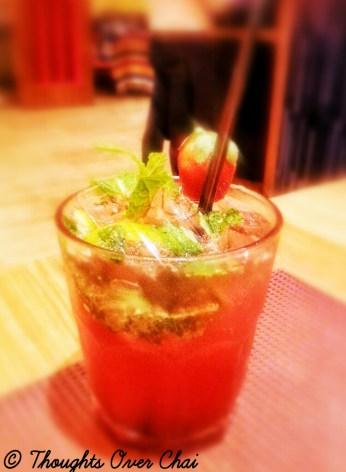 Strawberry Margarita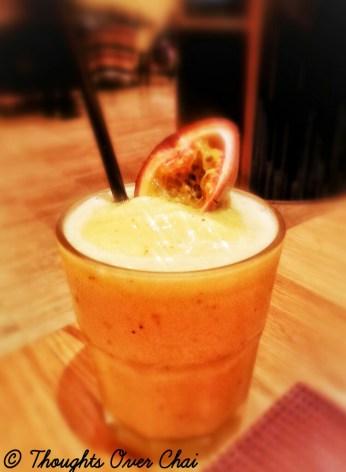 Passion Fruit Mojito
Now moving onto the food, there is a lot to choose from the menu – it offers some traditional Mexican fare like Burritos, Tacos, Fajitas, Brochette as well as Enchiladas. We had Fajitas served with grilled chicken over juicy onions and crunchy bell peppers. With warm tortillas served separately paired along with guacamole, grated cheese and crema (that was a combination of heavy and sour cream) on the side, it was more like "make your own" kind of concept. We stuffed our tortillas with the contents provided and were good to go.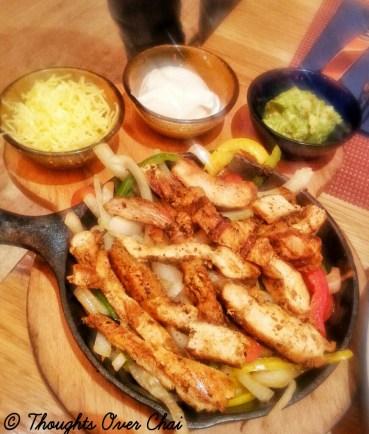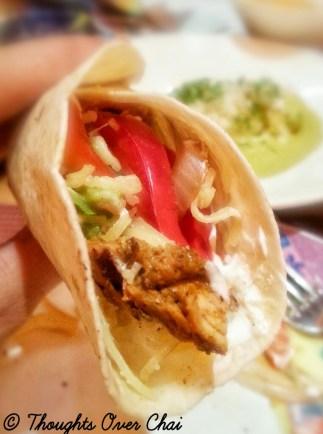 Eating at a Mexican restaurant and not ordering for a Burrito? Hell not. And that's exactly why next up was Burrito de Pollo which was divided between hubby and me. It was quite filling since a big tortilla came wrapped with chicken, beans, rice and cheese, and it was hence appropriate that it be shared since we were already so full after gorging on our fajitas. And if you see, most of the dishes on the menu are family style – that are really meant to be shared with everyone at the table.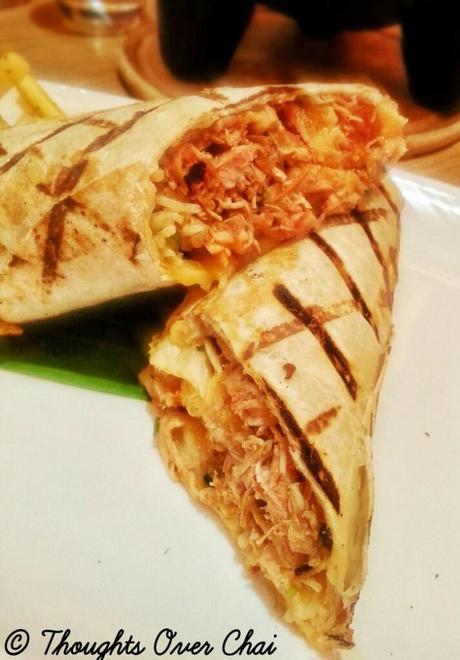 Did I mention desserts yet? Amongst others on the menu, I found Tres Leches de Zarzamoros to be a legitimate Mexican item and that is what we went for. A spongy pound cake drenched in evaporated milk, condensed milk and heavy cream and topped with berries, it was as good as having a supple taste of heaven.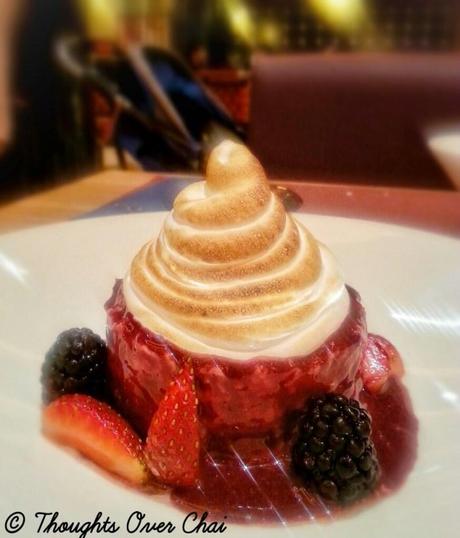 Though a little on the higher side of the price as compared to other restaurants in the vicinity, Rosa Mexicano does serve Mexican fare with great elan. The quality and taste of food was a massive hit with my family. We might also just keep dropping in at the restaurant for their fresh Guacamole's in between our shopping trips at The Dubai Mall.
On another note and further probe from the manager, we got to know that the restaurant also hold very exciting and unique activity session for a group of children known as "Rock the Guac", wherein every child gets their own kit including aprons and sombreros and are guided by the chef to make their own Guacamole and Quesadillas. You may contact the restaurant for more information.
Rosa Mexicano on Facebook - https://www.facebook.com/RosaMexicanoAR
Location – Lower Ground Floor, The Dubai Mall and Ground Level, Mirdif City Centre, Dubai.
If you liked this review, give Thoughts Over Chai a follow on Instagram, Twitter and Facebook.
We were invited to Rosa Mexicano for a review, but I guarantee all opinions and views expressed herein are my own.