Some people might say London is a really expensive city, that the lifestyle is too expensive. And I say: it depends. Don't you believe me? Read this entry.
We can't deny that the British Pound worths much more than other currencies like the Euro or Dollar. So, with the exchange rate, yes, it could look much more expensive. But happens to be that we spend a lot of money in eating while on holidays. London is the city of the take away. A few of us bring food to work, most live on sandwiches and the take away for most of the  month. And that is the reason why eating out is really cheap. Sometimes it even turns out to be cheaper buying out than cooking at home. So I give you a list of restaurants that appear all around England and that are a good option is you are traveling on a tight budget or you just do not want to wast any time and enjoy the city to the full.
I give you all the restaurants were you can eat (main dish and soft drink) for under 10£ per person without having to stand. And I want to make really clear that I am only talking about chains, but all along UK there are thousands of similar independent companies that offer the same, you just need to look a bit around.


Ping Pong:

 This is a Chinese food chain serving mainly dim sums. The little steamed bites are a healthy and tasty alternative. They always have offers at lunch time and even at diner. They also have other traditional Chinese food, but that would go out of our budget. They are proper restaurants, not for fast food.


Itsu: 

This is a Japanese, also really healthy, but the shops are more to eat fast than enjoying a quiet night. They mainly have sushi, salads and noodles or rices.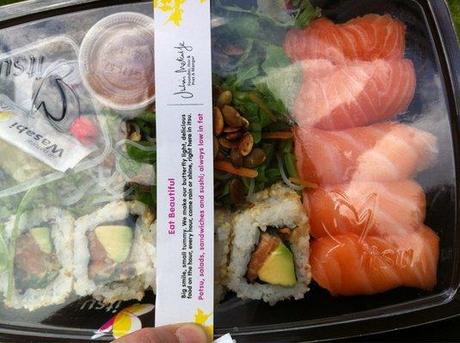 Wasabi: another Japanese, really similar to Itsu, but I always think they have more to choose from.  

Pizza Express:

many Italians would tell you this is not the authentic Italian pizza. To be honest, I have seen so many types of pizza, that I do not know what is authentic and what is not. The pizzas, salads and pastas are quite well and they are around 7-9£, although the restaurants look quite more expensive than that! They have been awarded with the best pizza award in 2012. 

Strada:

quite similar to Pizza Express, it is a bit more expensive and I personally do not like it as much, but it is also a really good option. 

Wagamama:

I am not a fan of this one, but I include it here because it is quite popular in the country. Japanese food without sushi. The tables are to share, but they have waiter service.


Wetherspoon:

 This one is about pubs. Because pubs have generally good food, mainly English dishes and the prices are really popular. Wetherspoon has really cheap prices and all their pubs look independent from one another. Be careful going with children as some of them do not allow them in depending on their emergency exits.
Nando's: I am not a fan at all, but everybody else seem to love it. They mainly do chicken. Yes, only chicken and some vegetarian dishes.
I will keep adding as soon as I remember more, but I can assure you will find most of them in any city across UK.