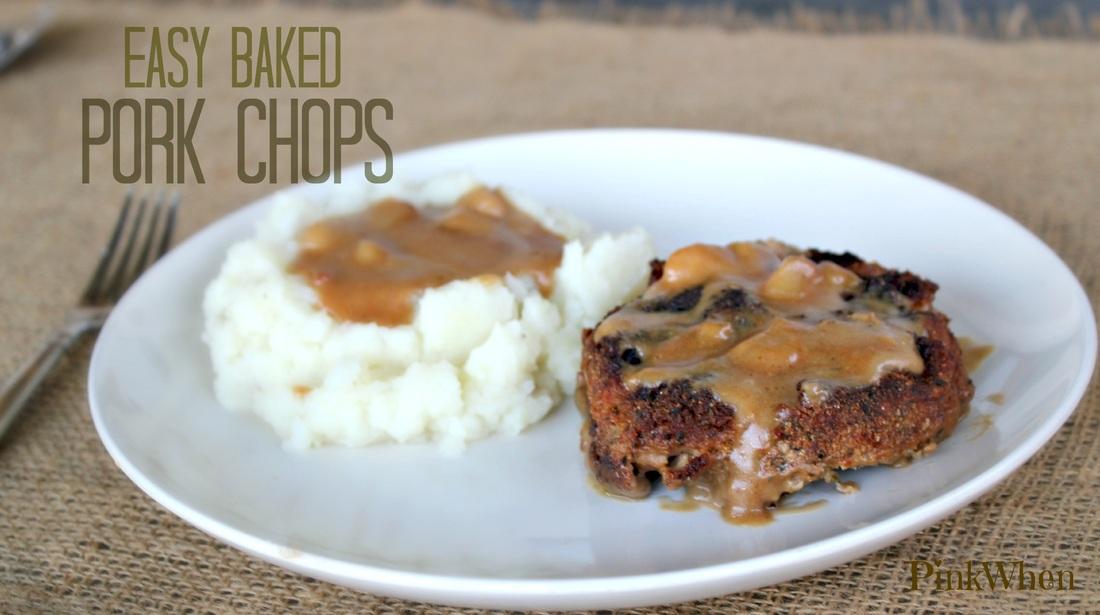 This has to be one of my favorite Southern dishes of
ALL
time.  If you aren't from the South or tasted a good Southern dish, I implore you to stop whatever you are doing, make the grocery list, and put this recipe on your meal plan for the week!!  You will be happy you did, unless you are on a diet…because you will want to make this all of the time!  This isn't one of those QUICK recipes, but you won't care after this melts in your mouth, and all good things come to those who wait! Let's get started... First thing's first, turn your oven on to 350, then grab all of your ingredients:
pork chops (2 large or 4 small)
2 eggs
1 cup flour
1 cup Italian bread crumbs
Paul Prudhomme's Veggie and Pork Magic
Black Pepper
Garlic Powder
1/2 cup of milk
1/2 cup Dales (low sodium liquid steak seasoning)
1 (10oz) can of cream or potato soup
Extra Virgin Olive Oil
Foil
1.  To get started take your pork chops and rinse them in water and then pat dry.  On both sides of the pork chops season with black pepper, garlic powder, and Pork Magic.  (If you can't find this in a store, order this online and get his whole stash! I use them all, and you won't want to miss the fireworks of flavors that explode in you mouth every time you season your meals.) 2.  Heat a skillet on the stove over medium heat and add the Olive Oil.
3.  Next get three bowls or plates and place flour on one, mix your two eggs together in the second, and in the third place your Italian bread crumbs.  Take your seasoned pork chops and dip them in the flour, then the egg, and finally coat really well in the Italian bread crumbs.  
4.  Lightly brown the pork chops on both sides, between 2-5 minutes in the skillet.  Adter they are browned, remove from the skillet and place in a 9" x 13" baking dish.  Place these in the oven covered with foil for 1 hour.
5.  After the hour, remove the dish from the oven and remove the foil.  In a separate bowl mix together the milk, dales, and cream of potato soup.  Once mixed well, place this mixture on and around the pork chops, cover again with foil, and place back in the over for an additional 30 minutes.
6.  After 30 minutes, remove from oven, remove foil, and allow to cool for 5 minutes before serving.  Perfect with a side of homestyle potatoes, french bread, and salad!