Recipe Number One Hundred:  Page 383.
Wow – this is my hundredth recipe. I am in to triple figures, hooray! I wanted to use decoration to signify the milestone; this somewhat limited my choice of recipe. I had several possibilities in mind, but it all depended on what I could get at the shop. As it was the weekend and Neil was home, I was able to go to the shop alone - no pushchair to navigate along the ridiculously narrow aisles and a few rare minutes to myself!! Early on in my search, it became clear that lemon cheesecake was the order of the day as I could get all of the required ingredients. I was happy with this outcome; I love cheesecakes and I hadn't made one for a little while. With a full shopping bag but an empty purse (apart from a few coppers) I headed home.
Neil needed to get on with tiling the bathroom, so I was my little boy's playmate for the afternoon and, as he has two more teeth coming through, it felt like an especially long afternoon! I didn't get round to making the cheesecake until after eating our rather unsatisfying stir-fry. As I had started so late it would mean we would have to wait till the following day to try it, it would need to set in the fridge overnight. I was upset by this; suddenly all I wanted in life was a slice of cheesecake!
First of all I had to make the biscuit base. I needed ten digestive biscuits for this. Mary's cheesecake recipes so far tend to have bases rather on the thin side. I put the biscuits in a large polythene bag, and retrieved my rolling pin. There were a lot of biscuits left over and somehow I managed to eat three of them, whoops! I bashed away at the bag of biscuits with my heavy rolling pin; my goodness my arm ached. I paid special attention to making sure that there were no large lumps of biscuit left. I melted some butter in a saucepan and very nearly burnt it. Suddenly it was sizzling away a bit too merrily; I think I must have been distracted by the digestives! I tipped the biscuit crumbs and a small amount of Demerara sugar into the saucepan of melted butter and gave it a good stir. I was worried when I pressed the mixture into the flan tin as it was very dry, I hoped it had enough butter to set. Sure enough, I found large pieces of uncrushed biscuits. I always miss bits!
I left the biscuit base while I got on with making the lemon cheesecake. I added some cream cheese to a bowl, swiftly followed by a whole can of condensed milk. My goodness! It was clear that this was going to be a very sweet cheesecake! As I also needed to add a small tub of single cream, this wasn't a low fat option either. Well, I always consider that the things which are bad for me taste the best, so I took this as being a promising sign! My aching arm didn't get long to recover as I needed to grate the zest from three lemons; I think you will agree that is a lot of zest. Sometime later I could mix everything together. As the cream cheese was lumpy, I needed to grab my balloon whisk. This easily broke it up and very quickly I had a smooth and creamy mixture. This cheesecake was obviously going to have more than just a subtle hint of lemon, as the next job was to squeeze the juice from each fruit. I poured the juice through a sieve first to make sure that no bits ended up in the cheesecake and then added it a little at a time. The lemon juice helped thicken up the mixture and, after a few seconds of frantic beating, it was thick and creamy. By now the biscuit base had set so I could tip the lemony mixture on top. It looked so good! I was even more upset that I couldn't have any until the next day. I popped it into the fridge to chill. The next day I would decorate it with whipped cream and strawberries; at the least the strawberries would be part of my five a day! Of course, now was the time to lick the bowl. I took the experience to another level by using a digestive biscuit to wipe round the bowl instead of a finger (or spoon when in polite company). I was determined to have my cheesecake one way or another. Neil caught me in the act and he looked more than a little horrified. But I didn't care; I was unashamed in my enjoyment – it was as good as I imagined it would be!
The following day I had some help from Neil with the decoration. I think he wished I had just left him to it as I couldn't help interfering, I am not sure we had the same vision!! The top of the cheesecake was covered with whipped double cream and then more was splodged in the shape of 100. All that was left to do was to dot some strawberries on top as decoration. Neil gave the cheesecake ten out of ten. He is a tough marker so this was high praise indeed! The base, although a little thin, was deliciously sweet and highly addictive. The cheesecake topping was so light, creamy and obviously lemony. The lemon taste was slightly sharp but not at all overpowering. I could sit and eat the whole plateful if allowed, but I am not sure Neil would let me get away with that!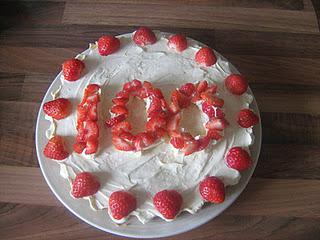 YAY my 100th recipe and it tasted mighty fine :-)