Abby here.
Nothing says summer like a big dish of caprese (ka-pre-zee) at the dinner table.  Well that and sunshine, kids running through the sprinklers and sunshine well past 9PM.
With a family full of opinionated eaters, this dish is something we all agree on. John is anti raw tomatoes, but he's a good sport and picks around them.
While my plants are definitely growing, we have a few months before we have our own big ripe red tomatoes.  Happy to say though, that this basil is the first thing we've eaten from the greenhouse this year!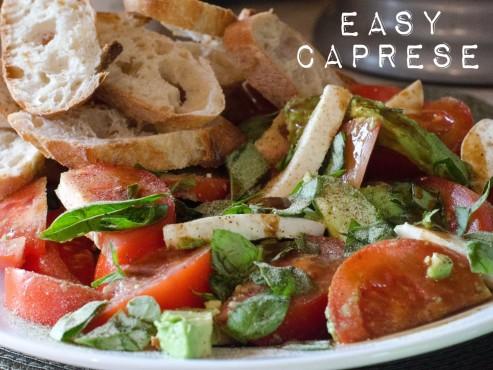 It's a simple recipe, that I paired with a ridiculously crusty (in the best way!) baguette from a local organic bakery, Wild Crumb.
Here's what you need:
2 red ripe tomatoes

2 avocados

1/2 ball fresh mozzarella

handful of fresh basil

balsamic vinaigrette
salt and pepper
What to do:
Slice the tomatoes, avocados, mozzarella and basil to desired sizes and place on plate.  You can be fancy and arrange them pretty or just throw them all on the plate… tastes the same either way. Top with salt and pepper.
For the viniagrete, I mix 1/2 cup balsamic vinegar and 1/2 cup olive oil with a teaspoon of mustard in a mason jar with lid, and shake to combine.
Drizzle the vinaigrette over the fresh vegetable and serve with a sliced baguette.
I've brought this as an appetizer to supper club or as a main dish for the family.  Enjoy!
We're linked up:
Kelly the Kitchen Kop
This Chick Cooks
The Nourishing Gourmet