Traditional corned beef requires a pot of boiling water, 3 hours, and changing of the salty water. But, with an active toddler that wants my attention, I didn't want to have to stand over the stove and watch that he didn't try and touch the flame.
This recipe only requires the oven and only one pan to wash (or disposable pan to just throw away!)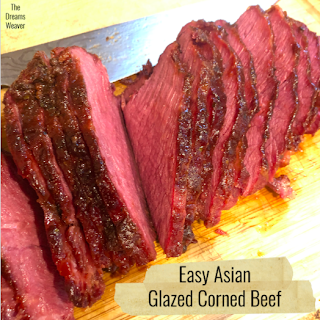 What you will need:
1 (2.5-3 lb) pickled brisket
Glaze
3/4 cup teriyaki sauce
2 tbsp soy sauce
1 tbsp rice vinegar
2 tbsp honey
1/4 cup brown sugar
1/2 inch fresh ginger, minced or 1 tsp ground ginger
4 cloves 
minced garlic

Directions:
Preheat oven to 350
°F.
Place meat in its sealed bag of pickling liquid into a 9x13-inch pan. 
Add water to the pan until the meat is covered. 
Cover pan tightly with foil; bake for 2.5 hours, until meat is tender. 
Drain water from the pan and set meat aside until cool enough to handle.
While meat is cooling, prepare glaze.
Glaze:
Add glaze ingredients to a bowl and whisk to combine.
Remove meat from bag and drain all liquid. 
Rinse meat under cold water to remove any remaining pickling spices and salt. 
Return to pan and pour half the glaze over meat. 
Bake uncovered for 15 minutes. 
Remove from oven and pour remaining glaze over meat. Bake for an additional 15 minutes.
To serve, slice meat and spoon glaze/sauce over it.
Enjoy!