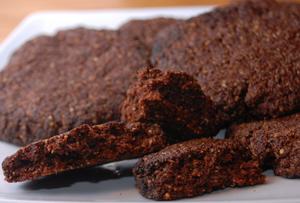 This recipe is very quick and easy, using almond flour and Truvia instead of traditional baking ingredients. As always, the biscuits are low-carb, sugar-free and gluten-free.
Total preparation time is about 5-10 minutes, plus 10 minutes baking time.
Total 6g net carbs per 100g
520 calories, 46g fat, 17g protein
Caution: this recipe contains a lot of butter in addition to almond flour, so they are quite high in calories (about the same as their sugar- and flour-based equivalents would be). So please think of them as an occasional treat to bring some variety to your low-carb diet, rather than something to have on a regular basis.
Ingredients:
1.5 cups (120g) almond flour
100g butter (0.4 stick)
100g raw unsweetened cocoa or cocoa powder
(I used Willie's Cocoa Venezuelan Black 100% raw cocoa)
1 large egg
4 tbsp Truvia (or another granular sugar substitute)
1 tsp xantham gum
1 tsp baking powder
1 tsp vanilla extract
Method:
Preheat the oven to 190C/375F/Gas Mark 5
Mix all dry ingredients together (if using cocoa powder, mix it in with the dry ingredients)
Melt butter (if using raw cocoa, melt it together with the butter) and cool
Lightly beat the egg and mix it in with melted butter and vanilla extract
Combine all ingredients together and mix well
Line a baking tray with baking paper
Form eight round large biscuits with your hands
Bake for 10 minutes – you want them to have turned hard on the outside, but still moist inside
Take out and cool on a wire rack (they will become a bit firmer once a little cooled)
Nutritional information:
In total, using the amounts above:
per 100 grams of the mixture: 520 cal, 6g net carbs, 46g fat, 17g protein
per 1 biscuit (43g), assuming 10 large biscuits are made from amounts listed above: 220 cals, 3g net carbs, 20g fat, 7g protein
Note about Truvia
Truvia consists of erythritol and stevia extract. According to manufacturer, it does not get processed as sugar by human body and has no effect on blood sugar or energy levels, and so effectively contains zero carbs and zero calories. If you are sceptical about such claims, please use another sweetener which you trust, and add on the nutritional values to the totals provided above. You will also have to find another sugar substitute if you follow a paleo diet, as Truvia would not be suitable for you.