Days to go: 35
I don't know why I had such a hard time with earrings for the big day but safe to say my troubles are over!
As you know I managed to find the beautiful vintage style rose studs from a website and shop based in Australia (still waiting for these but they have been dispatched!) and then found some cheap small crystal studs to wear in four more earring holes. For some reason I was set on wearing a small red heart in my highest earring hole and after searching HIGH AND LOW I found that no one sells what I had in mind! So, it was time for a cheeky see-if-someone-can-do-a-bespoke-order!
Tatty Devine are a small little company based in London that make amazing art jewellery. Tatty Bojangles talks about them here. (By the way Tatty Bojangles has recently set up a new website showcasing all that is stylish and vintage about Hen Dos – forget the L plates and flashing tiaras! More on this after my hen do I think!)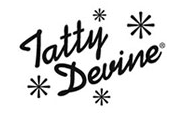 Tatty Devine sell chunky heart studs but I knew they were too big for what I wanted. I asked if they could make some heart studs as small as possible i.e. around 4mm, and after experimenting for a whole day they said they could make some 7mm studs which I was assured 'look smaller than they sound.' So I said YES! I received them in the post this morning and they are PERFECT! They are in fact so dinky that I couldn't get the best photo, but enjoy!