Trip.com PointsPLUS has launched a joint-promotion campaign with 10 selected airline partners for the year-end promotion. 
During the promo period, members could earn extra miles rewards for their hotel bookings, more details as below:
Valid: Live NOW - November 30th, 2019
Offer: PointsPLUS XMAS campaign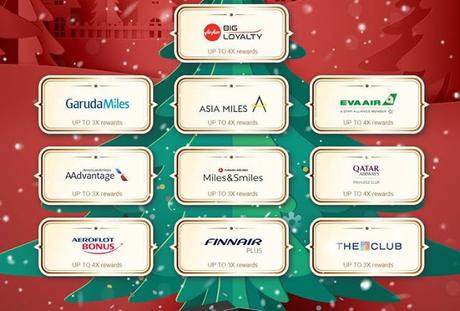 &id;&l;&h;&advf;&adva;&advh;&dst;&col;
Terms and Conditions: 1. Promotion Platform: All Trip.com websites and mobile apps (Version 6.6 and above). 2. Booking Period: From Nov 1 - Nov 30, 2019; Check-out Date: No later than Jan 31, 2020. 3. To earn miles and points by booking an eligible hotel room, users must be a member of both Trip.com and a participating third party rewards program. 4. The membership number of the intended recipient of the third party miles and points must be a guest staying at the hotel and the name on their third party membership must match the guest name entered for Guest 1 on the hotel booking. In the event that the user's name or membership number is entered incorrectly, no miles or points will be awarded. 5. Only completed hotel bookings will be eligible to earn miles and points. Miles and points will not be earned for cancellations, modified bookings, no-shows, or chargebacks. 6. Miles and points earned will be credited to the user's account within 6 weeks after the completion of their stay. 7. Miles and points earned with PointsPLUS may not be redeemed for cash and cannot be earned in conjunction with any other discount or promotional offer. 8. Your personal information may be collected and shared with our loyalty program partners as necessary for miles or points accumulation. 9. All bookings are subject to Trip.com terms and conditions. 10. Trip.com reserves all rights of final interpretation.