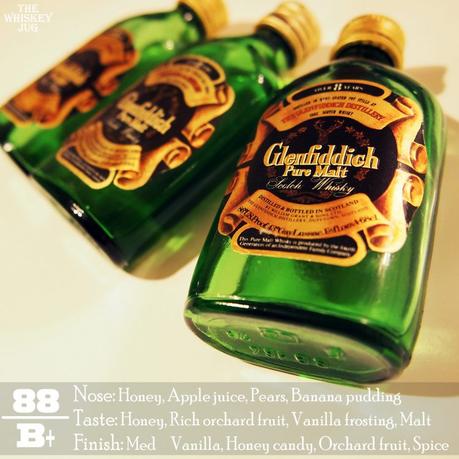 By the early 1980s Glenfiddich had about 20 years of single malt selling under its belt and was handily dominating the world in the category. It had a well established reputation and was setting the standard for single malts the world over. It was a prestigious drink and was setting the tone for how single malts would be marketed for decades to come. In short they were the king and they wore a tasty crown.
Early 1980s Glenfiddich Info
Distiller: Glenfiddich
Mashbill: 100% Malted Barley
Cask: ex-Bourbon
Age: 8 years
ABV: 43%
Price: NA – Auction, Specialty Store or Private Seller
Early 1980s Glenfiddich Review
EYE
Golden honey
NOSE
Honey, apple juice, fresh pears, banana pudding and graham crackers with touches of vanilla and spice. It has an overall fruit tart essence to it that I find incredibly alluring. I like the early 70s more, but this is still several steps above the whisky we have today.
PALATE
Honey, rich buttery orchard fruit, vanilla frosting, roasted maltiness, minerality, dried apricots and bits of graham, lime, oak and spice. Yum… just yum.
FINISH
Medium fade of vanilla, honey candy, dried orchard fruit, spice and char.
BALANCE, BODY & FEEL
Well balanced, surprisingly full body and a round slick feel.
OVERALL
Early 1980s Glenfiddich is really good. The aroma and palate both carry a heavy character of honied fruit that continues through the finish till it fades out to a sweet char. The charred note is interesting because it's almost like some lightly burned fruit, but it's also kind of like the aftertaste of a cigar. It sits delicately somewhere between the two and is quite unique, as far as I've experienced, to this era of Glenfiddich.
The early 70s was VERY tasty, the late 70s was atrocious and this early 80s Glenfiddich is a tasty gem. While 2/3 of these older drams were amazing I know I won't likely be experiencing them again anytime soon. So of course that brings us to the present day. While I don't think the current Glenfiddich 12 is nearly as alluring as the early 70s and early 80s stuff it's still a decent dram for the price.
SCORE: 88/100 (B+)