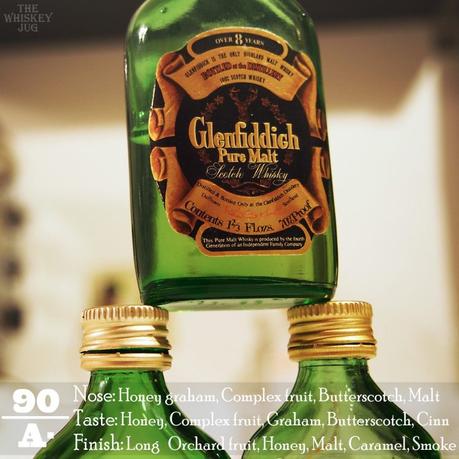 Glenfiddich is a storied distillery and have earned their place in the history books as being the first single malt on the market, known as a Pure Malt back then. Their first release was under 4,000 cases but by the early 1970s Glenfiddich was pushing 120K cases. This directly leads in to them also being the longest running holder of the title "Best Selling Single Malt" in the world. These days they're also one of, if not the, largest producer of whisky with their distillery pumping up to 10 million liters of whisky out of their stills every year.
The current owner of Glenfiddich is William grant who also owns Balvenie, Kininvie and Ailsa Bay. Being such a power house distillery with a company that seemingly understands whisky quite well with how it's handled its other brands it boggles me that there aren't more cask strength, high-proofed limited editions or single barrels hitting the market. It seems like this is an are that's ripe for exploitation amongst their fans and whisky nerds alike.
Early 1970s Glenfiddich Info
Region: Speyside, Scotland
Distiller: Glenfiddich
Mashbill: 100% Malted Barley
Cask: ex-Bourbon
Age: 8 Years
ABV: 43%
Price: NA – Auction, Specialty Store or Private Seller
Early 1970s Glenfiddich Review
EYE
Golden honey
NOSE
Honey graham crackers, orchard fruit, tropical fruit, butterscotch and a heavy malty backbone with touches of spice and nuts. Deep, dynamic and complex there's a heaviness to the aroma and I love everything about it. As you'd expect there's some OBE in here, but it's remarkably light.
PALATE
Robust and bold delivery of honey, orchard fruit, graham crackers, tropical fruit, butterscotch, cinnamon oil and light waves of oak, vanilla, lemony citrus, menthol and a touch of smoke. This is good! It's a rich example of a well crafted Speyside.
FINISH
Long orchard fruit driven fade layered with honey, malty sweetness, caramel, oak, smoke and menthol.
BALANCE, BODY & FEEL
Great balance, full body and a round velvety feel.
OVERALL
This early 1970s Glenfiddich is delicious! It has an oiliness to it that sticks to the nasal passages, clings to the tongue and coats the esophagus. This is the kind of whisky that made Glenfiddich famous and helped it spread across the globe to become the #1 selling single malt on this little blue marble of ours… too bad they couldn't keep this up.
I know that it's not just the fact they deliver almost everything at a wimpy 40% but also the quality of the casks they get and use. Back in the early 70s I would wager the majority of these casks were first fill and they came from older wood than what they're getting now. It would be nearly impossible for them to recreate this today and while that's sad it should be a goal because… damn.
SCORE: 90/100 (A-)