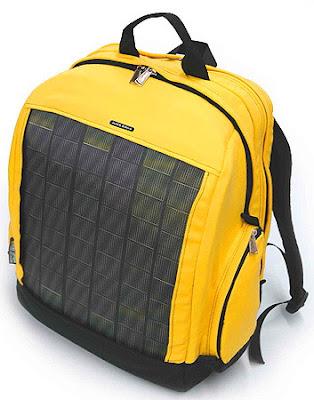 Now isn't this smart and useful technology? I found out about this solar tote bag and felt like I had to tell you about it. 

It's genius. 
It's even made in the
U.S.A.
. Imagine that.
Catering
and
planning events
, I'm on the road a lot. I produce
parties
all over the place. And sometimes we're at jobs sites that are off the beaten path; at a remote location, way out in the middle of Nowheresville.
I'm sure I don't have to tell you, when your
cell phone
loses power in the middle of an important call, it's annoying. It's madness! You have no idea how many times I've run around, asking people working with me if I can use their phone. Boy oh boy, would a Reware Juice Bag have saved the day.

Reware Juice Bags are the world's first tote bags to incorporate high-tech flexible solar panels, which allow you to travel anywhere in the world with confidence that all of your electronic handheld devices - from your cell phone, to your Mp3 player, to your GPS and more - can be charged right there on the spot.
These bags aren't just attractive and smart, they're practical. They silently and safely turn sunshine into clean energy (electricity), so you never have to worry about being away from electrical power outlets.


Reware Juice Bags incorporate military-tested technology consisting of a seven-watt solar panel made up of 52 solar cells and a universal car lighter adapter approved for handheld devices. How smart is that? So, when the sun shines on your Juice Bag's solar panel, electricity is generated and your electronic handheld devices are powered up and ready to use. Perfect.
Reware Juice Bags are affordable. The Reware company, whose bags are worth every penny - mind you, make several Juice Bag styles to choose from. Click on the following links to see each bag style and the bag's price: the
ES100 Backpack
,
ES200 Daypack
,
ES300 Messenger
(see picture above), the
Profolio
, the
Solar Beach Tote
, the
Daylight Messenger
, and the
1.0x Classic
When I get one, I won't be able to wait to tell clients and other people that I know about my backup Reware bag. Because beyond Ear Candy, you don't have to wonder what the Number One item is on my current list of Must-have's... Certainly, a Juicebag by Reware. What a smart investment.
Image source:
Reware
Reware Juice Bag
,
Technology
,
Mobile phone
,
United States
,
Digital audio player
,
Global Positioning System
,
Energy
,
Sustainable energy
: Technorati Tags

>>Your Email Address... No Spam. I Promise." />
Special Offers for Cater-Hater Subscribers!
>>Your Email Address... No Spam. I Promise.';} " name="email" value=">>>Your Email Address... No Spam. I Promise." id="awf_field-35516496" onfocus=" if (this.value == '>>>Your Email Address... No Spam. I Promise.') { this.value = ''; }" type="text" class="text" tabindex="500" />