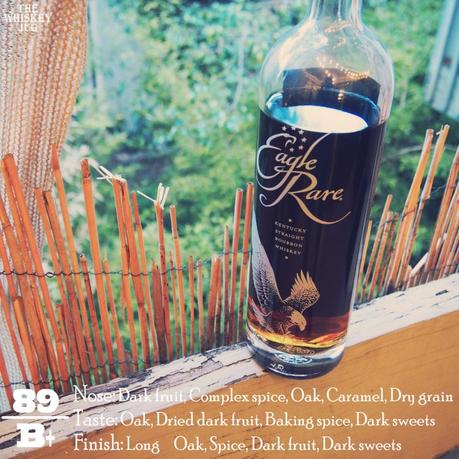 Can you believe this is the first time I'm reviewing the regular Eagle Rare Bourbon release? I've done the old Eagle Rare 101 and an Eagle Rare single barrel, but this is the first time I've sat down and done a review of the plane jane Eagle Rare Bourbon that's on the shelves. Funny how that can happen, a staple just keeps getting pushed to the side because it's a staple.
In Buffalo Trace's Words: Eagle Rare
"Eagle Rare Kentucky Straight Bourbon Whiskey is masterfully crafted and carefully aged for no less than ten years. The rareness of this great breed of bourbon is evident in its complex aroma, as well as the smooth and lingering taste. Eagle Rare is a bourbon that lives up to its name with its lofty, distinctive taste experience."
Made from the same whiskey as the regular old Buffalo Trace, just aged for 10 years per the back of the bottle, it's a good standard whiskey to have around the house. Though that wasn't always the case, about 8-9 years ago it was a harsh, bitter, acetone and acidic bourbon I couldn't stand. Thankfully It's now tasty, it's rich and a crazy good bang for your buck which you'll see in the Eagle Rare Bourbon review below.
Eagle Rare Bourbon Info
Region: Kentucky, USA
Distiller: Buffalo Trace
Mashbill: BT Mash #1  – Low Rye (10% or less rye)
Cask: New Charred Oak
Age: 10 Years
ABV: 45%
Price: $30
Eagle Rare Bourbon Review
EYE
Dark caramel
NOSE
Dark fruit heavy with dried berries, complex spice, oak, caramel and lighter notes of dried grain, dark honey and vanilla.
PALATE
A big slab of oak coated in dried dark fruit, baking spice, dark sweets, toasted grain and velvety undertones of earth and leather. A ghostly bit of vanilla drifts through.
FINISH
Long fad of oak and spice with a bit of dark fruit and sweets.
BALANCE, BODY & FEEL
Excellent balance, rich full body and a smooth almost syrupy feel.
OVERALL
Eagle Rare Bourbon is a robust yet easy drinking whiskey. Such a departure from the ER I attempted to drink 8 or 9 years ago. The searing memory of its hot, harsh, acidic acetone profile and thin bourbon-like character still haunts me every time I look at a bottle of what is now great whiskey. It's not quite as good as any of the old Eagle Rare 101 I've had, but it's good enough.
SCORE: 89/100 (B+)