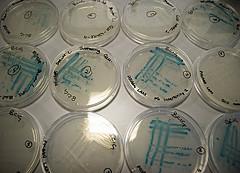 Although it has been over a month since the first case of enterohemorrhagic E. coli was reported in Germany, officials in that country have yet to identify the source of the outbreak.  Although both Spanish cucumbers and sprouts grown by German farmers have been implicated, further tests have failed to substantiate initial claims.  The inability to positively identify the source of the bacteria is rapidly becoming a source of embarrassment for the country.
German officials acknowledge that time is not on their side, as the number of new cases appears to be on the decline, and testing produce several weeks after the initial outbreak may no longer be helpful.  Dr. Guenael Rodier, an epidemiologist at the World Health Organization, told the Associated Press on Tuesday that the contaminated vegetables have likely disappeared from the market and it will be difficult to link patients to produce so long after they first became infected. He added, "If we don't know the likely culprit in a week's time, we may never know the cause."
Despite the fact that the source remains elusive, there is little question that vegetables are the culprit and that washing and peeling all fruits and vegetables is the only sure way to prevent foodbourne illness.
Photo by shawnleishman.