La Forza del Destino from Vienna.
by Paul Pelkonen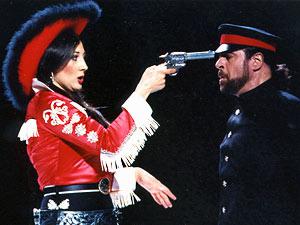 Pistol packin' Presiozilla (Nadia Kristeva) confronts Don Carlo (Carlos Álvarez)
in Act II of La Forza del Destino. Image © 2008 Vienna State Opera
Giuseppe Verdi's La Forza del Destino remains the most challenging of the composer's operas to produce successfully. With a huge story that sprawls across two countries and many different locations, this attempt to completely destroy the dramatic concept of Aristotelian unity can be a director's nightmare. On this DVD from the Vienna State Opera, (filmed on March 1, 2008) British director David Pountey offers some innovative solutions, drawing inspiration from the spare writing of Cormac McCarthy. and the opera's wartime setting.
The production, designed by Richard Hudson, places most of the action on a unit set, a white rotating plinth with a door at one end. This unit does heavy duty as bed-chamber, tavern, monastery and battlefield as needed. In the last scene, it rotates one last time to become the area before Leonora's cave, with a door at one end the gateway to sanctuary and redemption.  A high scaffolding surrounds the action, providing different acting surfaces for the tavern scene and the battlefields of Act III.
Blood-red swords (indications of the coming fight between Don Alvaro and Don Carlo) are a recurring motif), doubling as crosses. Bodies hang from the scaffold as a grisly chandelier. Images of war and blood are projected on the action, which might have looked better in the theater than on video. The costumes move between Westerns and 20th century military dress, with the old fascist colors of red, white and black predominating.
The repeated comments on crypto-Fascist quasi-Catholocism are fun at first, but eventually grow tiring.  Crosses are everywhere in this production, from the symbolic red swords of revenge (left, sometimes, like clues in the set for the other characters to find) to the crucifixes on the costumes and omnipresent, unopened Bibles.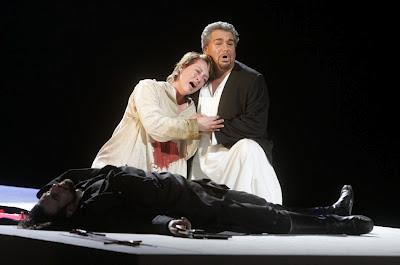 Doomed love: Nina Stemme, Salvatore Licítra and Carlos Álvarez (prone)
in the last scene of La Forza del Destino. Image © 2008 Vienna State Opera.
Tenor Salvatore Licítra, filmed here three years before his untimely death, is in robust voice, making a virile, exciting Don Alvaro. This is not the prettiest instrument, but Alvaro calls for ringing tone and a bold stage presence. Mr. Licítra produces both of these qualities from his opening duet with Nina Stemme's Leonora, rampaging into her bedroom and driving the action relentlessly forward. He shows reserves of fine lyricism and power in his Act III scena and aria, ("O tu che in seno agli angeli")
 Nina Stemme is the real deal here, a potent dramatic soprano who can summon the pleading quality needed for Leonora di Vargas. She is moving and ardent in the climax of Act II, where her character decides to retreat from the world and become a hermit. Good choral singing helps this moving two-part sequence.  Her Act IV aria features unearthly, floated notes. The singer then shifts to full force for the final confrontation with her brother and unlucky would-be-suitor, ending the opera in apocalyptic style.
Don Carlo di Vargas is this opera's driving force, the nemesis who is out to destroy both his sister and Alvaro, who he thinks murdered his father. (He should look at the projections to see what really happened.) Baritone Carlos Álvarez is blustery in his solo numbers,  but his voice mellows in his repeated confrontations with Mr. Licitra. The unit set allows the opera to move swiftly from battlefield to their final encounter, giving the last two acts a propulsive unity where most productions feel disjointed.
Tiziano Bracci has a good comic turn as the skinflint monk Fra Melitone. Alistair Miles doubles as her father and the Padre Guardiano, and is better in the latter role. Nadia Krasteva makes the most of the gypsy turned army recruiter Presiozilla. When the "Rataplan" chorus (the most annoying thing Verdi wrote aside from Alzira) ends with everyone being killed in a bomb attack, there is a kind of justice. The choristers cope with all the directorial business, and sing beautifully in the big moments. Zubin Mehta shows his operatic experience in the pit, leading a kinetic performance with no dramatic languors.
Watch a trailer for La Forza del Destino here.