The La Scala Ring ends with Götterdämmerung.
by Paul J. Pelkonen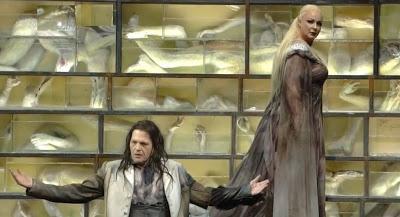 A wall of corpses: Lance Ryan (left) and Iréne Theorin in Götterdämmerung.
Photo © 2014 Teatro Alla Scala/ArtHaus Musik. 
Richard Wagner originally planned the
Ring
Cycle to be one opera,
Siegfrieds Tod
, which would tell the epic story of Siegfried and his adventures among the Gibichungs, a grasping, Rhine-dwelling royal family who figure prominently in the German national epic the
Nibelunglied
. However, he wrote the music for the retitled
Götterdämmerung
last in the
Ring
, meaning that the epic, sweeping music propels a libretto that could be suitable for French grand opera. This stylistic dichotomy is never easy for any conductor to resolve, but on this 2014 Blu-Ray filmed at La Scala, conductor Daniel Barenboim does a pretty impressive job.
Returning as Siegfried is the burly, workmanlike tenor of Lance Ryan, costumed and wigged as if may have escaped from a late '80s hair metal band. This time, Our Hero has joined forces with King Gunther and his scheming half-brother Hagen. Drugged, he forgets his relationship with Brunnhilde and practically throws himself at Gutrune, the King's curvy sister.
Mr. Ryan's performance also recalls the front men of those lamented one-word bands from the late '80s early '90s.. He sang Siegfried's stentorian moments with steely power, but was under audible strain in the second act. He was at his best in the softer, more lyric passages just before his death. He is serviceable throughout the opera, coping as most Siegfrieds do with the composer's most excessive demands. These tasks include impersonating Gunther by singing as a baritone, the cruel semiquaver-octave drop in Act II that sounds like a bratwurst being strangled and (most taxingly) the opening duet with Brunnhilde before he embarks upon the Rhine Journey.
Although Nina Stemme sang Brunnhilde in
Die Walküre
and
Siegfried
, she is replaced by Iréne Theorin in this opera's most important role. Ms. Theorin is a familiar face on stage and screen, singing with a bold and bright tone that cuts cleanly in the big moments. She is a slow-burn Brunnhilde, whose explosion of terror and eventual rage is fearsome to watch. Her abduction at the end of Act I was cunningly staged, with a group of dancers (from the Eastman Ballet) acting as the "Tarnhelm" enveloping Brunnhilde and pulling her to the ground. Her Immolation Scene was sung with ringing tone and a climactic plunge straight out of
Tosca.
The Gibichungs are ruled by the callow Gunther, played by middle-of-the-road baritone Gerd Grochowski. He is easily manipulated by his half-brother and chief advisor Hagen (Mikhail Petrenko) the villain of the piece. Mr. Petrenko was an unsympathetic but compelling Hagen, gruff of manner and tone but with some thrilling and earth-shaking low notes. Mezzo Anna Samuil is Gutrune, Gunther's sister and true love-object. As with the earlier operas, Guy Cassiers' close directorial style pays off, with the smallest gesture or eye movement having meaning, and nowhere is this more true than in the first scene between these unhappy siblings. Also helping the case: the costumes here, mixing fencing corsets with steampunk colors and sublimated wolf-patterned skirts and tartans.
This opera opens with the scene for the three Norns, given careful weight by Mr. Barenboim who was mindful to underline its importance. He was helped by the presence of contralto Margarita Nekrasova, mezzo Waltraud Meier and Ms. Samuil as these mysterious figures.
Ms. Meier also returned (in a different wig) for the confrontation between Brunnhilde and her sister Waltraute atop the Valkyrie Rock. A scene included for little reason other than exposition becomes thrilling here, thanks to the deep-throated brass playing of the La Scala forces and Mr. Barenboim's sure sense of pace and tempo. Bass Johnannes Martin Kränzle returns as Alberich one more time, making a night-time visit to Hagen, his equally evil and black-hearted son. Aga Mikolaj, Maria Gortsevskaja and Anna Laprovskaja are a strong trio of Rhinemaidens, who give Siegfried one last chance to give up the Ring before he's killed.
For the ramparts of the Gibichung Hall, Guy Cassiers and Enrico Bagnoli created glass brick walls that are actually formaldehyde tanks holding human remains--presumably dead soldiers killed in past Gibichung campaigns. The image is at once morbid and fascinating, an answer to Valhalla's "hall of the dead" and an indication of total moral corruption and someone's (Hagen's?) Nazi-like "scientific" curiosity. These gruesome tanks form the chief acting surface, from the seat of Gunther's throne to the rampart of the castle from which Brunnhilde takes her fatal leap. Other scenes are visualized with projections and familiar locales from the earlier
Siegfried
, such as the Valkyrie Rock.
The last ten minutes of this opera present a problem for any director. Here, Mr. Cassiers offered a spectacular digital fire-and-flood with real-seeming projections by the team of Arjen Klerkx and Kurt d'Haeseleer. He then follows with the walls of Valhalla closing in and closing off the action. The final image is
Les passions humaines,
a massive
bas-relief 
by the Belgian sculptor Jef Lambeaux, installed in Antwerp and copied for this production by Mr. Cassiers. This huge piece is a dominant visual motif throughout the cycle, depicting Death, Jesus on the cross, and a mass of bodies writhing in torment, a sort of three-dimensional reply to Michaelangelo's
The Last Judgment.
I'm not sure what it-all has to do with
Götterdämmerung
but it's certainly impressive.