A new edit of Boris Godunov from Turin.
by Paul Pelkonen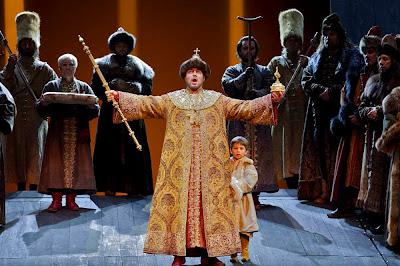 Throne for a loop: Orlin Anastassov in Andre Koncalovsky
Photo by Ramanella & Giannese @ 2010 Fondazione Teatro Regio di Torino.
In 1869, Modest Mussorgsky first submitted his opera Boris Godunov to the Imperial Theater. It was rejected for its lack of female characters and novel dramatic structure that placed equal emphasis on the plight of the titular Tsar and the suffering of the Russian people. His later revision (with some tweaking by Rimsky-Korsakov) was a success in 1874.
 Today, opera directors and conductors usually choose one of these two versions. This DVD from OpusArte, shot in 2010 at the Teatro Regio del Turin, offers a compromise. Director Andre Konchalovsky chooses the 1869 version of Boris for its dramatic momentum, but inserts the finale of the revised version (the march of the false tsar Dmitry through the Kromy Forest) between the St. Basil's scene and the death of Boris.
Orlin Anastassov is a youthful, convincing Boris, giving the impression from the get-go of being in over his political head. His Mad Scene is something to behold, acted with wide, staring eyes, the camera unforgiving and in his face. Heldentenor Ian Storey sings with loud, raw tone as Grigory, the monk who becomes the false Dmitri. Unaccountably, he is alone in the Kromy Forest scene--his paramour Marina (star of the missing "Polish Act") does not appear in this production.
Of the three "main" bass parts in Boris, Varlaam is the shortest. Vladimir Matorin steals the show with his Song of Kazan, making even home viewers want to lift a glass in tribute. As Pimen, Vladimir Vaneev lacks that last air of mystery that makes the blind monk's pronouncements so powerful. Tenor Peter Bronder is effective as the scheming Shuisky, conducting the rabble in their hymn of praise during the Coronation Scene. 
 Gianandrea Noseda conducts a powerful, driving performance that preserves the coarse edges of Mussorgsky's folk-inspired melodies but loses none of the score's raw beauty. Big moments like the Coronation Scene and the Kromy Forest detonate like anarchist's bombs. The choral work is tight and well-acted, even with the close, unforgiving camera angles.
Mr. Konchalovsky offers a spare production, on a tilted stage. The angles get even more extreme as Boris descends into madness, until finally, his throne falls straight down a steep incline, crashing onto the stage. Close camera-work on the faces of Russian peasants and boyars depicts the suffering of the people under Boris' illegitimate regime. The lighting is minimal, reflecting the dark world of Russia during Boris' seven-year reign. 

Watch a scene from Boris Godunov here..