Vintage BSO broadcasts on DVD provide more than nostalgia.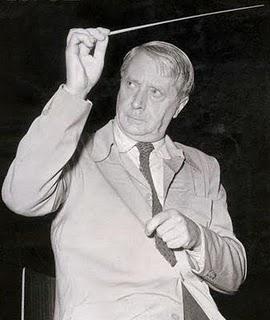 Carry a long stick: Charles Munch.
Among the more interesting DVD releases this summer is a series featuring classic television broadcasts of the Boston Symphony Orchestra under the baton of former music director Charles Munch. These discs are released on ICA through Naxos.
Charles Munch was an Alsatian conductor who specialized in French repertory, particularly the works of Berlioz, Ravel and Debussy. In his 13-year term leading the BSO (1949-1962) he took advantage of the United States' growing communications network, establishing the BSO as a household name on radio and television.
The first disc pairs performances of the first two symphonies of Johannes Brahms, filmed in 1960. Charles Munch conducts from memory, his baton style dominated by the long stick in his right hand. The camera work is also good, panning between musicians as they play particularly sensitive passages and not just focusing on the conductor.
These are strong Brahms performances, conducted with lyricism and rhythmic snap. The First has a good clarity of orchestral texture, with the lower instruments (playing the harmony parts) clearly audible. When the big noble theme soars out in the fourth movement, it is played with reverence and nobility, as the orchestra surges out in the triumphant final bars.
The more lyrical Second is elegantly played, with the slow movement one of the highlights. Mr. Munch explores the depths of these rich, thick harmonies, drawing a smooth, harmonious sound from the Boston players that would be envy of some better-known virtuosos. The third movement has lift and energy in its trio section, and the playing from the woodwinds is absolutely cracking.
The second disc available for review features a 1958 performance pairing the Bruckner Seventh with Haydn's cheery Symphony No. 98. This proves to be a strong combination, with the Haydn clearing the palate for the heavy meal to come.
Here, the cheery Haydn symphony (one of the twelve written for London at the end of the composer's long career) is just right, an old-school performance on modern instruments played with joy and precision.
The Bruckner Seventh is presented here in the Nowak edition, a slightly shorter version of this massive score. Although the small army of horns and Wagner tubas that make up Bruckner's wall of sound do not always translate well in monaural sound, this is still a powerful, noble performance. Mr. Munch takes most of the tempos briskly, leading a streamlined performance that still packs a satisfying punch.
Watching these two concerts--filmed at Harvard University's Sanders Theater in 1958 and 1960, allows the viewer to time-travel back 50 years to the golden age of the record industry, when orchestras were free to make recordings and play repertory for an appreciative public. These two discs are part of an extensive reissue of historic BSO concerts preserving the orchestra's legacy for today's viewers.