Daniel Barenboim conducts the La Scala Die Walküre.
by
Paul J. Pelkonen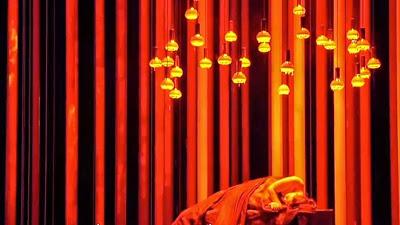 Nina Stemme sleeps under sun-lamps--er Magic Fire in Act III of Die Walküre. 
Photo by Brescia e Amisano © 2014 Teatro alla Scala.
In the early 1990s, conductor Daniel Barenboim shot to the forefront of Wagner interpreters with a gutty, anachronistic and thoroughly entertaining audio and visual recording of Wagner's
Der Ring des Nibelungen
from the Bayreuth Festival. That staging, by German director Harry Kupfer, channeled the
Mad Max
films of George Miller to create a high-octane cycle set along a post-apocalyptic road. In this new cycle, Mr. Barenboim is paired with director Guy Cassiers, who combines the latest technical wizardry with detail-heavy acting to create a bold and entertaining  show.
Mr. Cassiers' approach to the
Ring
is at once mechanical and organic, combining digital projections with natural elements and clever use of lighting and back projections onstage. However ,the close camera angles capture subtleties in the faces and actions of these experienced music drama actors, from tenor Simon O'Neill mouthing "That's a Valkyrie" at the Annunciation of Death to the welling eyes of Nina Stemme's Brunnhilde during Wotan's Farewell. All these little gestures add up to a bold and compelling interpretation, an interesting entry in a crowded field.
The opening act features Simon O'Neill as Siegmund, delving deep for the character's difficult low notes and ringing out the heroic highs when needed. He is particularly excellent in the second act, playing the
Annunciation of Death
with Ms. Stemme and underpinning his slow crescendo with a real sense of dread and awe. Following this, he hurls himself enthusiastically into the battle scene that brings down the curtain on his character.
Throughout the first two acts, Mr. O'Neill is  paired with Waltraud Meier, whose long experience of working with Mr. Barenboim makes her an ideal if slightly older Sieglinde. She is more of a mezzo than ever, but with enough juice to nail "O heiliges wunder" in the last act. Her Hunding is John Tomlinson, whose long association with this conductor culminated in his having sung Wotan in the aforementioned Bayreuth
Ring
. Back in his natural basso register, he oozes menace.
Starting from her first
Hojotoho
in Act II, Ms. Stemme's Brunnhilde is front and center. She captures the heroine's journey from joyous girl to protective warrior, and is especially moving in the scenes with Wotan, played here by Vitalij Kowaljow.
Mr. Kowaljow, who sings this performance in place of star German bass Rene Pape, continues Mr. Barenboim's preference for low voices in the role of the King of the Gods. He has a large, slightly dry  instrument, and seems most comfortable in the scenes where he gets to storm and rage. He is careful but occasionally colorless in the long Act II monologue, but very moving in the < i>Farewell, delivering each word with nuance and meaning atop a singing orchestra led by Mr. Barenboim.
Most of the opera takes place on a dark stage, shot through with light and projections. CGI (by Arjen Klerkx and Kurt D'Haeseleer) used to make walls of wood grain, forest leaves and magic fire with occasional appearances of cascading computer code that recalls
The Matrix
. There are practical sets too, from the white Japanese-style paper-walled apartment for Hunding's hut to the massive statue of nine horses that adorns the hall of Valhalla, appearing in the first half of Act II. The Valkyrie Rock is a multilevel locale, as if designed by
Seinfeld
character Cosmo Kramer. (The actual scenic designers are Mr. Cassiers with Enrico Bagnoli, and the costumes, a mix between 19th century chic and barbaric fur-and-feathers are by Tim van Steenbergen.)
Each act starts and ends with Mr. Barenboim in the La Scala pit, giving viewers an interesting perspective on the performance of this music and showing his unconventional and theater-oriented approach to conducting this score. His La Scala forces are far more comfortable with this music than the less-performed
Rheingold
and the woodwinds and brass have a warmth in the love music that is not always heard in these operas.