U.S. Open hopeful Dustin Johnson is actively promoting the golf mecca, kids are flocking to it
(for the free golf?)
and the beaches are so pure that the Grand Strand has been ranked as one of the best and least expensive vacation areas by
U.S. News Media
Group. Myrtle Beach is a rising star as a family fun destination.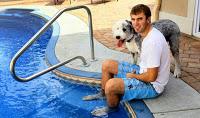 Dustin Johnson at home in Myrtle Beach

 Earlier this season, 2010 fifty-four-hole U.S. Open leader and area  native Dustin Johnson signed on to promote the Myrtle Beach region as "America's number-one golf destination." Twenty-six year-old Johnson said,
"Myrtle Beach truly is one of the world's top golf destinations, and has so much to offer in the way of beaches, restaurants, nightlife and even shopping. I can't think of a better place for a golf vacation, and I'm proud to now be able to spread the word. Regardless of where I reside, Myrtle Beach will always feel like home."
In addition to Dustin Johnson's promotion of "The Golf Capital of the World", and in an effort to grow the game of golf and to make memories in a family-friendly environment, kids will be allowed to "play free" on almost half of the Myrtle Beach area golf courses.
The Myrtle Beach area Kids Play Free summer program is also meant to encourage a bit of friendly competition between fathers and sons, mothers and daughters and all who would like to compete in the 2011 Summer Family Golf Tournament.
The series, hosted every Wednesday at a different golf course from June 29th-August 10th is open to any duffer, whether or not you have a handicap. I fear
however,
that
Myrtle Beach tee times
may also be at a premium during this summer season!
Here is a sampling of a few well-known
Myrtle Beach
area golf courses participating in the "Kids Play Free" Program.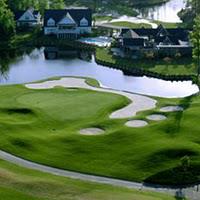 Wachesaw Plantation East
Wachesaw
Plantation East is a Tom Fazio designed, low country Scottish links course listed in Golf Digest's "Places to Play" list and was also host to the
LPGA Tour
on four occasions. The eighteenth hole, it is said, is a well-known visual spectacle and should not be missed.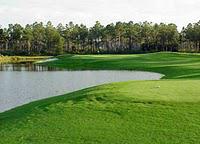 Sandpiper Bay Golf Club
was the 2010 MBAGCOA Golf Course of the Year and is rated four stars by Golf Digest. It's on Sunset Beach, about twenty minutes from the heart of the action, newly renovated and you may just spot professional golfers like Curtis Strange hosting a free clinic this season!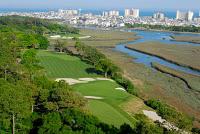 Although Tidewater Golf Club is very challenging (especially in the rain), it is also nature at its best. A true risk-reward course, a golfer needs good course management to score. A Golf Digest "Top 100 You Can Play", Tidewater is definitely a world-class
Myrtle Beach
golf course but may be too strenuous for beginners.
With about one-hundred golf courses spread throughout the Myrtle Beach area, golf is definitely a main attraction. Visit the beach, add the NASCAR Speed Park experience, Broadway at the Beach and Zipline fifty-feet above water and you and the kids will keep busy your entire vacation!
Photo Credit: Golfweek, Tracy Wilcox
Photo Credit: Wachesaw Plantation East