I kept quiet and held my breath as i watched my sisted picked one of these up to eat.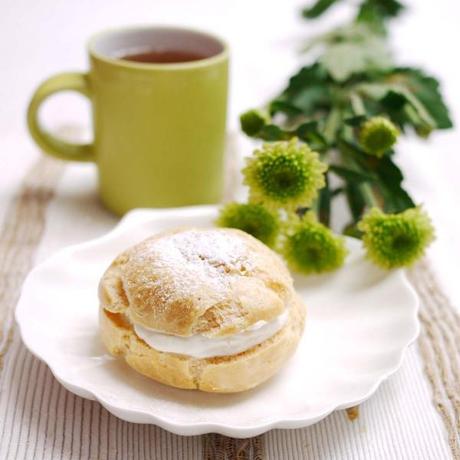 My sister didnt know it, but this cream puff was filled with durian whipped cream. And she absolutely hates durians. I was hoping that it will slide past her and she will eat it unknowingly.
But no such luck it seems. The puff came with a very potent scent that gave it away.  She narrowed  her eyes at me and asked suspiciously "is this durian?".
A reluctant nod from me and the rest was history.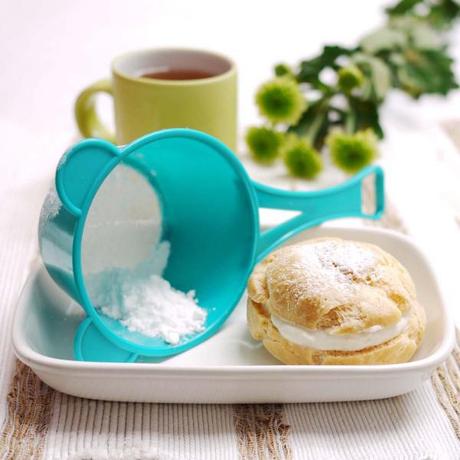 Notoriously (and deservedly) known as the King of Fruits, durians indeed evoke strong behaviours from its audience. Some cab drivers refuse your business when you are carrying durians. My sister dropped the puff like a hot potato.
On the other extreme though, there are fanatics who anticipate the durian season and participate in "all-you-can-eat" durian buffets. Some go from shops to shops to hunt for the "perfect durian". 
I guess i am a balance in this nature. I choose to straddle across the fence.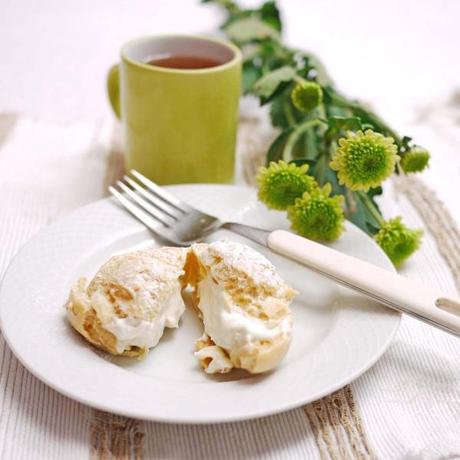 Made of choux pastry, these were filled with whipped cream with durian bits.  It's really quite interesting to find out how peoples' reactions are when offered a puff. Just by learning whether they liked or disliked durians, i feel like i got to know them just a bit better.
Between the enthusiasts and the cynics,  i am glad that the recipe yielded me only 8 puffs. Had it been more, i think i won't be happily lugging an empty box home tonight.