You guys you guys you guys. I know it's Wedding Wednesday and thus you are owed a slew of sparkle, and I promise to deliver on the official RLJ blog. HOWEVER, we are stopping the (word)presses because PRINCESS KATE. The duchess stepped out in the same kind of bling I like to borrow for casual cocktail parties, and thus, Catherine, Duchess of Cambridge and I, are one.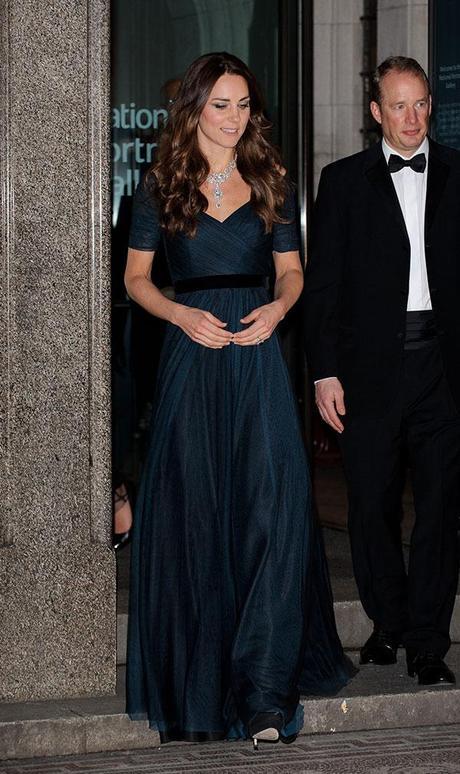 Rumors have been swirling that Kate's Australian tour would be different, by order of the Queen. Longer hemlines were on the menu, along with more tiaras (yes) and more of the royal jewels (even yesser). This is all part of some elaborate scheme to accomplish something about Charles, I believe. Something about how he just can't wait to be king/doesn't want to share the limelight with Kate's server-crashing sartorial choices. But the goal here, along with the shrinking media access to the young royals, seems to be to make them more royal, less tabloid fodder. And when trying to seem more royal, diamonds are the way to go.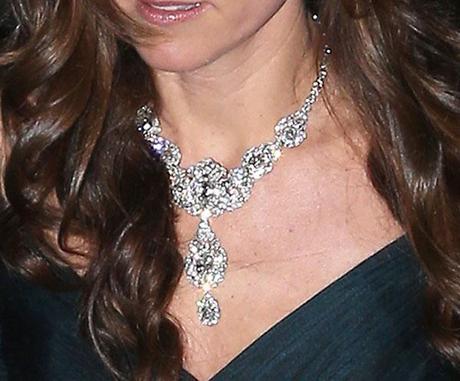 At her first official royal appearance of the year, Kate rolled up to London's portrait gallery in a recycled Jenny Packham dress because absolutely no one would care about the gown while she had that necklace on. The piece was designed by Cartier as a wedding gift for Queen Elizabeth in the 1930′s.Known as the Nizam of Hyderabad diamonds, the necklace was chosen by the queen herself along with a matching tiara. Said tiara featured diamonds set in platinum and three detachable rose brooches, which are all that remain of the tiara – it was broken up to create the burmese ruby tiara.

The necklace was originally longer with additional pendants, but QEII had it shortened, and it doesn't affect its beauty one bit. Let us all hope that this loaner from the Queen is a harbinger of more carats to come, because Kate digging into the royal vaults is good for morale, good for our nation, and goof for world peace as a whole. Tiaras for everyone!