Posted 29 July 2014 12:00 AM by Andrew Mead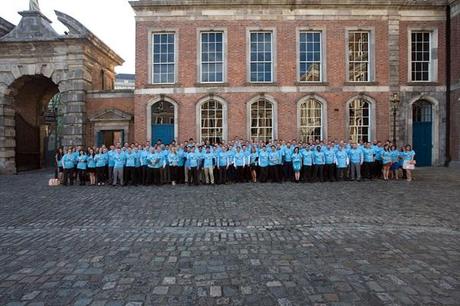 On 18 July, 2014, Fleetmatics hosted its fourth annual Product Development Conference. Per tradition, the venue for the event was kept under wraps until hours before the event. That Friday morning, coaches dropped off attendees in the stone courtyard of one of Ireland's most historic buildings, Dublin Castle.
Located in the heart of Dublin, Dublin Castle is over 800 years old and plays a large part in Irish history. It now hosts the European Union Presidencies, Heads of State, business leaders, industry and government. It is also a large tourist attraction. Attendees were so excited to attend this annual event at such a historic and meaningful location. Read more about Dublin Castle.
After a tea and coffee reception, the executive team addressed the developers in the conference hall. Some of the executives have been with the company for its entirety and told memorable stories about the early days of Fleetmatics.
"It is incredible to see how the development team has grown from filling a conference room to filling a castle meeting hall," said Director of Product Marketing Todd Ewing. "It really shows the company's commitment to matching our industry leading position with an industry leading product and team."
Guests were then lead by Irish drummers to St. Patrick's Hall for dinner. St. Patrick's Hall is the grandest room in the castle and Queen Elizabeth II dined there in 2011. Before dessert, attendees were also surprised to find out that their dinner waiters were also opera singers! The opera waiters performed Italian and Irish songs for the crowd.
Lastly, awards were presented to top achieving developers. The Fleetmatics development team has grown quite a bit in the past 10 years, and with it, the Fleetmatics solution.
Fleetmatics is dedicated to growing its teams and recruiting the best and brightest talent. "Fantastic event. We have the most talented development team in the industry," said VP of Product Management Jonathan Durkee. "It's great to be able to recognize the contribution they make to Fleetmatics and the value they drive for our customers."