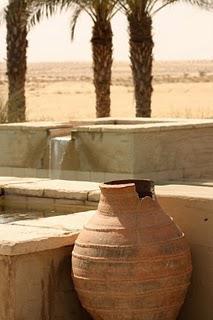 Two days - it's not long. If you were in Paris, you would have enough time to visit the Eiffel Tower, Musee d'Orsay, and possibly Notre Dame, maybe with enough time for a little cafe au lait and croissant before jumping on the metro, and heading back to the airport. In my home town of Melbourne, you would probably have to spend half the time figuring out if there is actually anything worth seeing - of course there is, but in two days you're not going to find it. But in Dubai, you can see the natural Dubai, traditional Dubai, sleazy Dubai and modern Dubai. And you'll even have time for a dip in the pool. I've just said goodbye to my friend at the airport, and although two days was not long enough to spend with her, I think she got a pretty good idea that the place that I live is not nearly what she expected.
1. The Desert
A six am arrival co-incided with our school-day wake-up. I knew there was a reason that school starts so early, and that's because it gives you enough time to get to Bab al Shams with breakfast time to spare. Only half an hour or so will take you past the mind-boggling developments such as Arabian Ranches and Motor City, the space shuttle of the now-on-hold Dubailand, camels, and sometimes even a bedouin camp or two. By the time you reach the desert resort, you have caught up with the latest news, and your friend is starting to drift off mid-sentence, saying "The desert is right here! I can't believe we are in the desert already! Ooh look! A camel! Ahhhhh, those dunes, they are so beautiful. Look at the patterns, they are creeping all over the road - are we going to be able to get back ok?". Then when you walk your friend through the giant wooden entrance of Bab al Shams, they start planning their second honeymoon. Take them past all the carpets, exotic lanterns and water features, then above the restaurant. On the rooftop they are guaranteed to just stop and take twenty deep breaths before they realize they should be taking photos. This can be followed by a leisurely Arabic breakfast, and because it's a buffet, another leisurely continental breakfast. And the whole time you can switch your perspective from the immaculate croquet green to the sandy towers, to the sand itself.


2. Traditional Dubai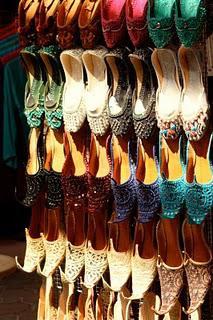 By the time you get back to Dubai, it will be about 11:30 - a perfect time to visit the Creek. Park just near the wooden arch that marks the entrance to the Old Souk (many call this the textile souk - which is actually a little further down), then walk through for just a look. Don't buy straight away, because you will have to carry it. Instead, think about what you want while you take a 1 dirham abra ride across to the spice souk, where you show your friend the difference between good, bad and fake saffron. Where you show them frankinsenc in it's raw form, laugh at the size of the cooking pots (which incidentally I can climb inside of), and you buy spicy cashews to eat on the way back. Your friend will ooh and ahh again, because the place is full of middle eastern nationals, and the image completely destroys the cold hard vision they have been given to represent Dubai. Then you choof back across the creek, make your deal with the bedspread and wall-hanging man, and then cool off on the shady terrace of Bayt al Wakeel, which is perfectly positioned to capture the breeze. Drink mint tea out of moroccan glasses, burn your fingers on the classic teapots, and eat sambousek and fatoush. Don't forget to climb all the way to the roof to get the view of the creek on one side, and the blue mosque on the other before you depart to pick up the kids from school.
3. Your home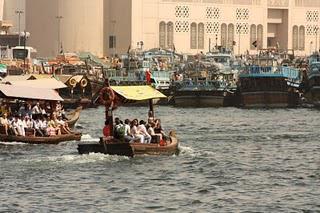 By then, your friend will be completely stuffed, and besides, your friend is here to see you, not just dubai. So, have a quick swim in the pool at home, and let them fall asleep on the sunlounger, ensuring that you cover up their pasty non-accustomed skin with shade of some sort. When they awake, give them some arabic mezze, which you have secretly popped out of jars and plastic supermarket tubs while they were still napping. Don't forget to heat the arabic bread, and sprinkle everything with pomegranate seeds - it's the details that make it so exotic.
4. Dinner with the locals
Dinner is at al Khayma at the Dubai Marine beach resort (and I should stress, when I say local, I mean regional rather than specifically Emirati). The resort is old and sleazy, full of dirty nightclubs with deals for the ladies, and the crowd is on the whole dressed like they are trying to both make the opposite sex and true fashionistas drop dead on sight. But al Khayma is an institution, and unless your friend is Lebanese, they'll never find anything like it back home. It used to be tents on the foreshore, but has recently been renovated. Unfortunately a little of the charm left with the plastic walls, but it is still a majlis-styled, shisha-smoke-filled haven, with superb baclava to boot. Your friends will try not to stare at the mix of tarts, past-their-bedtime-children,  and locals in traditional dress. Then you will flog them at backgammon, because they are too busy trying to keep their mouth closed. Don't stay too late, because the quality of the crowd gets even sleazier, and the music gets louder as the night progresses. Unless of course you like that kind of thing.


5. The Beach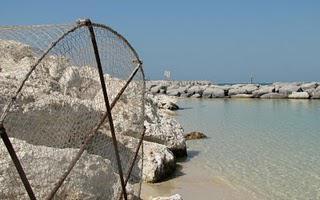 Day two. You have to go to the beach. For some reason, nobody expects the beaches here to be as beautiful as they are, and tourists get so wrapped up in shopping they forget to explore the natural beauty of the region. Surprise them with the crystal clear blue water and the array of traditional wooden fishing boats and lobster cages, which sit in stark comparison to the carparks full of shiny hummers and the expensive cruisers waiting to be dropped into the glittering ocean. Make sure you go early, because you don't want to freak them out with the heat. Off the sand by 11:30.
6. The Burj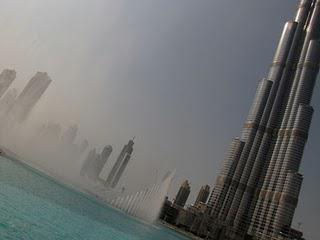 Modern Dubai cannot be forgotten. I recommend a lunch at Souk al Bahar (we ate at Bice Mare) overlooking the fountains, which now erupt every half-hour from midday. Of course you cannot ignore the shiny mammoth that is Burj Khalifa - which never fails to disappoint. Even those who are usually unimpressed by material wealth and its gross representations tend to get just a little impressed. And then of course, a stroll around Dubai Mall, taking in The Waterfall and the Aquarium (just the free bit), and a coffee from Brunetti's to help stave off that after-lunch lie-down desire, because there is still much to do. If your visitor is not from France (mine was), you should probably pop into Galeries Lafayette. 
7. The black market
Karama can be visited on the way home - now that we have seen all the "Champagne taste" in the mall, we have to go to where our "beer budget" will provide us with a souvenir. Read here for the rundown on Karama, and how to secure the best "genuine copy" designer handbag. But it's not just the handbag that you go for. For a visitor, the excitement of going to the wrong side of the tracks, doing something naughty, following a strange man up a secret stairwell, or down an abandoned street into a grotty apartment is enough thrill to keep them buzzing for several hours - at least until dinner.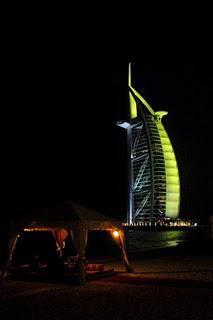 8. Madinat Jumeirah
One cannot visit Dubai without a trip to Madinat Jumeirah. Sure, the souk is ridiculously overpriced, the restaurants are expensive, halfway decent wine is never less than 300 dirhams a bottle, and 50 dirhams for an abra ride should be punishable by law. BUT, it is a fairyland of magic lights and oriental spirit (if a little tempered to modern taste). Standing on high and viewing the golden windtowers and the background of the rainbow-lit Burj al Arab is guaranteed to take the breath away of any visitor. Wondering through the stunning foyer of Mina al Salam, with its rose-petal and floating candle central water feature, and down the seemingly antique stairs to the abra station is enough to make them believe that THEY are the oil barons. From here, you can hop on the abra for free, and take the short but romantic ride to Shimmers (with kids), or Pier Chic (without kids), where you can dine under the stars and beholden by the spectacular view of water, traditional architecture and our city's favorite sail-shaped icon. Then if you still have energy, you can meander back through the souk, accidentally picking up a carpet or two, and have a digestif at Centimetro,  where you can plomp on the beanbags, surrounded by ochre stone and the warm arabian breeze.
And by the time you finish all that, you will find that your friend, despite all her preconceptions of this city that everyone loves to hate will have changed her sentences from "...If I come back..." to "...When I come back...", and if she cries at the airport, you know your job is done.
-----------------------------
There are plenty of things you might think I have missed - but 48 hours is such a short time. With longer, there is so much more to see. Maybe there's another post in this for later...
Leave me a comment and make my day...