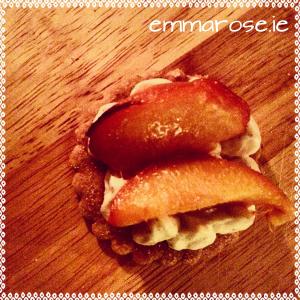 Peaches are the taste of summer for me, along with strawberries, of course. The bourbon and honey in this recipe give them such a grown-up flavor and are divine on these simple little tarts. Strictly speaking I suppose these aren't tarts, if you really wanted you could just make some sweet shortcrust pastry and make them into proper tarts. But mascarpone cream holds its shape quite well in a way single or double cream doesn't so when you pipe it onto these biscuits and sit the peaches on top the cream doesn't go everywhere. You can easily make these little shortbreads in advance and the peaches are simply a matter of popping into the oven a little while before your ready to eat.
You'll need:
100g plain flour
100g butter
50g caster sugar
2 ripe peaches
100ml bourbon
Generous drizzle of honey
1 star anise
3 cardamom pods
125g mascarpone cream
1 small vanilla pod
1 tsp vanilla extract
Start by making your shortbread. This is a quick and easy recipe, probably not loved by the shortbread purists but sometimes quick and easy is required! Cream together the butter and sugar. When completely combined add the flour and mix to combine. You can use your hands if its easier. It should all come together as a dryish dough. Pat it out to a small circle, cover in cling film and pop into the fridge to firm up a little for 30 minutes or so.
When your ready to bake these stick your oven on to 180 and take the shortbread out of the fridge. Using a rolling pin roll the dough out flat, to about the thickness of a €1 coin. Using a 30mm cookie cutter you should get about 12-14 biscuits out of the dough. Place on a sheet of greaseproof paper and pop into the oven for 10-15 minutes until slightly golden. As soon as they come out of the oven sprinkle with some caster sugar and allow to cool fully before moving them off the tray. They'll keep in an airtight tin for a couple of days.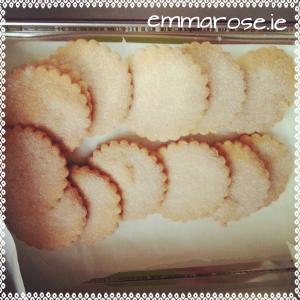 To prepare your cream simply mix the mascarpone with the vanilla extract and the seeds from the vanilla pod (run a knife down the length of the pod and scrape the seeds out with a knife). Mix well to combine, if the mixture is still a little stiff add a tsp or so of milk to loosen it a little. Transfer to a piping bag and twist the top to close, you could use a peg to hold it closed. Keep in the fridge until your ready to serve your tarts.
For the peaches, put your oven on again to 180 and put a pot of water on to boil. Cut your peaches in half and remove the stones. When the water bubbling hot place your peaches into it for about 60 seconds. Take them out with a slotted spoon and when they're cook enough to touch peel the skins off. Place cut side down in a roasting dish. In a small saucepan place the bourbon, star anise and cardamom pods and bring to the boil. Allow the alcohol to cook off somewhat and squeeze in a drizzle of honey. Stir and allow to bubble for another minute, then pour over the peaches in the roasting dish. Drizzle the peaches with some more honey, not too much though as they are usually sweet enough and pop into the oven for approx. 20 minutes. You want them to be soft but still holding their shape. When ready remove from the oven and allow to cool in the dish.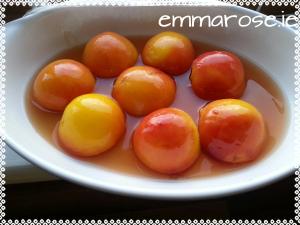 When your ready to serve, take the cream out of the fridge and snip the tip of the bag. Pipe little dollops of the cream onto each biscuit so the whole surface is covered. Take a peach and slice it finely and lay a few slices on top of the cream. Repeat with each shortbread biscuit. Enjoy!