Last Updated on January 12, 2022 by Guest Blogger
Disclaimers: Our site uses demographic data, email opt-ins, display advertising, and affiliate links. Please check out our Terms and Conditions for more information. Listed prices and attraction details may have changed since our visit and initial publication.
Who doesn't love the fun and freedom that comes with taking a road trip? You can see the sights at leisure stopping wherever you like for as long as you like.
Driving the Great Ocean Road in south-eastern Australia is one of the world's most famous road trips. This spectacular road hugs the rugged cliffs that wind along the turbulent Southern Ocean coastline offering travellers jaw-dropping views along the way.
Its location at the bottom of Australia far from the rest of the world means that for most people the Great Ocean Road drive is a once-in-a-lifetime trip. Those people who are lucky enough to experience a Great Ocean Road trip are treated to pristine beaches, sparkling waterfalls, lush rainforests, lighthouses, and cute wildlife.
But it's the incredible 12 Apostles limestone stacks at Port Campbell National Park that everyone wants to see. One of the top attractions on the Great Ocean Road, the Australian 12 Apostles draw visitors from around the world.
Below we list all the best Great Ocean Road attractions as well as some tips for driving this incredible road.
Lorne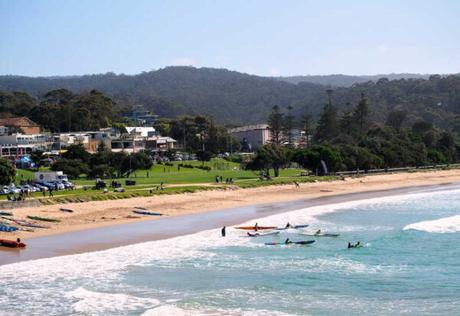 One of the most popular Great Ocean Road towns, trendy Lorne makes a great first stop whether it's for a night or just for an hour or two. Sitting on the stunning Louttit Bay, it has a lot to offer visitors from scenic lookouts to sparkling waterfalls, coastal walks, cafes, and restaurants.
Add it to the top of your Great Ocean Road itinerary.
Kennett River Koalas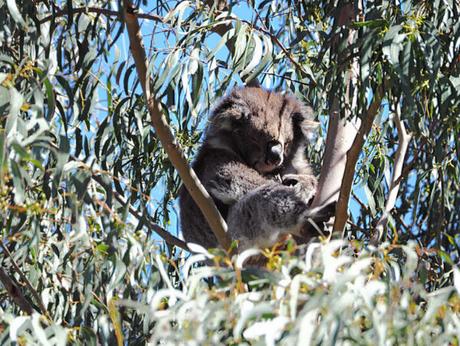 There's nothing quite like seeing a koala in the wild, and one of the best things to see on the Great Ocean Road is the koalas at Kennett River.
Known as the Kennett River Koala Walk, the Grey River Road at Kennett River is home to a large group of wild koalas that live in the surrounding eucalyptus forest. It's a common misconception that koalas can be seen all over Australia; however, they aren't always easy to find. But at Kennett River, you're almost guaranteed to spot one.
Split Point Lighthouse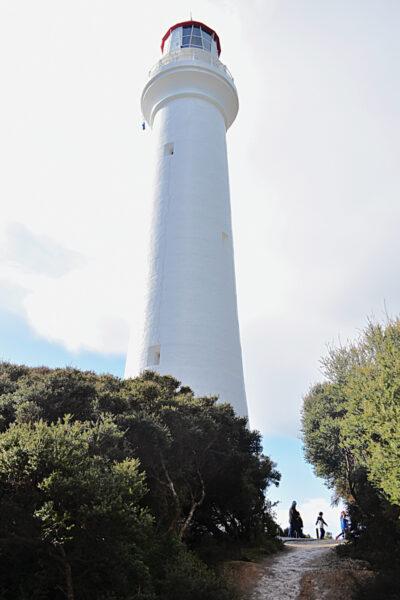 As beautiful as this part of Australia is, its wild coastline is the site of hundreds of shipwrecks and many deaths.
Since 1891 the Split Point Lighthouse has been helping ships navigate the treacherous waters of Bass Strait, and still operates every night by an automated system. Open daily for tours this must-see Great Ocean Road attraction is filled with memorabilia and interesting facts.
It's a fantastic place to dive deeper into the region's history but even if you're not keen on maritime history it's worth the climb for the panoramic 360-degree views.
Great Otway National Park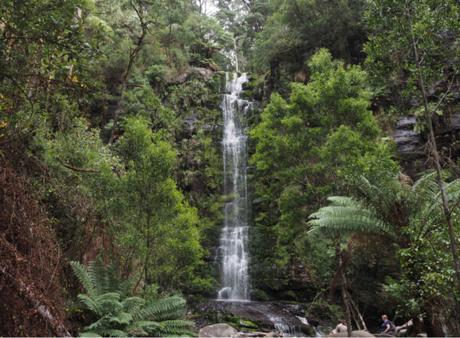 One of the best ways to experience the Great Ocean Road is to walk one of the many trails in the Great Otway National Park.
There's a variety of paths to choose from ranging in length from 30 minutes to week-long treks. All of them provide a wonderful experience filled with pristine rainforest, soaring eucalyptus trees, verdant ferns, and crystal clear waterfalls. Not to mention unique wildlife, birds, and even glow worms.
For the more adventurous there are treetop walks, ziplining, and mountain bike trails.
Port Campbell National Park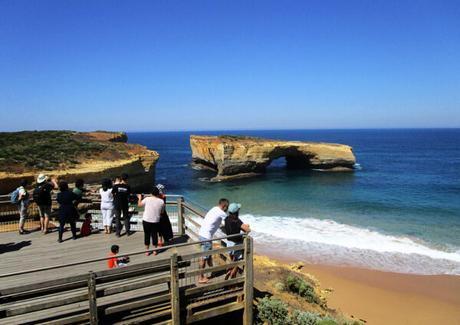 The absolute pinnacle of the Great Ocean Road sites to see, Port Campbell National Park is where you should spend most of your time. Here the thunderous Southern Ocean has carved the coastline into rock formations that are known the world over.
See the famous London Bridge that collapsed leaving tourists stranded on a rock stack for hours before being rescued by helicopter. While there, don't miss Loch Ard Gorge, the Grotto, Gibson Steps, the Bay of Islands, and the bucket-list-worthy Twelve Apostles as well.
12 Apostles on the Great Ocean Road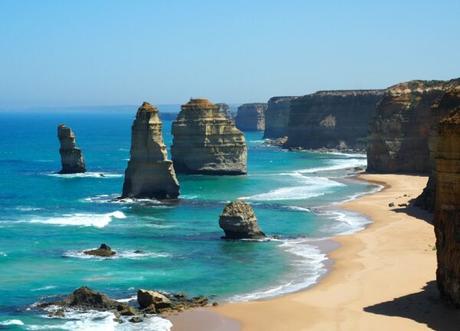 The stunning Great Ocean Road 12 Apostles are a natural phenomenon caused by the pounding surf eroding the limestone cliffs of the Victorian coastline. Over time caves were formed, then arches, and eventually when they collapsed the stacks stood alone rising out of the ocean separated from the shore.
At 45 metres high they're an incredible sight that will live long in your memory. Time has taken its toll and there are only eight stacks still standing - but who knows when the next arch will become more pillars?
Any time is a good time for viewing the Apostles but if you arrive early, you'll miss the crowds and can photograph them in the soft morning light. If you visit at sunset, you not only get to see the stacks changing colour but you'll also have the joy of watching the Fairy Penguins come ashore!
Tips For Driving The Great Ocean Road
Drive On The Left
More than just a tip this is crucial to your safety - in Australia, all vehicles drive on the l eft side of the road. This can be hard to get used to if you normally drive on the right side and accidents do happen.
It's a good idea to ask your travel buddies to remind you to drive on the left each time you get in the car and at intersections. If you don't think you can make the adjustment, it's best to let someone else do the driving.
Have A Plan
The best way to get the most out of your Great Ocean Road, road trip, is to do your research and plan ahead. It's not possible to see everything in one trip, so decide what you "must-see" in advance and pace yourself- but be sure to allow extra time for spontaneous side trips.
Allow Yourself Plenty Of Time
248 kilometres doesn't sound far, does it? But when you're driving the Great Ocean Road distances can be deceiving.
The road is narrow and winding, and at times busy, so your journey could take longer than you think. To give you some perspective it takes 4 hours to drive its length without stopping. So allow yourself plenty of time to soak in the scenery, chat with the locals at seaside villages, walk the forests, spot the wildlife, and relax and recharge your batteries.
Drive From East To West
The best place to begin your Great Ocean Road self-drive holiday is in Torquay, the official start of the Great Ocean Road, and head west to the 12 Apostles.
You'll be driving on the left, the closest side to the ocean, which means you'll have the best views and can easily pull over at the lookouts. It also means you'll be saving the best Great Ocean Road stops until last.
Keep An Eye Out For Australian Wildlife
It's not just people and cars you need to watch out for on the road but animals as well.
Kangaroos can come bounding out of the bush without warning, especially at sunset and sunrise. We've also seen echidnas and wombats munching away at the side of the road. For this reason, it's best not to drive the Great Ocean Road or any rural road at night.
Best Time For An Australian Great Ocean Road Trip
The most popular time for a self-drive Great Ocean Road tour is in summer - January to March in the southern hemisphere.
My personal favourite time of year to visit the Great Ocean Road is in March when the days are still warm and the nights are cool. It can be insanely busy during the Christmas, Easter, and school holidays, so avoid these times if you want to see the attractions on the Great Ocean Road in peace.
The quickest way back to Melbourne after your Great Ocean Road visit is to head inland and take the A1 Princes Highway through Colac skirting the Great Otway National Park.
However, Australia's coastline is endless and if you keep heading west you'll find more beautiful beaches and magical seaside towns with cute names like Port Fairy. Another once-in-a-lifetime trip!
Looking to explore the Great Ocean Road without your own car? Check out day tours from Viator!
Images were provided courtesy of See Geelong.