On Wednesday I mentioned that I'm adding a touch of glamour to one of the bedrooms. Here's the not-so-glamorous 'before' shot the day after we moved in.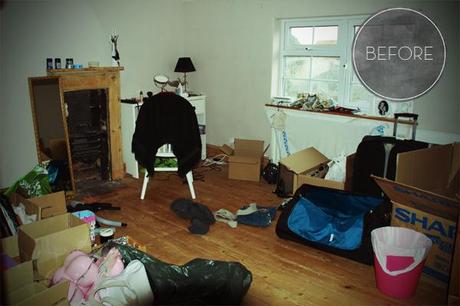 According to an Estate Agent who recently showed a friend round a house, using a bedroom as a Dressing Room is all the rage. With no little kiddiwinks on the horizon it makes sense for Mr C and I to take a spare room each, and so on weekdays my room becomes a Dressing Room.
This room has already had a bit of a make-over and currently there's a whole lot of monochrome. We've already added a white iron bed, painted up an eBay dressing table and made a lexicon card picture.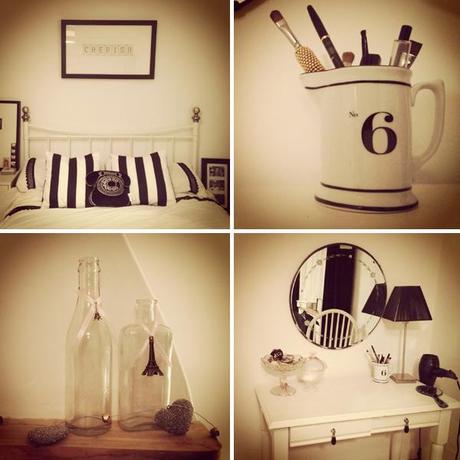 Although I risk sounding like I'm taking myself too seriously, I would say the first 'layer' of this room has already been done. However after living with the black and white for well over a year I'm finding it all a bit stark. This month I want to start layering up and splashing the blush pink around.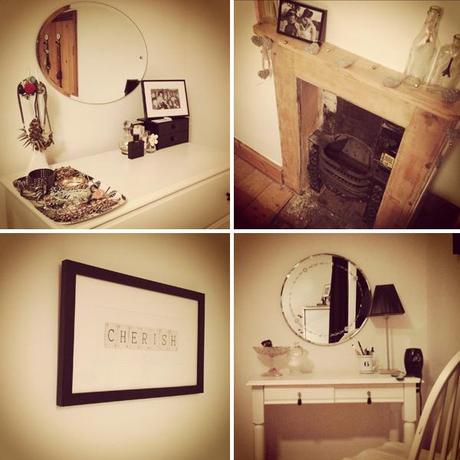 Before I get on to all that though, I would like to add a bit of va-va-voom to the fireplace. The fire surround and hearth tiles are looking a bit sorry for themselves. Next week I'll take you through a few choices so far (I know, it'll be absolutely thrilling!)
Next on the list would be finding new curtains (currently black eyelet ones that I'm not particularly fond of), adding frilly linen pilows (completely unnecessary), putting up a few rolls of wallpaper (in the alcoves), finding homes for my excessive costume jewellery collection (so that I can buy even more), and tracking down a super special light fitting (more than likely another chandelier).
Would love to know your thoughts on what colour to paint that fire surround. Do I go black, white, natural or something a little bolder?! Let me know what you think. Lauren x