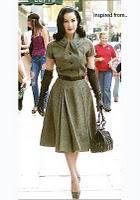 Who wouldn't want to dress like the gorgeous and always fashionable Dita Von Teese ?  Not know who she is?  Where have you been?  Ditais a famous burlesque and pinup star. She says that her greatest sources of inspiration are films, art and still photographs from the 1930s to the early 1950s.  
Some easy ways to be inspired by Dita's fashion sense and feminism is to:
Find a love  relationship with corsets. Dita is known for her love of  these fabulous undergarments and is often seen in clothing that enhances her hourglass figure. Dita says that comfort is based on quality rather than severity and a corset made to measurements by an expert makes all the difference in the world.  Listen to her : )
Get a nice vintage cinched waist jacket and a high waist skirt.
Wear old or new vintage reproductions to have the look of the 1940s but still have modern comfort. A great example is the the Kiera Reproduction dress in our Get Go Retro Shop!  Classy, stylish and feminine.
Always have your best face forward with

well applied makeup

(

red lipstick

is always good) and have

your hair done in the forties style

.
Heels, Heels and Heels. 
Stockings ...

seamed

are nice.
Relax in a

robe

and slippers. The more feminine the better.
Dress yourself in the kind of clothing she's comfortable in. She wears skirts and dresses with heels. She also likes well-tailored, wide-leg trousers.
Don't think it's hard to dress this way ... it's about style, it's about being you and it's a lifestyle.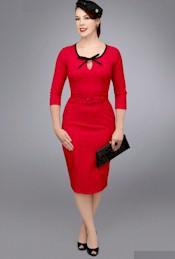 Read more: How to Dress Like Dita Von Teese