Hello there!Well its an unusual Friday for me. Due to the snow my poor little car got stuck on the drive and I was unable to make my 35 mile commute to work. Today has been spent mostly in my PJs watching daytime TV whilst browsing for a cute Sunday-Bank-Holiday-Outfit. No luck just yet.
I thought I would make a dream list for you guys to see items I would LOVE in my collection. The beauty of Ebay is that most of the below items have dupes available, but if I did have a bit more bank to my balance below are some of the items I would purchase.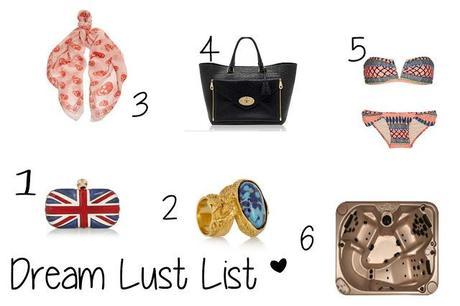 1. Alexander Mcqueen Union Jack Purse
2. YSL Arty Ring ...please can I have one please please?
3. Alexander McQueen Silk Chiffon Scarf I love how summery this is, such a staple scarf to have in your wardrobe
4.  Mulbery Willow Tote
5. Missoni Crotchet-knit bikini
6. Hottubs? I have a few friends that are lucky enough to have their own hottub. Maybe its because I'm obsessed with the weather warming up I don't know. But If I could plonk one in the garden I certainly would! Shame its snowing outside today...
What would you have on your lust list?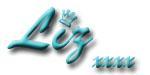 Facebook | Twitter | Bloglovin | Hello Cotton