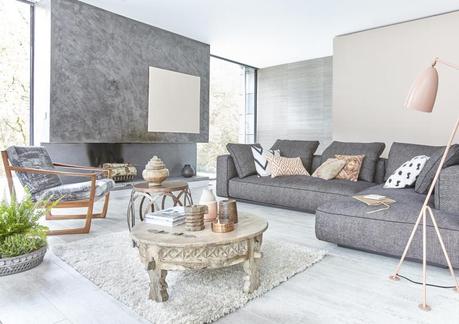 I can't be the only one who dreams of their dream house and what it would look like inside and out! Ever since I was younger and started designing on The Sims, i've had an obsession with home decor and design, I can spend hours on Pinterest just flicking through all the dreamy furniture and telling myself 'When I win the lottery...', it's nice to imagine it all, even down to the little intricate details like candles and curtain tiebacks, i've thought of it all! 
Below I have decided on my 4 top tips to get your house looking and feeling more homely!
Feature Walls
I've always had a love hate relationship with feature walls, when they became all the rage a few years ago, I was a bit sick of seeing them everywhere, especially the ones with crazy patterns on them, every episode of 60 Minute Makeover had at least 1 feature wall in the house, sometimes in every bloody room, I think when it's kept simple with either just the one color or with a faint pattern, it can really transform a room! A fellow blogger over at Mummy Daddy Me, has a gorgeous feature wall I am totally jealous of, in fact her whole living room is just gorgeous, the purple and yellows are perfect together!
Flooring
I am such a sucker for wooden floor, since having a toddler I've realised just how much easier they are to clean, if something gets spilled, you can wipe it up, if food gets thrown around, it can be cleaned up easily, in our home we have gorgeous real French wood slats, they make the room warmer, easier to clean and adds that little modern touch too! We have carpet in the bedrooms upstairs and I prefer it that way up there to be honest, it's cosy on your feet when you get up in the morning and makes the room warmer too! I LOVE all the different flooring you can get in kitchens the most, in a previous house I lived in, it had gorgeous proper stone flooring throughout the kitchen and it just transforms the room whilst giving it a real olden days feel, the kitchen itself used to be a school science room!

Accessories These are what makes a house a home, you don't need too much, just little homely bits that make the room feel a bit cosier! I have a bit of an obsession with bird cages at the moment, not just as decorations but as candle holders too, cushions are probably my favorite decor items, to say I'm addicted is probably an understatement, our bed alone has 9, our sofas have 4 and Abbie even has 2 in her bed (which she is yet to sleep in may I add). They make the rooms look so cosy and snug, perfect for the cooler weather and adds that extra homely touch any guests staying will love! The same goes for throws, blankets and rugs, anything fluffy, soft and snuggly is exactly what is needed too, especially in the winter months! 
Colour Scheme
Probably one of the most important factors when creating your dream home interior. Think about if you want the same theme throughout the house or maybe even each room being different, there are so many choices out there and everyones taste it different, as well as each room being different in size, shape and lighting too! I think I would choose some sort of Monochrome living room, with zigzag cushions, a fluffy black rug and black sofa's, but with a pop of color too so adding a bunch of bright yellow cushions, flowers and photo frames to add to the walls! When I think of Abbie's room, I automatically go to a pretty pink bedroom, so I'd probably choose a victorian style feature wall, pink and gold pastels I think, with a fluffy sheepskin rug, pretty fairy lights around the room, floating shelves and crystal style light for the ceiling (can you tell i've thought of this ALOT), then finishing it all off with matching storage boxes in the corner and some accessories on her windowsill, sure the room won't stay tidy very long but would look so pretty! I wonder what Abbie will choose as she gets older...will probably be a bit of a tomboy like I used to be!
What are your dream house ideas?
x