Dream Big with The Silhouette and Premium Vinyl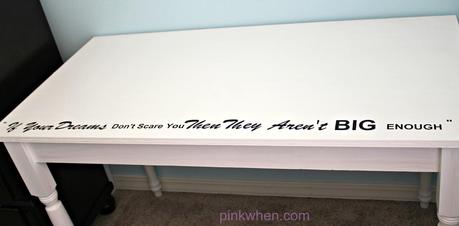 Dream Big Yesterday I posted the DIY Desk Tutorial for my latest project to share.  While I have not put the full finishing touches on it, today I am going to share one of the little additions we made using my Silhouette Cameo.  One of my biggest things is to keep all of my kiddos dreaming big.  I don't want to ever hear the dreaded, "I'm not good enough", "I'm not fast enough",  or the ever horrible, "I can't."  When I decided to build her desk, I wanted to make something special for her to see every day to motivate her to always dare to dream big.
For this project you will need:
Silhouette machine
Premium Vinyl
Transfer Paper
First you want to find you favorite inspirational quote and load it up in the Silhouette software.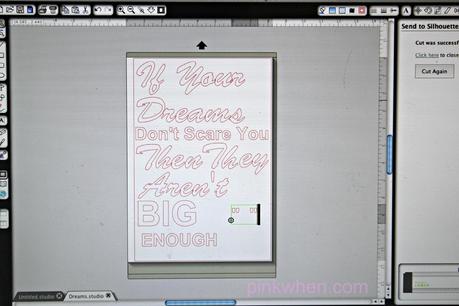 Place your quote of the page and then set to cut. After you have it just the way you want, load your vinyl and send to cut with your Silhouette machine.   Take your newly cut vinyl and remove any of the additional vinyl.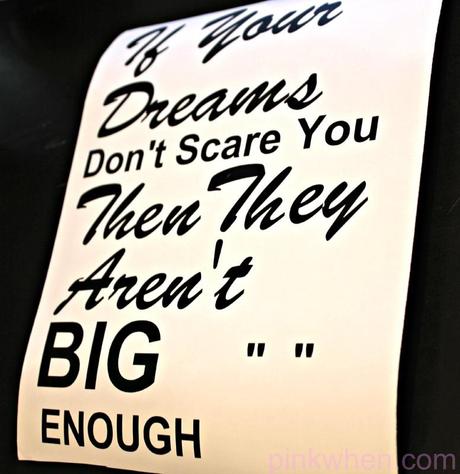 Dream Big on Vinyl Take your SIlhouette transfer paper and adhere to the vinyl.  Press down until smooth.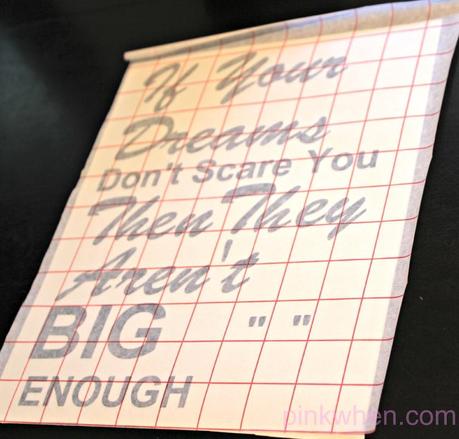 Dream Big vinyl with tranfer paper These steps are really quick!  Sometimes it really surpises me how easy the Silhouette Cameo is to use.  
Next you want to cut your transfer paper and vinyl and place them where you want to show them off.   For this portion of the desk project, we chose the top.  We wanted her to see it every day!  All you do for this step is remove the white backing for the vinyl, and then place the newly cut letters with the transfer paper in the position you would like.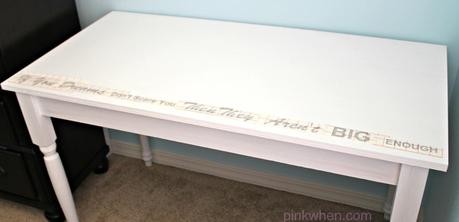 place vinyl and transfer paper on the chosen surface Simply smooth down the transfer paper and then pull it up to leave your newly placed vinyl.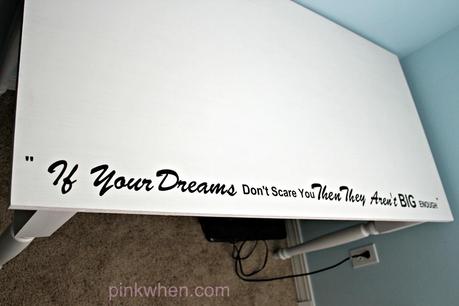 Our finished vinyl quote You can save on certain Silhouette products over the next week!  Take a look at the promotion below.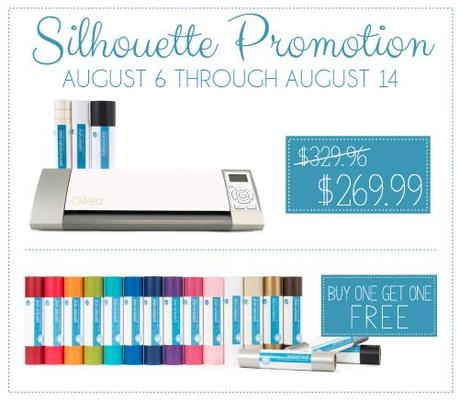 Save BIG on the Silhouette Cameo and BOGO Vinyl with promo code PINK Not only can you save on the Silhouette Cameo, but you can also get Vinyl at Buy One Get One! That's a deal to jump on, specifically with all of the cool holiday projects I have in mind!! Make sure to use Promo Code:  PINK to enjoy these savings.
Make sure to come back this week for a few additional projects we are doing to finish up this simple student desk! 
*I received product from Silhouette to create something to share, as well as to share my opinions on their fabulous products.  All opinions and review of product are my honest opinion.